I have been eyeing up ombre dressers and furniture for YEARS. Now that I finally finished one, I don't know what I was waiting for–I might ombre everything in my house now. This is an insanely EASY project.
Supplies: Ombre Dresser
A dresser (ha)
Cleaning supplies – I just used Norwex spray and a paper towel
Sandpaper (might be optional)
Sample can of paint
Wooden stick…. pretty much any kind of cheap wooden stick will do here
New drawer hardware + screwdriver (new hardware is optional)
Sealer (optional)
Step 1: Prep your Dresser
Remove your handles, take all the drawers out, and do your prep work.
Make sure you clean your dresser and check for anything that needs to be repaired. Before I painted mine, I had to re-attach one of my drawer fronts.
This is also the time to do any sanding that needs to be done. After I cleaned, my dresser was pretty smooth, so the only thing I sanded was the spot where the previous knobs had been.
After you clean, sand, and repair, your dresser is ready for paint.
Step 2: Paint the Dresser Bones
I'm sure that that is not the correct term for this–but paint the dresser without the drawers in it. This should be one solid color, so this is extremely easy.
You can use a paintbrush for all of it, but I suggest smoothing out your coats with a foam roller.
If you want aaaaalllll the paint projects, make sure to read my posts on how to paint a vase and how to display kid's art!
Step 3: Mix Paint
This is why you really came to this article, isn't it?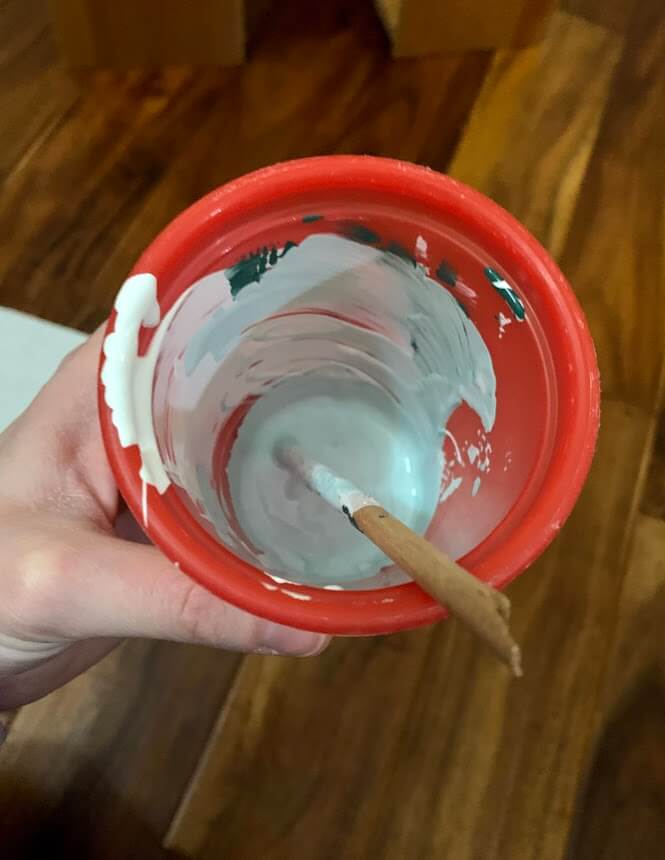 My process was pretty imperfect, but it definitely worked out.
If you follow my process, make sure you mix ENOUGH paint to cover up to two coats of your drawers. Since you are mixing two colors together, you probably won't be able to get the same exact shade twice–better to have more than enough than NOT enough.
How to Get the Right Shades of Paint
Start with your base color (mine was white), and add a VERY SMALL amount of your ombre color (mine was green). It will probably not be enough the first time–that's okay, that means you're doing it right.
Continue to add SMALL AMOUNTS of your secondary color until you have a very light version of the color you want.
You don't want to make your lightest color too dark, because then you won't have enough of a difference to create the ombre effect.
For the next shade, simply add more of your secondary color. And repeat that for every level of your drawers.
Two Different Methods to Mix Paint
I did four drawers at one for two different nights, mixing two different shades. This is probably the most half-butted way to do it.
If you want to be SURE that you mix enough paint and the right shades, here are a few better ways to do it:
Pour your base color in four different cups and mix all four shades at once
Unless you're doing this all in one day (which is totally possible), the obstacle with this one would be preserving the paint cups until you're done.
Use only one paint can and continue to add more of the secondary color for each shade.
Of course, you would need to start with plenty of paint. Keep in mind you'll probably need two coats of paint on each drawer, so you would have to wait for each shade to be 100% done to use this technique.
Step 4: Seal the Dresser
Now, this is somewhat optional, because I hardly ever seal furniture. And I didn't seal this one.
BUT, since you probably won't ever be able to perfectly replicate these shades, it might be worth it to seal.
My favorite sealer is polycrylic, because it's water-based, dries quickly, and doesn't have much of a stank. You know what I'm talking about.
I used this sealer on my painted countertops and my fireplace tile, and it holds up very impressively.
Step 5: Add Hardware
This is the best part–add those beautiful knobs and adore your hard work!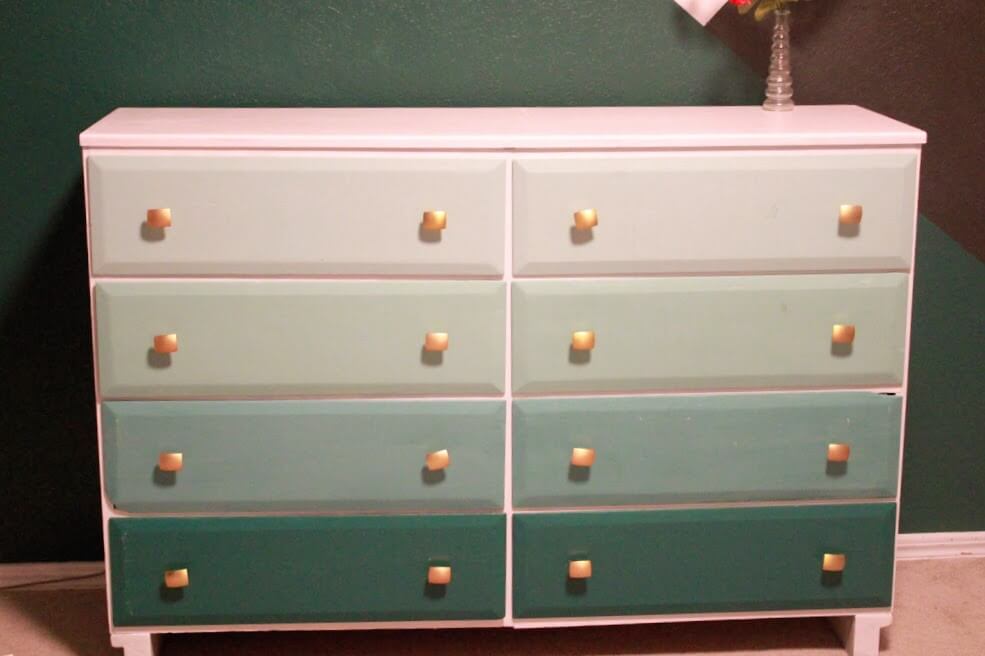 What happens if I need to patch my ombre dresser?
Oh, the horror. When scratches or knicks or kid's markers inevitably make it onto your beautiful new dresser–what to do?!
Like I said, it's unlikely you'll be able to PERFECTLY match the shade. So you have two options:
Try your best to match the color and patch it. OR
Mix a different, but similar shade, and repaint the drawer
Honestly, either option wouldn't be very difficult, so no need to worry.
Impress Everyone with Your Ombre Dresser
Want to see the process in motion? Well here you go: