Have you ever walked into a beautifully designed room, looked around, and squealed, "Oh my goodness, I just LOVE those curtain tiebacks! They make the entire room!"
Um, no. You haven't. Neither has anyone, ever.
And when you are on as strict of a budget as I have been, that's pretty much the last thing you want to spend money on. It's completely nuts that you could easily spend $20 – $30 on tiebacks for every window in your house! Just don't do it.
Luckily, there are many ways you can make super cheap and easy DIY curtain tie backs. Some of them only take a few minutes and you might even have all the supplies you need in your house already!
Starting with the tiebacks I totally made on whim in a few minutes allllll way back in 2018:
Pssst, want to show off your love for DIY? Check out my product designs I made specifically for DIYers! (and ADHDers… and moms 😉 Visit my Etsy shop Black Door Fits. You can even get 20% off your order!
My 5-Minute Repurposed Curtain Tie Backs
THINGS ARE ABOUT TO GET INTENSE OVER HERE.
LOL no. This is basically a joke of a tutorial.
Figuring this out was pretty much an accident. In 2018, my daughter was only 2 years old, and I had ZERO dollars to spend on her room. One day I found a few ribbons in her room and some flower hair clips that would never stay in her hair… and my idea was born.
Here are the step by step instructions:
Find a Command hook–any Command hook
Stick the command hook on your wall beside your curtain
If you're using a ribbon, tie little loops on both ends of your ribbon.
Hang/Tie one loop on your hook, wrap it around your curtain, and put the other loop on the hook.
And you have…. BRAND NEW CURTAIN TIEBACKS!
Since I had literally done this in about 17 seconds, I even used a different hair clip for the other curtain–and it was still cute! It showed me how creative I could really be with this little room feature.
Then, a few years later, after we sold that house and moved halfway across the country to Oklahoma, I found a random gold chain in her room.
Whyyyyy do I find so much random stuff in her room?! Kids are weird.
So I used my trusty Command hooks and used the chain as a decorative tieback–look how elegant and subtle!
Projects like these are my absolute favorite, because they are insanely quick, cheap, and easy, and the options are endless. For example, you could get more cheap necklaces from the dollar store or thrift stores and turn the chains into an even more special and custom tieback.
Related: 12+ Best & Most Unique Blanket Storage Ideas (that actually work for real people)
And here are just a few of approximately a million more ways to make this project unique for you:
More DIY Curtain Tieback Ideas
You'll notice that many of these ideas are inspired by products from Etsy. I chose ideas that are clearly DIY-able, although some of the options are really affordable if you fall in love with them.
1. Leather or a Leather Belt
Have an old leather belt somewhere? Repurpose it!
Or get leather strips at a craft store, cut with a pair of scissors, and make something like this:
You can easily make a different style with a different type of leather. Here's another example from @underkini on Etsy, and a few sources of affordable leather strips:
2. Colorful Pom Poms
Add some personality with colorful curtain tiebacks made out of pom poms! These could be made from yarn, or you could buy pom poms and glue them to strings.
Or, if you want to make your own pom poms (which is easy, fun, & cheap):
3. Tassels
Tassels are often made of yarn, so they could be used with pom poms or for a similar look. You could also make tassels out of jute, a different kind of string, or even leather and make them look completely different!
4. Macrame
Are you starting to see how these ideas evolve quickly? My ADHD is getting reeeeal carried away here…
You can make these macrame leaves with some simple cording and tutorials online, or you can get kits to make your own.
You can also do something completely different and make a cool braided tieback like this:
5. Braided Yarn
This example is a random one I found online, and I especially love it because you don't even have to look up a tutorial. You can just grab whatever yarn or string you have and make a braid and some knots…. And wa-la!
6. Rope
Rope is another really interesting material that could add a unique finishing touch to your room. You could add some sailor knots like this one, combine a few different sizes of ropes/jute, or simply tie one around your curtain to let the light in through the window. You can even use simple twine for this!
7. Wooden Beads
Wooden beads are a really popular decor & design element in a lot of ways that I don't understand. But I do understand using them for curtains–and it's probably one of my favorites on this list.
This design could fit a variety of room styles and color schemes, and you could make it unique with different sizes of beads or different finishes.
8. Colorful or Assorted Beads
If wooden beads aren't your favorite choice for tiebacks, use any other kinds of beads! I chose the next two photos because they show just how differently beads can be used. The first example is very bold and graphic and colorful–even with the tassels hanging at different lengths. The second one is more elegant, beachy, and uses light neutrals to contrast the dark curtain.
Your options are LIMITLESS.
Look for wooden beads or simple colored beads at any craft store, or get specialty beads from places like Etsy, eBay, or local art shows.
Plus–the curtain tiebacks shown in this image cost $101, y'all. ONE HUNDRED AND ONE DOLLARS.
Aaaaaaand that is why I DIY. 🙂
9. Fake Flowers
So this idea is essentially what I did with my original DIY curtain tiebacks. However, I happened to use hair clips, you can use fake flowers.
I love this idea because, well, if you've ever been to a craft store, you know how many different types of faux flowers there are. You'll be able to find ANY size, shape, color, or fabric to suit your window treatments.
Here are just a couple examples of different styles of this: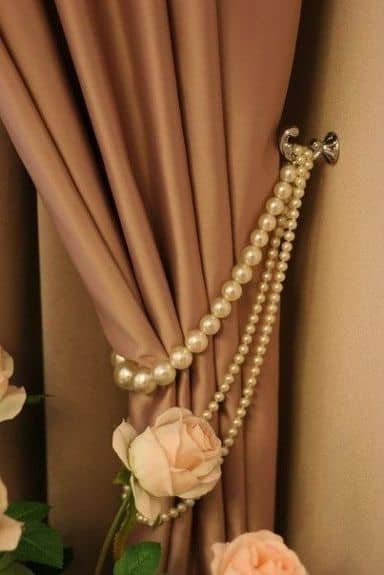 You can even do an artificial vine or use greenery!
10. DIY Felt Flowers
Okay, technically these still fall under the "fake flowers" umbrella, but I'm separating them because you can DIY your own felt flowers.
11. Simple Ribbon Bow
I found this one, and it was too pretty not to include. This silk ribbon tied into a bow on top of the sheer curtains is just so simple and so stunning. This would be perfect for a little girl's room or any other feminine space–and so cheap and easy!
12. Wall Hooks
Have you ever gone to Hobby Lobby and just looked through all the hardware for 20 minutes even if you didn't have a need for it?
Oh, just me? Never mind.
…But seriously, there are so many fun, cute, and unique wall hooks at Hobby Lobby, craft stores, and online. So many of them would be cute for themed kid's rooms! They are also great for adding a finishing touch for only a few dollars instead of $20 or more.
There are literally thousands, but here are just a few examples of hooks that I think could be easily used as curtain tiebacks:
13. Vintage Doorknob
Okay, this one is last because it may not be one that you have lying around your house. However, it is STUNNING.
And I actually do have two of these in my house! Do I know where they are right now? No. But as soon as I find them… I know what I'm doing with them!
If you don't have any of these around but love this look, you can look around on eBay, Facebook marketplace, and sometimes Etsy.
Or, you can actually buy doorknobs like this that are brand new–but of course that won't have the vintage feel. There are always ways to disguise that, though!
Related: If you haven't used Facebook marketplace to buy & sell stuff for your home–WHAT ARE YOU DOING? Read my guide to selling things on Facebook marketplace for the best experience.
If you're trying to find a DIY solution to tie back your curtains, I hope this have given you plenty of ideas. I honestly want to try every one on this list–so if you want a tutorial for one of them, find me on Instagram or TikTok and let me know. I can't wait to hear from you 🙂
More related posts:
Related: Want another way to make your home reflect YOU–for insanely cheap prices? Check out my printable wall art on Etsy in the Black Door Shop. You can even get 20% off your order with the code 20OFF. 🙂
I would love it if you shared this post! Here are few images to make it easy for you to pin on Pinterest: