A few years ago, I gave my fireplace a makeover with paint. Lately, I've been wanting to add something a little more special. Add Pinterest to this mix, and suddenly I'm DEEP in a rabbit hole of shiplap fireplace ideas!
I collected over 21 different shiplap fireplaces with different styles, shapes, colors, and designs to help you get inspiration for yours.
Here's what we'll cover:
What You Need to Know About Shiplap
The cool thing about shiplap fireplace ideas is that you can create one whether you have an existing gas fireplace, a electric insert, OR if you want to create a fireplace wall from nothing.
As you scroll through the ideas in this article, you'll realize that there are actually MANY different ways to create a beautiful shiplap fireplace. In fact–it's not always shiplap!
What most people think of shiplap are boards like these:
They are wooden boards (often with a smooth feel, kind of like MDF boards), and the edges are designed to be hooked together. However, there are actually so many different types of shiplap that aren't white or smooth! For example…
On the other hand, people have come up with all kinds of alternative routes to create the shiplap look without actual shiplap boards. These include:
Now, let's start getting inspiration!
Rustic & Farmhouse Fireplace Ideas
Let's start with some classic versions of a farmhouse fireplace. Shiplap has existed for a long time, but really wasn't well known until Chip & Jo brought it into our lives along with the whole farmhouse design style.
People often associate shiplap with the farmhouse style, so that's why I'm placing these ideas first. However, if you keep reading, you'll see how versatile, modern, and unique shiplap can be!
1. Simple White Shiplap Fireplace
This white horizontal shiplap fireplace is like the poster child for the classic (beautiful) farmhouse living room design. Combining the soft white with a dark wood mantel, lanterns, and the wreath is full of rustic charm and is easy to recreate–especially if you're design-challenged like me.
2. Modern Farmhouse Fireplace
This is where this gets a little more exciting! The next few fireplaces still have a rustic look, but with more of a modern edge.
This one is also white horizontal shiplap–but isn't it interesting how different it feels?
The modern feel comes from a few different things, like the wide shiplap, the lack of framing, the sleek mantel and fireplace insert, the round mirror, and the minimalist decor.
It's cool how this is actually a full white shiplap wall/fireplace wall, but it doesn't scream "FARMHOUSE."
Bonus Fireplace Idea: Hidden Mantel Storage!
The actual design of this example is similar to the one above, but I had to include it because… THIS FIREPLACE MANTEL HAS HIDDEN STORAGE.
How very James Bond-ish!
After finding this, I found some mantels with hidden storage for sale online. You could also DIY this for sure, but it would probably take some more advanced DIY skills.
3. Shiplap & Tile Fireplace
Here we go, another unique farmhouse/rustic/modern shiplap fireplace. This shiplap, unlike all three previous examples, is flush with the wall. Goes to show that you don't need to frame a whole new structure for a fireplace–you can make an impact with small changes.
In fact, you can see how I did a similar thing on my blue fireplace below.
Anyway, this white shiplap fireplace uses wide shiplap, thin framing, and a thick, square wood mantel. What I think really makes this one stand out is the tile choice around the fireplace. It's so interesting to see how big of an impact tile can make on a space.
Related: Thinking about tiling your fireplace or another area? Make sure to bookmark my full guide to DIY Subway Tile Backsplash. I share LOTS of tips in there that are key to tiling any area, especially if it's your first time.
Colorful Shiplap Fireplaces
This section is otherwise known as Kaylee's favorite. Because I looooove colors. Give me ALL the colors!
But, as we've discussed, design is still an area where I'm growing. So these examples of colorful shiplap fireplaces will give you better inspiration for how you can create a bright, bold, and unique fireplace in your home.
4. Dark Blue Shiplap Fireplace
This example uses horizontal shiplap painted in a navy color and placed around a gas fireplace with a stone or tile or marble surround. The contrast of the dark navy with the white tile and the light-stained wood mantel is STUNNING.
Having the thick shiplap in a dark color against white walls or another light color really makes this a clear focal point.
I chose a similar color for my fireplace, and you can see that below.
Here's a quick look at my fireplace when I was in the middle of painting it:
Just by choosing a deep, bold color, it COMPLETELY transformed the entire space in my living room. I also painted that tile! Learn more about how I transformed my fireplace in the full post How to Paint a Fireplace.
5. Light Blue Fireplace with Stone Accent
Here's a very different example of a blue shiplap fireplace. The style of this one is totally different but equally unique and beautiful!
This blue color is a lighter, warmer tone, and the shiplap is only used above the fireplace mantel. This exact shade of blue goes PERFECTLY with the stone fireplace–the colors very clearly go together, and the light wood mantel is a perfect contrast.
I. love. it.
6. Teal Blue Fireplace
This blue shiplap is a teal-ish color, and you can see the different impact of having a dark wood beam as the mantel. It gives the space a subtle rustic touch.
Plus, having the shiplap go up to the angled ceilings–which are also shiplapped!–is really striking.
Another interesting feature of this one is the white trim around the fireplace. I'm not sure what I think about it–what do you think?
7. Deep Green Fireplace
This one clearly has an electric fireplace, and they've added shiplap with a dark green shade of paint. Green has been super in style over the last few years, and I am very much in support of that.
I think it's interesting how this dark green fireplace with shiplap actually looks more farmhouse-y than some of the other living rooms above. I think it's because of the other design/decor choices, like the wood beam mantel, the blanket ladder, wreath, and for sure that coffee table style
It goes to show how everything in your space works together.
Related: See the blanket ladder in the corner? That's a popular way to store blankets on Pinterest… but it never works for my chaotic life (and especially my chaotic children). That's why I made a full guide to the best blanket storage ideas for like, actual humans.
8. Black Shiplap Fireplace with Wood Shelving
Girl…. Now we are REALLY getting into the fireplaces that give me chills.
This one is a black shiplap fireplace (with a similar design to the first white fireplace we looked at), with a thick, square wood beam mantel and thick wooden shelves around it.
IT IS SO FREAKIN' PRETTY.
Does this not make you immediately want to sing, "Paint it BLAAAACK" ?! Because I'm already singing.
The addition of the floating shelves really adds a lot of function here. It also adds some design elements… although I would honestly prefer this room without them.
But that's the beauty of design & DIY–we all like different things!
9. Green-Gray Shiplap Fireplace
This fireplace is similar in a lot of ways to the green shiplap fireplace from above, but also noticeably different. The paint color is right in between green and gray, and I personally find it STUNNING.
I also love the bold touches of color they've added to this through the blanket and the garland on the mantel. You can also see how they've made this fireplace the clear focal point of the living room, with the light, sheer curtains and light color scheme of everything else in the room.
Another thing to notice is how small the actual fireplace is. It's pretty amazing how simple electric fireplace inserts can become a stunning focal point with some of these shiplap fireplace ideas.
Unique Shiplap Placement & Styles
All of the shiplap fireplaces I've shown so far have been made with horizontal shiplap–which I would say is the only way people really think about using shiplap. And it's pretty cool to see how horizontal shiplap boards can take on SO MANY different looks by just adjusting a few things!
But now let's get into some even more unique ways to create a stunning shiplap fireplace. The next few shiplap fireplace ideas use those simple wood planks in different ways to create a special look.
10. Herringbone Shiplap Fireplace
This fireplace surround is actually really simple! Again, the boards are attached directly to the wall. But by adding the shiplap in a herringbone pattern and painting the boards blue, the fireplace is instantly elevated.
I also love the use of the white mantel here.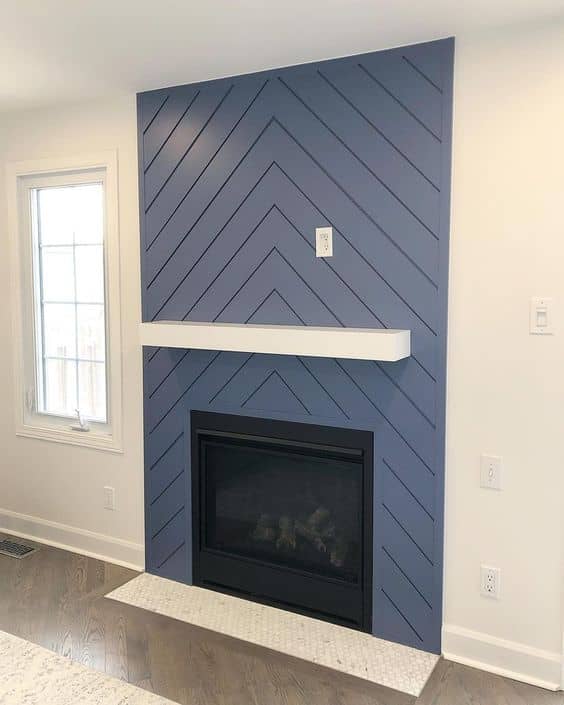 11. Green Vertical Shiplap Fireplace
Girrrrrrl. I am actually melting with this one.
Vertical shiplap, a deep green shade, a wood mantel where you can seeeeee those stunning grains, and that stunning art print! I can't even get into the stunningness of all those plants.
(No, like I don't deserve to discuss them because I kill everything and it's a skill I really need to work on. Badly.)
I found this on Pinterest, and the owner said the paint color is Vintage Vogue by Benjamin Moore. You are WELCOME.
Related: I used a similar shade of green to create a board & batten accent wall in my bathroom. I also gathered the best board and batten wall ideas for every room to give you even more inspiration.
12. Black Vertical Shiplap Fireplace
If you think I can't get any more enthusiastic, YOU'D BE WRONG. I wish you could HEAR me when I look at this black fireplace! IT'S SO BEAUTIFUL I WANT TO CRY.
And all you have to do for this is install shiplap in a different way. Sign. It's incredible.
Because I'm obsessed with black, I found a few different versions of this for you to compare.
First, this tall black fireplace is clearly the show-stopper of the entire room. The entire WORLD. I love how they chose a DARK wood mantle with this against the white walls.
I stumbled on another version of vertical black shiplap around an electric fireplace. It's much simpler, and they use a natural wood mantel. If I came to your house and saw this, I wouldn't shut up about it.
Finally, the next version is kind of a mix of the first two. The shiplap goes all the way up to the ceiling, and the mantle is a light-ish color. It's interesting how this one is against a white shiplap wall! I think the contrast with the warm wood tones makes this feel the most cozy.
13. Black Herringbone Fireplace
The last example of a non-horizontal shiplap fireplace is this black herringbone (Or chevron? Is this chevron? Do we still use that term?) fireplace.
It may be the lighting, but this black shade looks a tad lighter than the last few examples. It could be a shade like Iron Ore, which is the color I painted my garage (which you can see in this video).
Natural Wood Shiplap Fireplaces
The last section is one of the most beautiful, in my personal opinion. For whatever reason, shiplap is painted like 98% of the time. Maybe it's because we are traumatized by 70s wood paneling?
But fear not! I think the next few fireplaces will show you that we have nothing to fear. 🙂
14. Wood Stained Shiplap Fireplace
Considering our childhood trauma of cheap wood paneling… LOOK AT THIS STUNNING WOOD SHIPLAP FIREPLACE.
I mean, I think you look at this, and all thoughts of ugly laminate paneling disappear. Along with all of your problems.
Is that too far? Naaahhhhh.
Here's a different example with darker wood stain, but really it's quite similar.
Notice how there is no mantel on these fireplaces. I'm not exactly sure of the reasoning, but I have NO complaints when I look at these photos. In fact, I have no words coming out because my jaw is ON. THE FLOOR.
Does the pup come with this fireplace or home? Because yes. Yes please.
15. Pine Shiplap Fireplace
Here's another take on a natural wood fireplace–this one has a wood mantel!
If you read the original post for this one, this is actually a faux fireplace built with Habitat for Humanity. Because the budget was low, these panels were actually made out of fence boards! Genius.
However, the same thing could definitely be done with an electric fireplace insert.
17. Faux Wood with Wallpaper
Do you like the look of the wood shiplap fireplace surrounds but aren't sure how to build it? An easier and more affordable solution–wallpaper!
You can find wallpaper like this on Amazon–here's one I love!
A Few More Unique Shiplap Fireplace Ideas
If none of these shiplap ideas are really hitting you in the chest, here are a few other pieces of inspiration for you.
18. Fireplace TV Stand with Shiplap Accent Wall
Building anything into the wall can be challenging and pretty heavy on commitment. If you want a fireplace but don't want to alter the structure of your house (okay that's not really what happens, but you know what I mean), then consider getting an electric fireplace stand!
The one in this picture is under $350! Then you can add a shiplap wall behind the stand for a similar look–but much easier to complete.
Related: Want an accent wall in a completely different style? Here's how I built my geometric accent wall in 2 hours from one board!
19. Wood Slat Fireplace
For a very different look than shiplap, consider using wood slats. These make a big impact on your fireplace, and could be used around gas fireplaces or electric ones. They are also really easy to install, simply cut, stain, and nail into the drywall.
Here's a different version of wood slats around your fireplace:
20. Faux Wood Tile Fireplace
This fireplace is stunning. Part of the reason I think it's so attention-grabbing is because it's not immediately clear what the material actually is.
This is actually wood-look tile, but honestly, I think it looks a little bit like stone. You could make your own version of this with one of the peel and stick wallpapers or wood planks listed above, too.
Related: Does the peel and stick world intrigue you? Learn how I used a peel and stick backsplash over existing tile to make over my kitchen!
21. Shiplap Fireplace Wall
Last but not least–a FULL shiplap fireplace wall! I could see this being really impactful as part of an accent wall. If you don't want the fireplace alone to be a focal point, continue the shiplap and color on the rest of the wall.
Related: Want another way to make your home reflect YOU–for insanely cheap prices? Check out my printable wall art on Etsy in the Black Door Shop. You can even get 20% off your order with the code 20OFF. 🙂

If you're considering how to add a modern shiplap fireplace in your home, don't hesitate! Let me know what other questions you have on Instagram or TikTok. I can't wait to hear from you 🙂
More related posts:
Don't forget to check out my shirts & products made for DIYers like you in my shop Black Door Fits–plus some extra fun stuff. You can even get 20% off your order in either of my Etsy shops with the code 20OFF!