Hi, my name is Kaylee, and I am hopelessly obsessed with blankets.
Hiiiiii Kaylee.
Blankets are comfy, pretty, and an absolute necessity for survival if you run cold like me. I also have two kids that have gotten the blanket-obsessed gene, so our blanket count has quickly increased the last few years.
But let's be honest: lots of the blanket storage ideas on the interwebs are not made for real people. My blankets are not all in perfectly coordinating colors, sizes… and I'm definitely not using my precious energy to fold my blankets up every day.
So, I decided to dive in and collect allll the possible options for storing your blankets in real life. I'm including some of my favorite ideas, the easiest ideas, and some really unique ones.
Here's what we'll cover:
1. Large Cotton Rope Basket
I'm starting with this idea because it's simple, cute, and pretty dang affordable. Drumroll please….
Large cotton rope baskets! They're especially fun because they come in allllll kinds of colors and finishes and looks. Click through the ones I've linked below, and you'll see grey, black, white, tan, and multi-colored cotton baskets. These are also a LOT more available and affordable than more typical wicker or grass baskets.
Then all you gotta do is shove blankets in the basket. You don't even have to fold or roll your blankets! (And thank God for that)
I actually have two of these, and I can confirm that 20+ inch tall baskets are quite large and can hold more than a few blankets.
Important note: Since I actually own these baskets, I can give you my honest feedback. I haven't actually used these for blanket storage, but I have THREE cats and two children… and these baskets have thrived.
The only thing I don't love about them is that they don't hold their shape on their own when they're empty. HOWEVER, if this is the blanket storage idea you use, having it full of blankets would completely negate that problem. Also… if you don't have children and cats who literally PURPOSELY knock every basket down… you also wouldn't have to worry about this problem. Go you.
Similar options:
2. Natural Woven Basket
It was hard to choose a title for this one, because these more typical types of baskets can be made out of different materials, like rattan, jute, and grass. But basically–just use a pretty basket to hold your blankets!
Functionally, it's the same type of storage solution as the cotton baskets above, but I personally love the look of baskets much more. Plus, as I mentioned, these don't flop over if they're empty.
In fact, this is what I've used for blanket storage for the last few years! I found this massive basket at a thrift shop years ago–literally across the country–and I've been obsessed with it ever since. It's 19.5 inches tall and 19.5 inches in diameter.
If you love this idea as much as I do, there are plenty of big baskets to purchase online. Unfortunately, buying baskets that are big enough to hold the big, fluffy blankets that I prefer is generally more expensive than the cotton ones. But it is a LOOK. 😍
If you want the look of a big basket for your favorite blankets, but don't have the budget, scroll down a little more to see some storage options for medium-sized baskets.
Another honorable mention is this round leather woven basket from Crate & Barrel. I AM ACTUALLY SWOONING.
Similar options:
Bonus thoughts:
If the price tag on the big baskets just isn't for you, there are other ways to make this look work for your budget!
For example, you can use medium-sized baskets under a console table to store blankets. This could go on a wall in your living room, behind your couch, or in your entryway.
Stunning!
Medium size basket options:
3. Lidded Basket
This idea is really just a small skip and a hop away from the last one, but I think you'll see that it can create a completely different vibe–and thus, deserves its own number on this list.
I can't say that I've ever used the term "lidded basket" before writing this article, because it's just not something that seems to come up a lot. But these have the same look as the baskets above and are designed with some kind of lid–sometimes its attached, sometimes detached.
But what I think is so amazing about these is how differently they can be used!
For example, this one is almost like a coffee table or a freakin' accent table (is that even a thing?!):
This one, on the other hand, is a ROUND basket that you can use as a table–HOW COOL IS THAT GUYS?!
Then, as you look around on the internet, you'll see that a lot of these lidded basket ideas kind of bleed into laundry hampers.
And my first thought about this is like, NO, how tacky would THAT be.
If you're thinking the same thing, hold on a minute! Look at how this person made laundry baskets a dang feature in her living room:
HOW AMAZING IS THAT! When I see that, I don't think "Why is there a laundry basket in your living room?"
That's because she chose the exact right size, a BEAUTIFUL basket look, and she added two to really show that this was intentional. Plus, it puts your throw blankets within arms reach of the couch–it's genius!
So don't go buying $4 plastic bins to hold your blankets (well, unless you want to of course 😉)! But think about how unconventional items–like hampers–could become functional and beautiful in your home.
Similar options:
4. Storage Side Table
Now, if you end up going with one of the first few options in #3, this one is pretty similar. But "storage side tables" totally exist and you can buy them on Amazon and have them like tomorrow.
These are also pretty affordable, and there are a ton of variations. For instance, it's currently less than $90 for both of these:
I really think this would be an awesome blanket storage idea for a living room, family room, or a small space. It takes up the same amount of floor space as any end table would, but provides so much more function and vertical storage.
Plus, you'll actually be able to see the blankets you have. This is really great for the object permanence issues that ADHD people like me have.
It's also totally DIY-able! I haven't done it, but it's officially on my list of things I want to make. So if you want to see someone do it and get one of my detailed tutorials–let me know! Message me on Instagram or TikTok. 🙂
Related: You can see some of my detailed tutorials in these examples — How to Paint Your Storm Door and the Complete Guide to DIY Subway Tile Backsplash
I also stumbled on this rustic-style storage table:
Honestly, this is also making me think you could actually build a tall cube out of wood and add a top for a completely different look.
And…. that's another project on my list. 😅
Similar options:
4. Large Storage Ottoman
Another great place for blankets is in a storage ottoman. This is another thing that's great for small spaces, because ottomans can be used as a coffee table, an extra seat when you need it, a footrest, and for storage.
I had this exact blue storage ottoman from Target when I moved across the country with two little kids into a small apartment. I used it for toys and stuffed animals, but it was PERFECT for easily accessible storage. It took about three minutes to clean up the living room when we had this–it was just tossing all the toys inside. And that's exactly what you could do with your blankets.
I even included it in my list of the best products for apartment organization because it served us so well. P.S. That's an old blog post, but there are still some good products in there!
Similar options:
5. Round Storage Ottoman
I debated whether to include this option, because small ottomans generally wouldn't fit large blankets or even more than a few thin blankets. However, I think it's still worth including, because round ottomans come in SO many different style options.
For example, here's just a couple results I got on Amazon:
Again, I realize that one round storage ottoman is not going to be the only solution for storing blankets unless you're a true minimalist. However, it's still a good option for a variety of rooms.
I'm thinking this could be ideal in a guest bedroom where you want something beautiful that adds juuuuust a little storage for a few folded blankets. Or something like that.
Here are a few of my favorites:
Similar options:
6. Storage Trunk
ANOTHER BASKET IDEA?! COME ON KAYLEE!
I know I know! But hear me out……….. This one is a trunk.
All jokes aside, writing this article showed me how many different terms there are for things I always thought were just baskets.
But storage trunks are not always basket material. Storage trunks can also be made out of wood or like suitcase material. This is the kind I always see in old fashioned movies–like this one from Home Depot.
These are ideal to use as a coffee table or at the foot of your bed.
I think storage trunks would be a PERFECT thing to go thrifting for. You are much more likely to find unique or antique trunks that don't cost over $100–or you might find other things that could serve as a storage trunk!
For example… here's another lidded basket, but used as a storage trunk AND a side table!
Sigh…. I love thrifting and upcycling. It's so much more fun than just buying stuff.
Similar options:
*Ahem* if you agree–I designed t-shirts for people like us. How's that for a shameless plug? 😂
7. Blanket Ladder
When you clicked on this post to find blanket storage ideas, I KNOW that you were expecting this one! 😉
Blanket ladders have taken over the internet, in my opinion. They're everywhere! And for a while… I was just as obsessed as everyone else. I even found these two old wooden ladders in my 1942 house in Buffalo, and I was CONVINCED that they were destined to be blanket ladders.
However, my ADHD is not the kind that functions this way. A blanket ladder can look SO pretty… but you have to actually have pretty blankets that look good together, AND they all have to be folded or arranged to look pretty.
It's a great idea… but that's not happening in my house. I need to be able to literally THROW blankets somewhere. Is that not why they're called throw blankets?!
However, I totally understand how this could work for people with much different brains than mine. In that case, blanket ladders are extremely easy to DIY or there are some really cool ones to purchase!
Here's a beautiful DIY blanket ladder–this is what I wish mine would look like but I know far too well that it would never ever look this clean.
And here are a few options if you just want to purchase one:
Similar options:
8. Hanging Blanket Storage
Here's something I really do love about blanket ladders–they can be SO unique! This option is kind of like a variation on the ladder, just hanging things.
In fact, this first picture is made from two wooden dowel rods and an old leather belt! How. Cool. Is. That.
Related: I also have an idea for upcycling old leather belts in my guide to DIY curtain tiebacks!
You can take this same idea, and use dowel rods and rope to make a hanging ladder for blankets! This look is STUNNING.
Yet another variation of this already unique and amazing idea is to hang this storage off of a shelf.
However, it seems important to note that this would probably DEFINITELY not be an adequate storage solution for weighted blankets or other queen or king-sized blankets or comforters. This is more for small or thin blankets that are probably more for show than anything else.
Similar options:
9. Wall Mounted Blanket Holder
If you're short on space, then finding a blanket storage idea that utilizes vertical space is going to be especially useful. This wall mounted shelf is often used for towel storage, but I can easily see this being a beautiful and functional storage space for your favorite throws.
And if you're wondering if this is ANOTHER thing that's been added to my list of DIYs…. Yes. The answer is very much yes.
Similar options:
10. Wall Hooks
Wall hooks are not a unique or new idea on their own, but have you ever thought about using them to hang your blankets?! Because I didn't!
I mean, we hang heavy jackets on hooks… why not blankets?!
I especially love this idea because there are some freakin' cool wall hooks out there. For one, you can make wall hooks in a million different ways. You can repurpose old door knobs on wood, screw in screw hooks (which are literally $2 or less), or make simple hooks out of scrap wood.
Lots of these ideas would look extra good on a board and batten wall. Ahem…. Good thing I have a detailed tutorial on creating DIY Board & Batten Walls and Board & Batten Accent Walls for every room. 😉
It's really easy for me to get carried away with this one because there are just SO MANY different UNIQUE wall hooks that could be perfect for storing blankets. So here are just a small number of my favorites…
Similar options:
11. Storage Coffee Table
Your coffee table is a somewhat obvious place where you could store blankets. You just need to make sure you choose a coffee table with storage–and especially with the right kind to fit blankets inside.
For example, a coffee table with lots of little drawers isn't going to have enough storage space for our treasured big, fluffy blankets or weighted blankets. There are also plenty of coffee tables with open storage, like this one with a shelf. You could always roll blankets up and put them there… but that definitely isn't the easy functionality that I want to have.
So ideally, you'll look for a coffee table that basically works the same as the storage ottomans and is a big blanket chest.
Similar options:
12. Fabric Zipper Bag
Finally, this idea is not a super aesthetic, unique, or interesting one–but it is super functional and effective. Fabric storage bags are great for storing blankets under your bed or in a closet, while keeping them clean and organized.
These come in a lot of different sizes and shapes, so it's best to start by thinking about where you want to keep your extra blankets, then pick a size that best fits your space.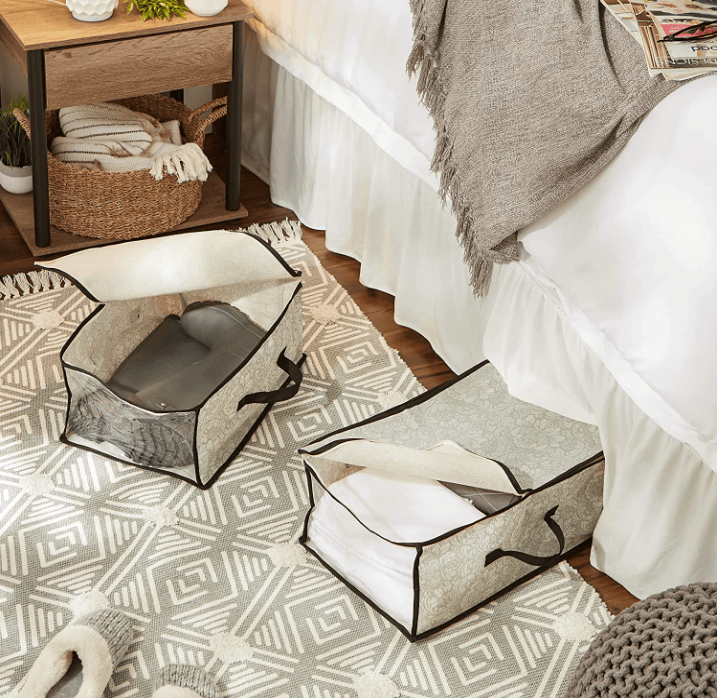 Similar options:
A Few More Unique Blanket Storage Ideas
I had a little too much fun gathering these, okay? Here are 6 more blanket storage solutions that just didn't fit in any of the categories above.
Upholstered Headboard Storage
It looks like an upholstered headboard… but wait! There's more! IT OPENS FOR STORAGE!
Wooden Headboard Storage
Another hidden headboard storage idea, but this one is wooden! I could probably build this right now.
Hanging Beaded Garland
If I was giving out awards for the most unique blanket storage solutions, this one would win. How creative!
Maybe not the most functional, but absolutely the most artsy and eye-catching.
Corner Bookcase
This diagonal shelving unit is made to unique fit into a corner and create shelving space in a small area. You'd have to roll or fold up blankets, but it could be a unique little feature in a small room.
Unique Circle Hooks
I already discussed a few hanging blanket ideas, but this one really stands out from those. This would be easy to DIY, and is especially eye-catching with this ombre blanket tone.
Again, it's not the most ADHD-proof…. But I mean, just look at it. I HAD to include it here. It's too cool.
Related: Want another way to make your home reflect YOU–for insanely cheap prices? Check out my printable wall art on Etsy in the Black Door Shop. You can even get 20% off your order with the code 20OFF. 🙂

Hopefully this post has helped you think of plenty blanket storage ideas for any space you're working with. Let me know what other questions you have on Instagram or TikTok. I can't wait to hear from you 🙂
More related posts:
Don't forget to check out my shirts & products made for thrifters & DIYers like you in my shop Black Door Fits–plus some extra fun stuff. You can even get 20% off your order in either of my Etsy shops with the code 20OFF!
Pin this post!