I did my limewash brick house last year after doing WEEKS of research. Even though it's a simple process, none of the tutorials I found were clear–and I ended up running into so many issues that could have been prevented!
For that reason, this post is intended to be the complete, ultimate, ONLY guide you need to feel confident tackling your limewash brick and to get the exact results you want.
Here's what we'll cover:
Want a simplified, printable version of this tutorial? Get the PDF for 99 cents!
Limewash Brick Supplies
To make your brick limewashing project as easy as possible, I've attached links to the materials on Home Depot, Lowe's, and Amazon. HD and Lowe's both offer online ordering and usually do same-day pickup.
Romabio's Classico Limewash [Lowe's, Home Depot, Amazon]
Masonry brush [this one from Lowe's (NOT the $7 brush!), Home Depot, Amazon]
Grout mixer drill attachment [Lowes, Home Depot, Amazon]
Hose [Lowe's, Home Depot, Amazon]
Sprayer attachment for hose [Lowe's, Home Depot, Amazon]
A few additional buckets for mixing [Lowe's, Home Depot]
Large sponge (depending on your style) [Lowe's, Home Depot, Amazon]
Suggest having a few cheap brushes ready
Need more details on the best tools & supplies for your projects? Check my Incomplete List of the Best Tools & Supplies for DIYers. It includes ONLY tools & supplies that I've personally used and recommend, plus some honest notes about each product and what you really need (and don't need).
Additional Notes on Limewashing Supplies:
Click for full details on the limewashing supplies you may need:
You do not need a pressure washer to actually apply your limewash. However, you may need to pressure wash your brick if it needs a deeper clean before you start applying.
Make sure you get a grout mixer, like the ones linked above, and not the same kind you see me using in my video. While it did work for me, I used the drill mixer from my countertop epoxy project, and it could have been more efficient with the right kind of mixer.
DO NOT GET THE $7 MASONRY BRUSH from Lowe's. It seems like it wouldn't make a difference, but it does. That one loses so many pieces that it's just not feasible. The one I've linked is only a few dollars more, but works much better. It also spilled some hairs in the first few minutes, but then stopped and worked really well.
If you're wondering, do I have to brush my entire house with this?! Well, that's the route we chose–however, it IS possible to apply it with a paint sprayer. I had read a tutorial from someone who did it this way and recommended against it, which swayed my decision. However, I've seen multiple other people use a sprayer, and it's definitely faster.

Because it's ME we're talking about, I still have a small section of my house that isn't covered. I bought a paint sprayer this year to paint the siding on my house, so I'm going to attempt to apply this with a sprayer in the Spring of 2023 and come update this post.
I've also read online tutorials from people who used hydrated lime for their whole house, which cuts costs down significantly (even though the cost is already low!). If you do this, make sure you read specifically how that works, because it is NOT the same as agricultural hydrated lime. I chose not to go in this direction just because there seemed to be so many more question marks. Plus, Romabio limewash is totally removable! I felt that $200 was a completely reasonable price to pay for much more confidence.
You can limewash brick in different colors! See more about that below.
Related: How to Build an Easy DIY Window Box
Prepping Your Brick for Limewash (Super Important!)
Click to read all the details on how to prepare your brick surface for lime wash:
Before lime washing, you need to prepare and clean your brick and your house just like you would for paint. The brick basically just needs to be cleaned.
On the other hand, keep in mind that applying limewash is SO MESSY, so you would be wise to prep for that. Mainly the only thing you can do is place cardboard or something else on the ground to stop the limewash from getting everywhere.
However, fear not! Limewash is made from actual Dolomite lime, which is a natural element that's environmentally friendly, it's really easy to clean up if and when you find a mess in the aftermath.
You also need to plan for the right weather. Romabio's limewash should be applied when it's between 50-90 degrees Fahrenheit. Romabio also specifies that rain will not affect the application after about 3-4 hours, but of course, it's ideal if the forecast shows no rain for a day or so afterward.
HOWEVER, I actually planned that part well, but of course the weather changed on me and it ended up pouring the very next morning.
I was extremely relieved to find that Romabio was 100% correct, and the application wasn't affected at all!
You can see that in this video on my TikTok:
NOW. That's all it takes to prepare your brick for limewash–but that's DEFINITELY not all you should do before starting.
Unfortunately, your brick exterior can turn out very poorly if you don't know all the things I didn't know. Before actually tackling your house (or another brick surface), PLEASE make sure to read Limewash Brick Tips & Techniques below, which includes all the tips I learned for this process.
Related: How to Wrap Porch Posts with Wood (Behind the Viral TikTok)
Pssst, want to show off your love for DIY? Check out my product designs I made specifically for DIYers! (and ADHDers… and moms 😉 Visit my Etsy shop Black Door Fits. You can even get 20% off your order!
How to Limewash Brick: 5 Simple Steps
In this section, I'm going over the steps to apply limewash to your brick house.
HERE'S THE THING. Please read this next part!
I completely scoured the internet for every blog post and video about limewashing before I dove into the project. And even though I didn't FEEL super confident, I thought I basically knew what I was getting into.
And for the most part, I was wrong.
I learned SO MUCH that I honestly think other people should have specified–and I REALLY think it will be helpful for you to know this stuff before you lime wash your brick.
However, I get overwhelmed if there's too much information thrown at me at once, so I'm creating a separate section to discuss all the details that I really wish I had known. That section is below this one: Limewash Brick Tips, Techniques, & Mistakes I Made
1. Mix the Limewash
Get on your messiest paint clothes, open up that bucket of limewash, and get ready!
When you first open the Romabio limewash container, it's kind of like a thick peanut butter consistency with a lot of water that rises to the top.
I recommend mixing that up a little bit first without adding water. Then, if you're limewashing a house and not a smaller interior brick area, transfer some of the limewash to a separate container to start mixing.
Then add water, mix, add more water if needed, mix more… until you get the right mixture.
Reminders:
TEST what mixture you want before tackling your entire project
Don't get too particular about the mixing because the texture changes over time
The dilution ratio you use will depend on the look you want: opaque, light, distressed, etc.
Plus, watch this 1-minute video with all my limewash mixing tips:
(And don't worry that it starts by saying "part 2" — you're still reading this in the correct order 😉)
2. Spray the Brick with Water
First of all, this step is SEPARATE from making sure your brick wall is clean. If not, make sure you pressure wash it. You don't want to apply this on dirty brick.
Limewash paint must be applied on a damp surface, so use a hose and spray a section of your brick with water.
I recommend doing relatively small sections, especially in the beginning as you perfect your technique. With temperatures between 50-90 degrees, the water you spray on your house evaporates quickly.
Related: How to Paint Multicolored Spindles
3. Apply the Limewash
With the mixture ready and damp brick, pick up your masonry brush and just start applying!
Keep in mind that the limewash is a much different texture than paint, so it may feel a little funky at first. But in general, this is just brushing it on like you'd brush anything.
Important note: If you missed what I said about using a paint sprayer vs. a masonry brush, go back up to my supply notes and read that.
If you've practiced your technique in advance and you have the right mixture, this is a really simple and intuitive step of the process. If you haven't practiced your technique…. Well, you should do that. Read all about that below: Limewash Brick Tips, Techniques, & Mistakes I Made
(If you have deep grout lines like I do, I BEG YOU TO READ THAT SECTION)
4. Distress & Customize Your Limewash Finish
After the limewash is on the brick–one section at a time–it's time to customize the look of your limewash! This is where it's important for you to already have your technique figured out.
Important tip: With Romabio limewash paint, you must rinse/distress the limewash to get the look you want within 10-60 minutes of applying it.
Adjusting the finish can include:
Doing nothing for an opaque, flat finish (essentially what we ended up doing)
Distressing small areas with a sponge, cloth, spray bottle, or anything else
Lightly rinsing the limewash for a more transparent finish
Any combination of the above!
Keep in mind that the limewash dries more opaque than it first goes on. This is one of the many reasons why experimenting is such an important part of the process!
5. Cleaning Up The Limewash Mess
Honestly, after you apply the limewash the way you want it… that is essentially the entire process of limewashing a brick house! It's extremely simple on paper.
After the application… is the part when you're going to look around and laugh. Because you, the house, the ground, the air… it's ALLLLLL going to be covered in limewash.
You can kind of see in this picture what part of the ground looked like.
I did see a guy on Instagram a few months ago limewash a brick house, use cardboard to cover the ground, and it looked like he basically had no mess to clean up afterward.
But that's Instagram for you! I don't believe it for a second.
It's just messy, okay? If you're not okay with messy, then a lot of DIY projects are probably not for you.
But thankfully, limewash is extremely easy to clean up–especially if it's done quickly! If you pay attention to your mess as you go, you can essentially just rinse it off.
Of course, I did NOT pay attention to my mess as I went 😂
I was very happy to find out–WEEKS later–that you can just scrub limewash off of stone or cement or whatever with a cleaning brush like this one. You could probably even just try it with a rag first.
In fact, limewash on brick is removable too! This is one of the many added benefits of limewash & yet another reason why I prefer to limewash brick instead of using regular paint.
Now! You've read through the basic steps, and it's time to talk about all the ways this project did NOT go as planned–and all the things you can learn from that.
Limewash Brick Tips, Techniques, & Mistakes I Made
Even though there are only a few steps to limewash brick, there are SO many different ways that it can go right or wrong in between.
Although I enjoyed the process and WOULD recommend limewashing to anyone, it was frustrating to do SO much research… only to find that there were a million little details that no one mentioned.
I always want to be the person online that you can actually trust to give you the real deal (and to make every possible mistake), so here we go. Here are 5 important tips you need to know:
Test the limewash first + decide on your technique
Treat mixing like an art, not a science
Check those grout lines
Don't start in the front of your house
Pick the right limewash color
1. For the Love of Pete, Test Your Limewash Technique FIRST
One of the many differences between limewash and latex paint is that limewash can be...
One of the many differences between limewash and latex paint is that limewash can be manipulated in so many different ways to look very different. That's kind of fun!
But it means that you absolutely HAVE to practice on a test area before you go tackling your entire house.
Every little thing you do will change the way your limewash looks–and if you're doing a full brick house, that makes a big difference.
Here are all the things you need to pay attention to/decide on for your limewash technique:
How much you want to dilute it (a little bit of water can make a big difference!)
If you want your finish to be opaque, transparent, or in between
IF you want to distress it & how much
What technique gets the distressing you want (a rag, sponge, or a hose)
The depth of your grout + how you will cover the cracks
DON'T STOP PRACTICING until you feel completely confident that you know how to get the look you want.
You can see that I did do a test area on my house, but I really didn't mess around enough and I wasn't confident at all. This ended up making me get a different result than I really wanted.
Even though I think the limewash has given our house an AMAZING transformation, I would have loved a more transparent and distressed look. You live and you learn–and I hope you can learn from my mistakes!
2. Treat Mixing Like an Art, Not a Science
A super SUPER important tip that Romabio doesn't specify (or anyone else I found online) is...
A super SUPER important tip that Romabio doesn't specify (or anyone else I found online) is that the limewash paint's consistency WILL CHANGE THROUGHOUT THE PROCESS.
The water inside the mixture evaporates–and can evaporate pretty quickly!–so you will have to be adding water and mixing the limewash many times throughout the process.
This is why you need to practice enough to be confident. Just finding the perfect mixture one time will not be enough.
If you use Romabio limewash, they have this dilution ratio guide:
However, this makes it seem like you need to be measuring out ounces to get it perfect.
THAT AIN'T GONNA HAPPEN. It's a good guide to have on hand, I guess, but finding your ideal consistency really depends on your brick, weather, and the look you want.
Therefore, just practice your technique and get a general estimate of the mixture that works. Then reference that generally–don't worry about every single ounce of water.
3. Check Those Lines, Girl
This is another one no one EVER talked about, but holy crow, it had the biggest impact on my...
This is another one no one EVER talked about, but holy crow, it had the biggest impact on my limewashing result.
Before starting, check how deep your grout lines are and how it looks with the limewash.
On the small square that I tested, I didn't really notice how dark all the grout lines stayed. I also wasn't paying attention to it, of course (haha).
See how it kind of looks fine when you're only looking at a small part of it?
But once I'd covered one side of my house, it was suddenly standing out in a way I did NOT like.
Feast your eyes on a moment I took a picture of because it was VERY depressing:
Obviously, that puke siding color doesn't help this situation, but WOW.
Have you ever worked for weeks to prep for a giant project, set aside a perfect day to get it done, and then realized partway in that it was turning out terribly?
It's EXTREMELY discouraging.
I'd like to say this was the first time that happened, but it wasn't. I've been screwing projects since 2018, but I wouldn't change a DANG thing, guys. I've learned soooooo much this way.
Obviously, I immediately realized how deep my grout was, and that I had to find a way to cover the grout as evenly as the brick.
I tried multiple things to fix this problem:
1. First, I tried to just paint into the cracks
I thought this was working for about 4 minutes… but quickly realized that it was requiring MUCH more effort and was making almost no difference at all.
2. THEN, I tried taking a tiny brush and applying it in the grout
I was fully aware that this wasn't feasible for my whole house, but I needed to figure out what the problem was so I could fix it correctly.
That did actually work, but took EVEN MORE time than I thought just to do a small section. I definitely confirmed that using a tiny brush is NOT a sustainable strategy
3. Next, I tried watering down the mixture much more more than before
This actually DID work, but there was still a problem. Like I mentioned above, the mixture changes quickly because the water evaporates. So it would work for a short time, then I'd have to try to find the magical consistency again.
Finally, I did two coats
What finally worked was a mixture of all the things I tried. I'd start with an EXTREMELY watery consistency, and I'd go over an area and put that mixture ONLY in the grout.
Then I'd go BACK over the same area with the correct (much less watery) mixture, covering all the bricks evenly.
You can see the process and what finally worked in this video:
Unfortunately, I didn't nail this technique down until the THIRD side of my house–so I had to back to visible areas with that I'd missed with that tiny brush.
Oof. It sucked. I don't wish that on you.
4. Don't Start in the Front of Your House
Give yourself time to perfect your strategy before working on the...
Give yourself time to perfect your strategy before working on the most visible areas of your house.
This is one thing I actually did right! Well, mostly.
I did my test area on a side of my house that almost no one sees. Then, when I went to tackle the whole house, I finished that side, went to the back, then the other side of the house … and then FINALLY went to the front.
This helped me make the biggest mistakes in areas that no one really will see. By the time I worked on the front, I finally a good technique down. Thankfully, the front is the BEST side of the house.
(You can see the finish here, although this is OBVIOUSLY still a progress photo of the rest of my exterior.)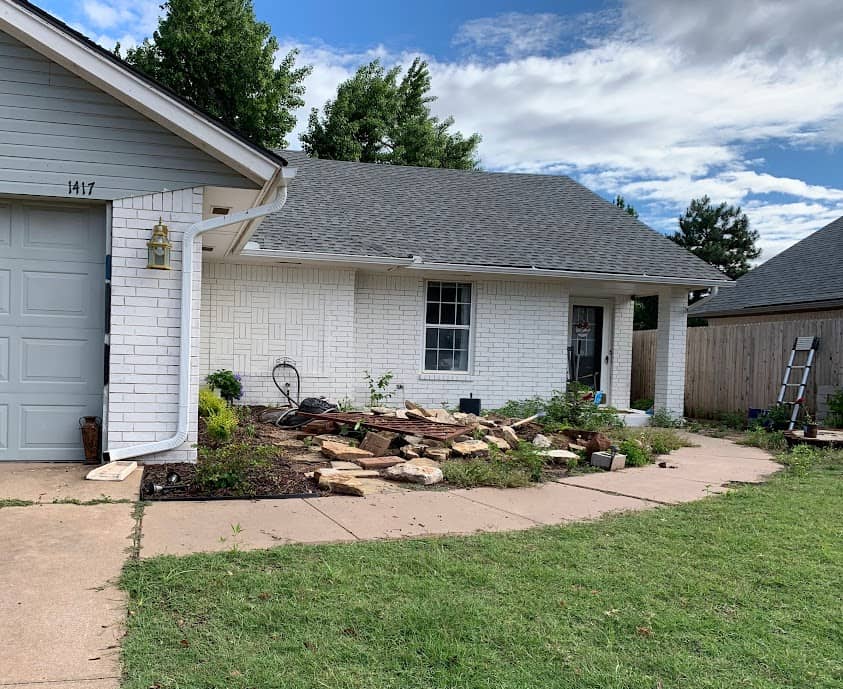 5. Pick the Right Limewash Color
This isn't one that I necessarily did wrong, but I would strongly recommend looking into all your options before buying.
If you use dehydrated lime, I don't think you have any color options. However, Romabio has six different colors of limewash! They range from white to beige, and you can see the comparison here:
Since this tutorial is SO detailed, it might be easier to have a simplified version to keep with you as you start the magic of limewash. Get the PDF checklist for 99 cents here.
Is it better to whitewash or limewash brick?
There are so many benefits to using limewash instead of painting brick. Here's a quick breakdown...
There are so many benefits to using limewash instead of paint on your brick exterior. Here's a quick breakdown of the reasons I chose to go this route:
Much better for the brick — allows the brick to breathe instead of sealing in moisture
Extremely low maintenance
Environmentally friendly
Easy to apply as a DIY project (as long as you use my tips!)–doesn't need multiple coats
It's removable!
Ages naturally & beautifully, patinas over time with different weather elements
My Limewash Brick House: Before & After
I'm not gonna lie, I'm still quite uncomfortable posting these before and after photos.
Limewashing this house was just one of MANY exterior projects I did last Spring, and they were not totally completed. The limewash looks great–but the house overall still has a long way to go.
But hey, progress over perfection, right?!
My exterior makeover included removing a massive tree, limewashing the brick, painting the siding, upgrading the light fixtures, painting my storm door, and designing a new landscape (which was a rouuuggghh process because I got tied up with a bad landscaper).
Literally not ONE of those things are fully completed, but here's the before and after as of today:
March 2022:
June 2022:
November 2022:
You can kiiiiind of see more of the process in this post: Front Porch Makeover
If you're considering whether to limewash brick house, I really hope this helps! I've been working hard to put all this information in here to help other people get an even better result than I did. Let me know what other questions you have on Instagram or TikTok–I can't wait to hear from you! 🙂
Related: Want another way to add beautiful pieces to your home for insanely affordable prices? Check out my printable wall art on Etsy in the Black Door Shop. You can even get 20% off your order with the code 20OFF. 🙂
More related posts: