It's really easy to get carried away with all the progress you have NOT gotten done. Right now, ¾ of my house is white, with an un-limewashed square right by one of my neighbors.
BUT, I recently saw a picture of my front porch when we first bought it… and it reminded me of all the progress I HAVE made. I decided to quickly make this post to go over five things I've done that have completely transformed the front porch.
If you want to click through this, here's what we're going to cover:
Pssst, want to show off your love for DIY? Check out my product designs I made specifically for DIYers! (and ADHDers… and moms 😉 Visit my Etsy shop Black Door Fits. You can even get 20% off your order!
1. Paint the Front Door
The first thing I did was paint my front door. In true Kaylee fashion, I did this COMPLETELY on a whim, and my 2020 self also didn't prep the door AT ALL.
I do not recommend that.
So I painted it a light green color literally because I found a sample of paint and I liked it. I do think the light color was better with the brick than the red color, but this was never a successful project.
Therefore, in late 2021 when I started planning my FULL exterior makeover, I decided to paint the door black–and actually do it right.
If you want a full tutorial for this, visit my guide to painting your front door (the easy way). This is one of my first posts ever, so the pictures are not my best. However, I totally stand by the tutorial!
2. Upgraded the Doormat
You guys are never going to believe this… but this part also happened on a complete whim.
(That was sarcasm.)
I always saw cute doormats on Pinterest and Instagram and wondered where people got those mats for their doormats (you heard me right). Mine just looked like this:
Finally, randomly, I realized those are called "doormat accent rugs," and I found one at Hobby Lobby for 50% off!
Aaaaand that was that.
3. Limewashed the Brick
This step was, unsurprisingly, the biggest and most difficult part of this. In April of last year, I limewashed my brick in a weekend.
I'm still obsessed with the result!
Read the full tutorial of how to limewash brick–including EVERY tip that no one told me (and there were a lot of those 🥴)
You can also see multiple videos of the process on my TikTok. See one right here.
Also for now, view the porch at this stage with the cutest model to ever live:
4. Paint the Storm Door
After my brick was white and my front door was black……… it still didn't look good. Now, the faded white storm door/screen stuck out like a sore thumb.
I had no idea until this point that it was possible to paint a storm door, but as Michael Scott says, "desperation yields the quickest results."
This is a project I totally recommend–only took a few hours and DRASTICALLY transforms the way my entire house looks!
Click on the picture below to see the video, and read the tutorial (including a guide to choosing the right paint) here: How to Paint Your Storm Door
5. Covered the White Window Panes
This project started the same way as the last… it wasn't a problem until I changed everything else. Then it stood out because the white window panes just did NOT match the black door and storm door.
This project got really popular over the last few years, so it's not a new idea, but I covered the window panes with electrical tape.
I've heard many people say not to do this, and some people say it's tacky. To be honest, I don't disagree. However… I don't remember EVER looking at someone's door panes.
I don't think a single person has noticed that this is electrical tape.
But you know what they would notice? If the window panes were white and stuck out terribly.
So, I still one million percent stand behind this one. Ready for a video? You know I got you. 😉
6. Upgraded the Light Fixture
Finally, the last step is one of my favorites! I had gotten this matte black light fixture at Lowe's for $60, and it was the final step.
I used to be afraid of electricity, but now I LOVE changing light fixtures. It's not difficult (tedious, maybe) and it makes the BIGGEST difference in every single space.
My original light fixture was fine, but the light wasn't bright and it looked dated.
The new light fixture makes the entire space fit together and look modern–honestly, I would have paid much more than $60 for this.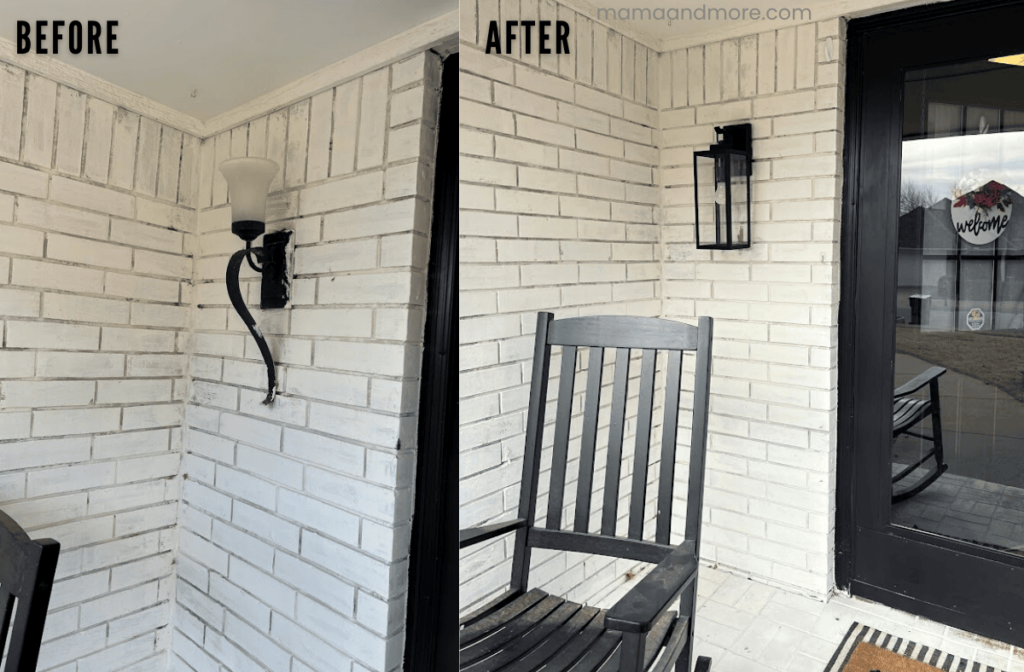 Want to see another example of new light fixtures totally transforming the space? Here's the before and after of my garage lights:
I'm also working on a detailed tutorial to show you how to change a light fixture. However, this one is easy to find online! Keep checking back, because I try to include a lot more detail for the scaredy cats like I was… but for now, I know you can do it.
Front Porch: Before and After
If you're considering your own front porch makeover, don't hesitate! Let me know what other questions you have on Instagram or TikTok. I can't wait to hear from you 🙂
Related: Want another way to make your home reflect YOU–for insanely cheap prices? Check out my printable wall art on Etsy in the Black Door Shop. You can even get 20% off your order with the code 20OFF. 🙂

More related posts: