A few months ago, some videos of vases being painted with baking soda went viral. So, I did an experiment by painting three different vases three different ways, to see how important baking soda really was. Read on to learn how to paint a vase (or just paint glass!) with and without baking soda for the RIGHT result.
Related: Want another way to make your home reflect YOU–for insanely cheap prices? Check out my printable wall art on Etsy in the Black Door Shop. You can even get 20% off your order with the code 20OFF. 🙂

Supplies You Need to Paint a Vase
A vase or glass bottle
Paint – I used latex paint, but I'm sure you could even use acrylic
A mixing stick – you could just use a popsicle stick
Three Different Ways to Paint Vases
Option #1 – Paint glass vase with plain latex paint
Option #2 – Paint a vase with latex paint + baking soda
Option #3 – Painting OVER baking soda + paint with latex paint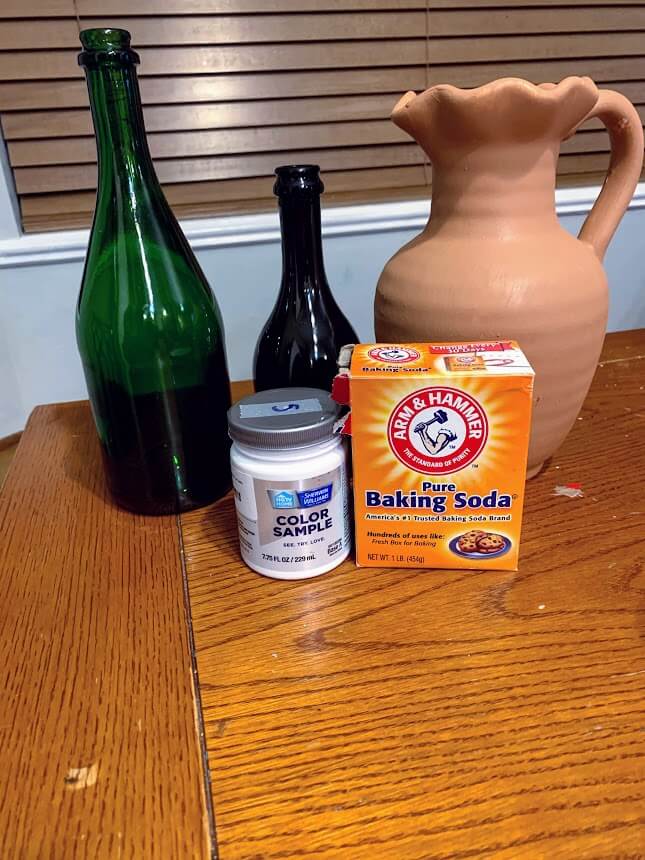 How to Paint a Vase
No matter which technique you use, you need to know all the tips and tricks about how to perfectly paint a vase. This is going to get bumpy, so hold on for the ride….
Step 1: Get paint and a paintbrush (and baking soda if you choose)
Step 2: Dip your brush in the paint
Step 3: Paint your vase
Step 4: Let it dry
….Okay just kidding about that bumpiness. Painting a vase is CRAZY easy. There aren't really any tricks. Really the only thing you need to decide is what you want the end result to look like.
3 Tips for Painting Glass Vases
You will need multiple coats. I often ended up painting three. But just remember… it's extremely easy and takes less than 5 minutes each time.

Don't paint all the way to the bottom of your vase if it's sitting on a table–it will get stuck and the paint will peel off. Instead, like the photo below, leave some space on the bottom. Once your coat is dry, turn the vase upside to get the sections you missed.

Only paint when it's completely wet or completely dry. If you overwork it too much after the paint starts drying, you'll get weird lumps. And they'll be especially visible since glass is such a smooth surface.
How to Paint Glass Vases with Baking Soda and Paint
Simply pour a little bit of paint into a container and add some baking soda. I recommend about a 4:1 of paint ratio–but you can change that depending on the results you want.
You can also see how un-technically I add my baking soda in the video at the bottom of this post.
What does baking soda and paint do?
Here are the results I got from painting vases three different ways. Can you guess how each vase was painted?
A few people in my Facebook group got it right immediately–but I can't tell a difference. At least not from the photo.
Here are a few more close up shots:
Okay, here's the answer: the smaller vase is painted with baking soda and paint, and the larger vase is painted with JUST paint.
The only difference between the painted vases is the texture.
So. How do you make glass look ceramic?
The simple answer is: you paint it!
The rougher the texture you want, the more baking soda you can add.
However, it seems to me like even vases painted with only paint look like ceramic. So the decision is totally up to you!
Want to see the process in motion? Watch my TikTok here.