Board and Batten walls are the best.
They're relatively easy to install, and there are an unlimited number of different & unique board and batten wall ideas that could make your space extra special and custom to your style. In this post, you'll see b&b walls of all different colors, shapes, styles, and in every room of your house.

I gathered 13 very different board and batten wall ideas to help you see what yours could look like and to help you decide on the specifics. If you want a step-by-step walkthrough of exactly how to actually build your own, make sure you read my full tutorial: DIY Board and Batten Wall
Pssst, want to show off your love for DIY? Check out my product designs I made specifically for DIYers! (and ADHDers… and moms 😉 Visit my Etsy shop Black Door Fits. You can even get 20% off your order!
5 Board & Batten Wall Examples in Every Room of Your House
These first five examples show how board and batten walls look in every room of your house–they are not just for bedrooms or nurseries, like you might have seen.
1. Board and Batten Bedroom Wall
First up is this BEAUTIFUL black board and batten wall that's in my friend's AirBnB. This was my first attempt at a board and batten wall treatment, and it's one of my favorite projects ever.
Plus, it looks incredible because my friend is an incredible designer and photographer.
I also love how the whole wall is black, creating a dramatic focal point, except for the shelf above the bed. It's a modern look and adds so much depth to the room.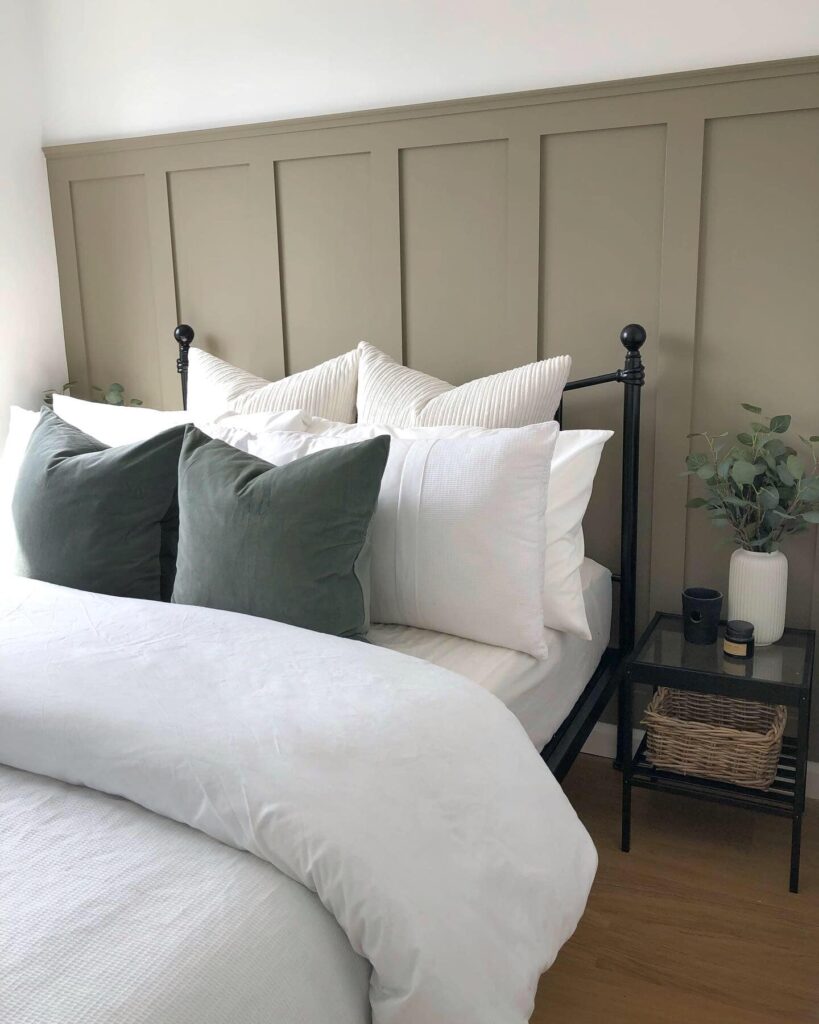 If a full wall of board & batten isn't your jam, this is another option for your bedroom walls. The board and batten wall treatment is still tall, but not on the entire wall. It's an incredible way to add visual interest to a room!
This example also adds a small horizontal board on the top, creating a slightly different impact. It's a very inexpensive way to add a bit more detail.
2. Board & Batten Accent Wall Living Room
Living rooms are another great place for a feature wall, and this white board and batten against a white really has a beautiful impact. It adds a lot of depth to the room without necessary creating an overly bold impact or changing the focal point.
Related: 12+ Best & Most Unique Blanket Storage Ideas (that actually work for real people)
On the other hand, here's a fantabulous example of a bold color in a living room:
I absolutely love this pale, blush-ish pink, especially with the blue couch. The addition of the trim piece on top also makes the board and batten wall a perfect place for framed art!
3. Dining Room Board & Batten Wall
Not a lot of people have formal dining rooms, but they can actually be somewhat difficult to design. Adding board & batten is a relatively easy DIY project that can immediately make the room look professional and finished.
4. Board & Batten Wall Entryway
When you're scrolling through Pinterest or Instagram, it seems like a lot of the board & batten feature walls are shown in entryways or hallways–and it's clear why! You can basically transform a small or narrow space into something bold, eye-catching, and even functional by adding board & batten!
Both of these examples use a dramatic color and add boards on about two thirds of the wall. What a difference from a blank wall!
RELATED: DIY Floating Rectangle Shelf
5. Nursery Board & Batten Wall Ideas
I'm trying not to say "X rooms are perfect for board and batten walls" on every example here, I really am–but it's difficult. 😉
And nurseries or kid's rooms REALLY ARE great places for it! They immediately add interest, and they're great for the itty bitty babies all the way to teenagers and adults.
For babies and young kids, adding a fun wallpaper to the board and batten accent wall is another way to make the space bright and cute and fun.
But the classic look is also great in a small room, for girls and boys, and even around weird room features like windows and doors!
Yes, I realize the picture below is technically not a nursery, but the cute lil' baby was begging me to include it anyway.
8 Unique Board & Batten Wall Ideas
Classic board and batten walls are affordable and impactful, but there are also an endless number of ways to make your feature wall even more unique. Here are 8 examples of unique board and batten wall ideas to make yours fit your design style.
1. Add a Shelf to Your Board and Batten Wall
There were a few examples of board and batten walls with a shelf above, but this one is worth mentioning twice. Adding a horizontal board to the top of your feature wall provides a perfect space for wall art or faux plants. Scroll back up here to see the black board & batten wall with a larger shelf.
2. Double Batten Wall
Um, HOW COOL IS THIS?!
If you're looking for unique, this board and batten wall idea IS IT. It's extremely different and unique, and honestly wouldn't add much more effort to your project!
In fact, the only thing it would change is how you calculate the spacing. Make sure you read about how I calculate B&B spacing in my tutorial–or watch a quick video on it on TikTok.
3. Experiment with Unique Materials & Spacing
There are approximately a MILLION different board and batten wall ideas just with the materials, spacing, and colors you use. For example, this entryway board & batten uses boards that are wide and creates three relatively wide columns.
As a direct contrast, my bathroom board & batten wall used thin, 1-inch wide boards and thin spacing to create a very different effect.
Another different example is in my friend's house, where I used thin boards but wide spaces. See that one above again.
I've also seen someone use YARDSTICKS for her wall. I mean, that's absolutely genius! Yardsticks are less than $2 at Lowe's, and would be perfect for a half wall.
4. Board & Batten + Geometric Accent Wall
This DIY board & batten wall uses multiple colors, finishes, spacing, and patterns–and looks awesome! The bottom half of the wall is a typical B&B design, but the top of the wall uses a different geometric patten.
I don't have any accent walls like this one, but I have created a geometric accent wall in my office–and it was one of the easiest and quickest projects ever!
5. Tall Board & Batten
This board and batten feature wall is extra tall–but still not on the whole wall. It still uses the same simple board & batten features, just taller than most others, which makes it stand out and feels like a modern element. This is a great idea if you want to add board & batten in a unique way, without adding on extra tasks–or if you want a perfect backdrop for photos.
This is obviously done in a nursery, but would have the same cool impact in a master bedroom, boring hallway, dining room…. Okay, ANYWHERE.
6. Board & Batten with Wallpaper
Another one of my favorite board and batten wall ideas is combining the wood accents with wallpaper! You've seen a few examples of this throughout this post, but it's a great way to add color and even more unique-ness to an already beautiful board and batten wall.
This is often done in nurseries or kid's room with fun, bright wallpaper, but I love how this bathroom board & batten is simple, beautiful, and really adds depth to the space.
7. Beadboard Board and Batten Accent Wall
Another unique take on a board & batten accent wall is adding beadboard!
If you follow my board and batten tutorial, you know I use hardboard or eucaboard to make the wall look completely smooth. Beadboard would follow the exact same process but add texture to the wall (just not the orange peel texture 😉 ).
The designer of the photo above used both vertical and horizontal boards along with beadboard, but you could also use ONLY thick horizontal boards and beadboard, like this example. It all depends on the look you want!
Related: 21 + Shiplap Fireplace Ideas to Make Your Own
8. Grid Board and Batten Wall Idea
Finally, another very different take on b&b is this grid pattern. It seems to me like grid accent walls are especially popular in bedrooms, but I think combining the grid with a board and batten bedroom wall is extra unique and beautiful. You can see how it transforms this builder grade home into something that feels custom and special.
If you're considering DIY Board & Batten, make sure you read my detailed tutorial and stay up to date with more tips. Reach out to me on TikTok or Instagram with questions and I'll get back to you as quickly as possible!
I can't wait to hear from you. 🙂
Related: Want another way to make your home reflect YOU–for insanely cheap prices? Check out my printable wall art on Etsy in the Black Door Shop. You can even get 20% off your order with the code 20OFF. 🙂

Other posts you might like: