I didn't tell you guys, but I recently went on a mission. A mission to find the best funny letter board quotes.
I don't know what it is, but letter boards just make things FUN. These cute little boards can make it so easy to display a beautiful, meaningful quote, a Bible verse… OR, if you're like me, a completely sarcastic or ridiculous one.
I prefer the ridiculous kind.
Here are a few different types of letter boards I'll cover:
Want to display a letterboard in your house, but don't want to mess with all those tiny letters? I HAVE A SOLUTION FOR YOU! (Read that in your best Billy Mays voice)
Let me introduce you to the magic of letter board art prints! This is a digital file that you can print at home or at a printer like Walgreens or Walmart. It looks like a letterboard, but is actually just a photo–much cheaper and easier to manage.
This is what it looks like in real life:
You can pick ANY quote on this list (or any other one you find) and get a custom letterboard quote print through my Etsy shop for under $10! This is a great solution to save money, space…. And time digging through letters.
While still getting the ridiculousness displayed in your home. 😉 Order yours here!
You can also purchase many of the funny quotes here from my shop right now. Visit the Black Door Shop to see what I have 🙂
Now let's get to the rest of the funny letter board quotes!
1. Too Old for Snapchat, Too Young for Life Alert
As an elder millennial, I relate to this letter board quote. You could also replace "snapchat" with "TikTok."
(Even though I'm totally on TikTok)
Related post: 27 Inspirational Letter Board Quotes
2. A View of Parenting from a Narrator
An accurate narration of parenting. It's funny, because it would be awful to actually have my parenting narrated all day long.
3. My Dentist Told Me I Needed a Crown
4. How Many Chocolates Equals Happiness
…27 is probably close though.
5. Put On Your Positive Pants
By "positive pants," do you think they mean fleece-lined yoga pants? Probably.
6. I'm Yours, No Returns
7. No More Outside Stuff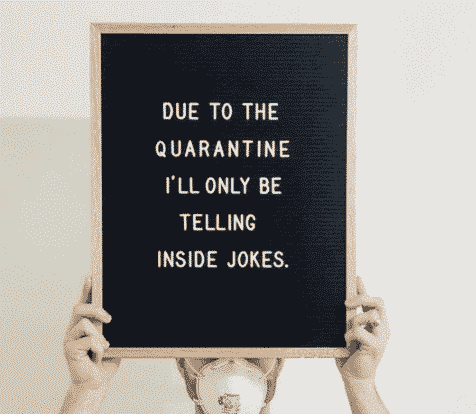 8. Just a Second, Gotta Overthink
9. Gangster's Paradise
It's possible this one is not meant as a joke–but I'm imagining it in my living room, surrounded by stuffed animals and toys.
Oh yeah, that's the gangster life.
10. Watch Bananas Die a Slow Death
11. I Impress Myself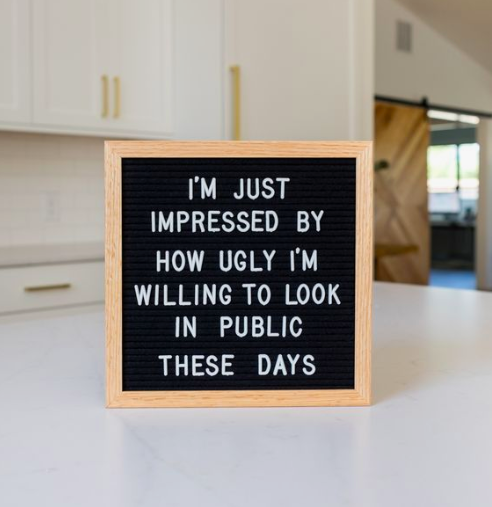 12. Relax, We're All Crazy
I really wish that a lot more people had this one in their homes. 🙂
13. Came, Saw, Made It Awkward
If there's one thing I'm great at, it's awkwardness. Check, check, and check.
14. I Used to Crastinate, But Then I Went Pro
That is what they call upleveling.
15. I Love You With All of My Butt
16. Decaf Coffee is Like a Hairless Cat
17. Taking Your Breath Away
18. Just Tell Me What To Do
19. I'm Sorry I Didn't Answer the Phone
20. My House Looks Like I'm Losing a Game of Jumanji
21. Check Yourself Before You… Ya know
22. Got It All Together
23. Maybe Swearing Will Help
24. The Truth About Letter Boards
25. Spilling Coffee as an Adult
NOT THE COFFEE!
26. Maybe She's Born With It, Maybe It's Caffeine
27. "Would poop here again."
Okay, so this one isn't on a letter board (yet), but it would make a pretty great one. I had to include it because that's how hilarious I think my bathroom sign is.
28. Come on, Autocorrect
29. Not Enough Rap Songs
30. Netflix is So Insecure Sometimes
I'm not going anywhere bestie!
31. How Much Is Your Life Falling Apart
32. I Be Knowing
33. My Favorite Childhood Memory
34. The Worst Friday
35. Chocolate Fast Update
36. The Best Things Take Time
37. Home Is Where You Take Your Pants Off
38. Why Be Moody When You Can Shake Your Booty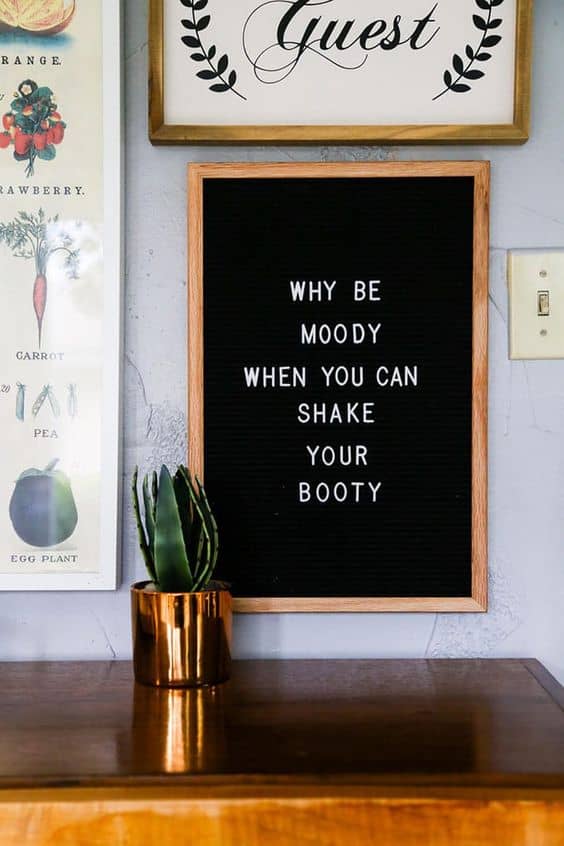 39. As I Do More Laundry, Nudists Seem Less Crazy
40. Emotionally Stable as an IKEA Table
41. I Don't Understand, But I Also Don't Care
42. I Love Fridays Like Kanye Loves Kanye
43. Humble with a Hint of Kanye
Now, because lyrics can make the BEST funny letter board quotes, the next section contains some of the best lyrics of all time.
44. I Will Always Love Youuuuuuuuu
45. Despacito
46. I am Beyonce, Always
47. Dwight, You Ignorant Slut
48. The Only Time I Set the Bar Low
49. All I Want
50. Not a Joke, Jim
51. Chandler Bing
52. Parks and Recreation Letter Board Quotes
PS, if you're awesome/love Parks and Rec, you should check out my post on the best Parks and Rec decor.
53. All Andy Dwyer Knows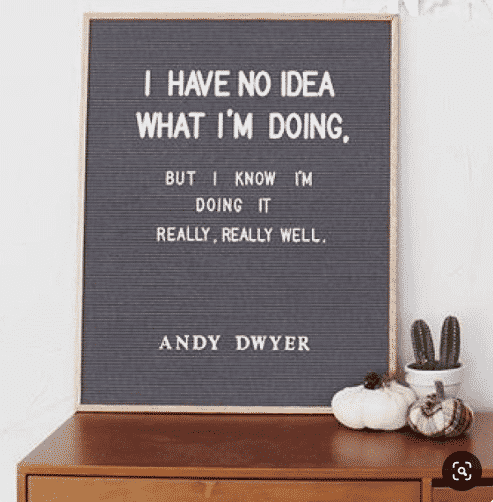 54. Pizza is Truly Power
This is one of my all-time favorite April quotes.
55. Oh, Jean-Ralphio
56. Schmidt Just Gets it
Related: 12+ Best & Most Unique Blanket Storage Ideas (that actually work for real people)
57. Reasons to Let it Out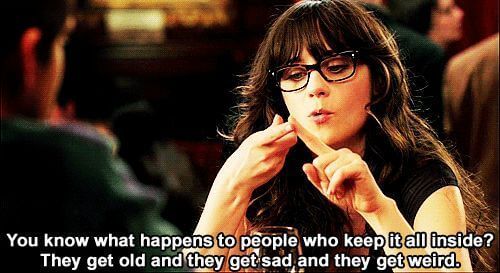 Obviously this isn't on a letter board–yet. Will you be the first?
(If you are, obviously I think you have awesome taste, and you should most definitely send me a picture. 🙂
Do you know of any other unique and funny letter board quotes that I missed? I'd love to link to you or shout out on Instagram.
If you're searching for some funny letter board quotes for your home, don't forget to check my other letter board quote pages!
And I'd love to see your letterboards–message me on Instagram or TikTok. I can't wait to hear from you 🙂
More letterboard posts:
Pssst, want to show off your love for DIY? Check out my product designs I made specifically for DIYers! (and ADHDers… and moms 😉 Visit my Etsy shop Black Door Fits. You can even get 20% off your order!