I think Fall is the most popular season.
People wear shirts and hoodies dedicated to how much they love Fall, get special drinks, and talk constantly about how much they love the Fall season–I don't see that happening with any other season! Maybe it's the temperature, the leaves, the pumpkin pie, or the apple picking, but Fall definitely has its perks.
And in the realm of home decor, displaying cute sayings on a letter board is a fun way to reflect your personality. That's why my post about funny letter board quotes is maybe the biggest post on this site!
So I searched and gathered some of the best Fall letter board quotes to compile right here. You'll see that there really isn't a large number of Fall quotes, but I'll be adding to this list over time.
If you'd like to be featured, hit me up! Not all of these Fall sayings are shown on actual letter boards, so if you decide to use them–send me a picture! I'd love to use it.
Related: Want another way to make your home reflect YOU–for insanely cheap prices? Check out my printable wall art on Etsy in the Black Door Shop. You can even get 20% off your order with the code 20OFF. 🙂

And without further ado, here are my 16 favorite Fall letter board quotes:
1. Give Them Pumpkin to Talk About
I remember bopping to this song when I was 12. This Fall adaptation of it is just so much fun!
2. Change is Beautiful
This one is a personal favorite. There are actually many quotes I've seen about the symbolism of leaves changing colors and falling. I live in the South/Midwest now, but I grew up in Pennsylvania where Autumn leaves could have beautiful bright colors–it was sometimes like living in a painting.
Another similar quote I found was this:
"Anyone who thinks fallen leaves are dead has never watched them dancing on a windy day." – Shira Tamir
(Don't be surprised if this Fall quote shows up as the 17th Fall on the list soon enough 😉
3. BOO
If you're not a big words person or don't find any Fall quotes that really reflect you, this is a great way to add Fall decor without a true quote. I love this creative use of a letterboard to show a shape instead of just words!
Speaking of which…
4. Witch's Hat
PS. I can almost hear the people on Pinterest going "You included a witch's hat and a skull in your post? SOME CHRISTIAN YOU MUST BE."
I've actually gotten that comment almost word for word from my other letter board blog post. Eye roll.
5. Getting Lit This Weekend
Unless we redefine "getting lit" as downing a pumpkin roll and hot cocoa in a ten minute span–then yes, I'll be getting lit. Happy fall. 🙂
6. Trick or Treat Yo' Self
This example combines two things I absolutely love: Autumn and Parks and Rec. I even had a "Treat Yo Self" sign at my wedding!
I even have a whole post about the best Parks and Rec home decor. Dedication, am I right?
7. If You Got It, Haunt It
I'm not a big Halloween person, but this is just too much fun.
8. If One Door Closes & Another One Opens, Your House Is Probably Haunted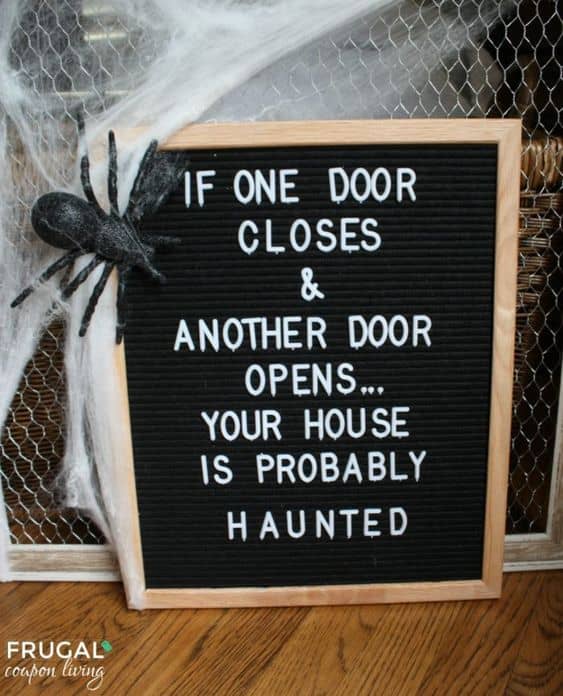 Happy Thanksgiving, your house is haunted. 😉
9. Reasons Why Fall is Number One
To use this one, you'll need a relatively big letter board. You could also add your own reasons, although I'd argue that cozy sweaters and the disappearance of bugs are God-given reasons to love September.
10. My Blood Type is Pumpkin Spice
Okay don't hate me, but I actually don't like pumpkins. But I know a remarkable number of people who could accurately use this quote. 🙂
11. Hocus Pocus and Chill
Again–I've never actually watched the movie Hocus Pocus. I'm a shame to my generation! But I still think this quote is hilarious.
12. Autumn Holds a Wonder All Its Own
This is the true reason why so many people love Fall. It seems to speak to some more than others, and this quote puts it beautifully.
Related: 27 Inspirational Letter Board Quotes
13. My Favorite Color is October
If you don't live in an area where Fall is stunningly beautiful, you might not appreciate this one. But in some places, it really is the most beautiful sight you'll ever see.
14. Tis the Season to Be Fall-y
The fun thing about this one is that you can basically leave it up, then change just a few letters to make it appropriate for Christmas!
Plus, don't forget to read the 37 best Christmas letter board quotes.
15. That Time of Year
I FEEL SEEN.
This is why my Fall sweater body will stick to what it's meant for. Big, chunky sweaters. 🙂
16. Summer Collapse Into Fall
This Oscar Wilde quote might be one of the most popular Fall quotes, and it's beautiful.
Still looking for the right letter board for your home? There are so many great choices! You can find different colors and text sizes on Amazon or Target.
You could even go big and get letter ledges!
Don't forget to find me on Instagram, Pinterest, or Facebook and show me what you use!