Looking for Christmas letter board quotes? Letterboards are great to show your personality and humor and festivity. 🙂
Thousands of people have read my 46 funny letter board quotes, so here are 37 Christmas letter board ideas for the holiday season. 🙂
For even more quote ideas, read the best Inspirational Letter Board Quotes
Related: Want another way to make your home reflect YOU–for insanely cheap prices? Check out my printable wall art on Etsy in the Black Door Shop. You can even get 20% off your order with the code 20OFF. 🙂

1. No Tears, Just Christmas Cookies
"All I'm saying is you rarely see a person crying and eating a Christmas cookie at the same time."
2. Blame It On Something Else
"Don't blame the holidays, you were fat in August."
3. The Science Behind Christmas Movies + Cookies
"If you binge eat Christmas cookies while you binge watch Christmas movies, they cancel each other out. It's science."
…Is this too many letter board quotes about Christmas cookies? NEVER.
4. Merry, But Not Always Bright
"We are freaking merry–but some of us, not so bright."
5. Windows, Walls, Decked Halls
"From the windows to the walls, imma bout to deck these halls"
If you ask me, this is what the real lyrics should actually be. 😉
6. The Cost of Christmas Magic
"It's beginning to cost a lot like Christmas"
Honestly, I had absolutely no concept of how much money Christmas REALLY cost my parents until I was a parent.
7. A Classic Poem about Christmas Cookies
"Twas the night before Christmas, and all through the house, I was shoving twelve Christmas cookies straight into my mouth."
YEP, ACCURATE.
8. I Am Your Gift
"Gonna go lay under the tree to remind my family that I am a gift."
Wrap me in paper and call it a day.
9. Two Stages of Christmas Shopping
"The stages of Christmas shopping– 1. Plenty of time, 2. Oh No
I'm familiar with both of these options!
For ideas to make gift giving easier, read my guide on gift shopping on a budget.
10. Alternative to Gifts
"The Christmas instead of gifts, I'm giving everyone my opinion. Get excited."
As an Enneagram 3w2, this is 100% not how I operate, but big respect to all of you who do 😉
11. Been Sorta Good
"Dear Santa, I've been good this year. Mostly. Sometimes. Once. Nevermind, I'll buy my own stuff."
12. Amazon Deliveries for All
"Here comes Amazon, here comes Amazon, right down my driveway. -If moms wrote Christmas carols."
If you don't have two sizes of letters, you can do without the second part.
13. Deck This, Not That
"Deck the halls and not your family, fa la la la la"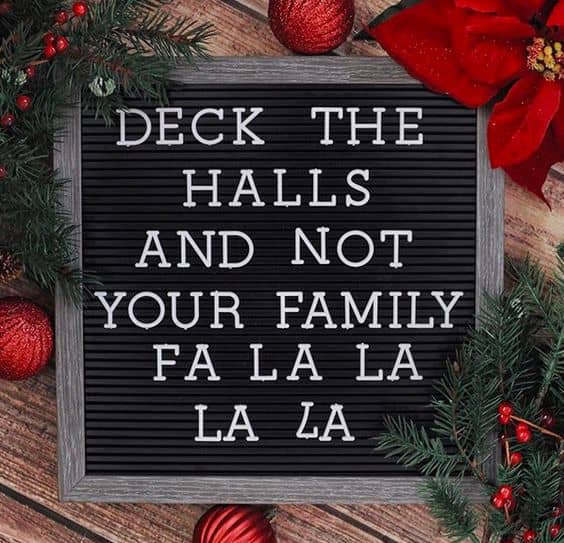 If you need to remind yourself of your goals. 🙂
14. Jingle ALL the Way
"Always jingle all the way. Nobody likes a half-assed jingler."
15. Jeans vs. Leggings
"My jeans keep telling me no more Christmas cookies while my leggings are like we got you boo."
High waisted leggings: the real heroes of the 21st century
16. Confession to November
"Dear November, I'm just using you to get to December."
This is probably best for those who aren't Fall-obsessed 😉 If that's you, don't forget to read the best Fall letter board quotes!
17. Home is the Cheesy Movies
"Home is where the Hallmark channel movies are."
This image is actually from a Christmas card, which is pretty awesome.
18. What You Need, Not What You Want
"Santa saw your Instagram pictures, you're getting clothes and a Bible for Christmas"
I honestly think this might be the funniest Christmas letterboard quote on this list!
19. The Truth About Traveling
"Traveling for the holidays is tough, but it's worth it to be close to the people who love judging all my life choices."
As someone who *hates* traveling with young kids with everything in me, this one resonates deep in my soul.
20. Getting My Story Straight
"Dear Santa, before I explain… how much do you know already?"
21. Togethery Kind of Holiday
"Christmas is a together sort of holiday said Pooh. That's my favorite kind said Piglet."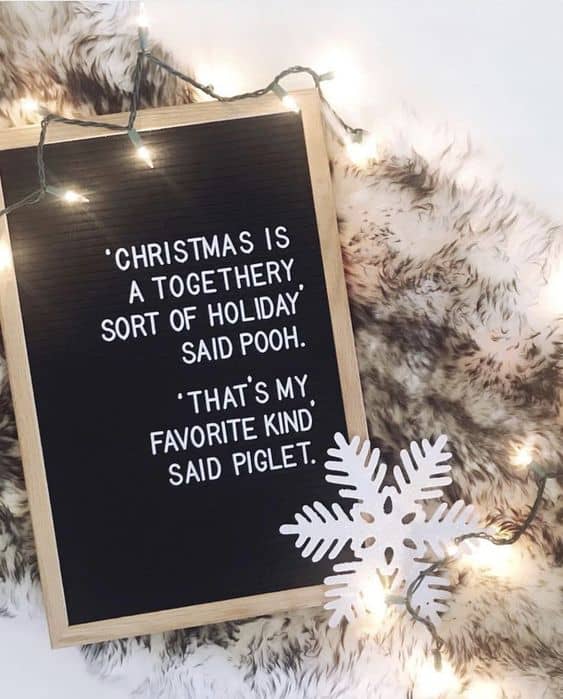 Aww. Why are Winne the Pooh quotes so much more important to me as an adult than they were as a kid?
22. Santa Spice Lyrics
"Tell me what you want, what you really, really want. -Santa"
Where the spice girls got their ideas.
23. Let Your Heart Be Light
"Let your heart be light"
A nice and simple one.
24. Be a Cindy Lou Who
"In a world full of grinches, be a Cindy Lou Who"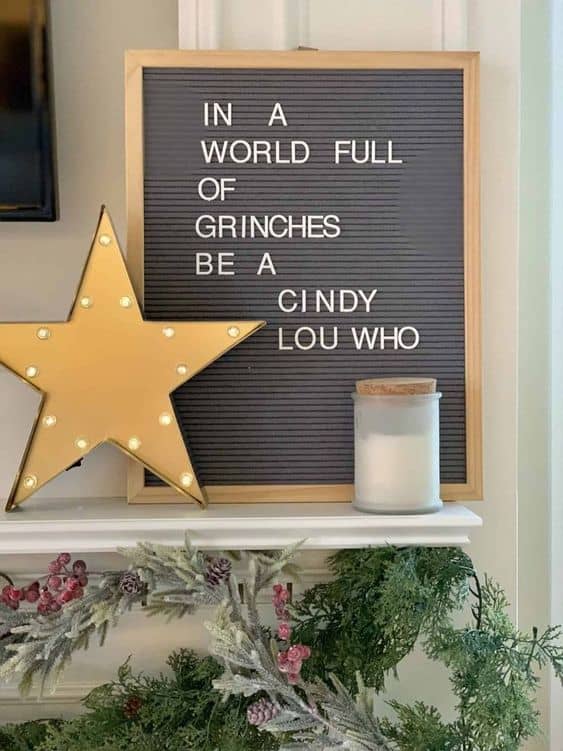 25. Sleigh My Name
"Sleigh my name sleigh my name"
When you want your letterboard quote to embody a combination of Santa and Beyonce.
26. All the Jingle Ladies
"All you jingle ladies"
I'm honestly not even a Beyonce fan, but here she is again on this list–this sign immediately makes me start singing.
27. Tangled Up Tinsel
"Don't get yo tinsel in a tangle"
28. Okay Google
"OK Google, deck the halls"
29. Alexa, Get Nsync
"Alexa, play Nsync Christmas album"
Merry Christmas, merry Christmas, and haAappy hoOolidaAays…
30. You Filthy Animal
"Merry Christmas ya filthy animal and a happy new year"
Of course, this one isn't actually on a letter board yet. But Christmas vacation letter board quotes are always a good idea!
31. Ho Ho What
"Ho ho holy crap I spent how much"
This is an accurate description of how I feel l.i.t.e.r.a.l.l.y every year.
32. Spread Christmas Cheer
"The best way to spread Christmas cheer is singing loud for all to hear."
Elf is my favorite Christmas movie of all time!
33. You'll Shoot Your Eye Out Kid
"You'll shoot your eye out, kid."
Okay don't tell anyone… but I've never seen this movie.
34. Days Without an Accident
"Day without a Christmas tree-related accident: 0"
With two young kids and two cats, this is the truth every day of every season.
35. Room for All
"There's room for everyone on the nice list – Buddy the Elf"
36. Don't Be a Cotton Headed Ninny Muggins
"Don't be a cotton headed ninny muggins"
Too many Elf Christmas quotes? ….Again–NEVER!
37. Take Down the Decorations
"Alexa, take down the Christmas decorations"
Ah, if only this is how it worked.
Need a Letterboard?
You can find letterboards on Etsy, Amazon, or even Facebook marketplace.
Don't forget to read other Christmas posts:
8 Easy Christmas Crafts to do Today