Christmas is the most fun time to do crafts. It's so easy to try new crafts and add colors to your home without being tacky–and without spending a lot of money OR a lot of time. I've done a LOT of Christmas crafts and decorations over the last few years, but here are my top 8 EASY Christmas crafts:
Each one of these can be done in about one hour, and only require a few supplies that you might already have on hand. Which one are you going to do first?!
Related: Want another way to make your home reflect YOU–for insanely cheap prices? Check out my printable wall art on Etsy in the Black Door Shop. You can even get 20% off your order with the code 20OFF. 🙂

Easy Christmas Jars
Have some extra mason jars lying around? Even if you don't, you can get them at Dollar Tree for $1!
1. Candy Cane Jar
Did you know you can paint any glass vase or jar with acrylic paint?! In my world, this is a game-changer.
In the past few months on TikTok, a trend went viral where you add baking soda to paint and you can make your jars or vases look like terracotta or clay. I was curious what baking soda actually did in this paint, so I did a vase-painting experiment for you to check out.
But for this candy cane jar, I made it a few years ago and just used $1 acrylic paint from Walmart. You can get more details about how painting with craft paint vs latex vs paint with baking soda changes your jar in the blog post above–but for a Christmas jar, just plain craft paint works great.
The most challenging part of this project is making your candy cane lines smooth. I didn't use tape or anything for this (out of pure laziness, which absolutely backfired), but I'm pretty sure that would make this A LOT simpler.
I ALSO only used a sponge brush. If you use a small paintbrush with tape, I'm pretty sure you could do this in 1/4 of the time it took me.
Candy Cane Jar Supplies
How to Make a Candy Cane Jar
It's not complicated. Grab your jar and start with red or white. Turn the jar as you paint the stripe, then move on to the other color!
Add a ribbon at the top to beautify, and you're done! EASY. The total time for this one was probably 30-40 minutes, max. And like I said–I didn't do it the as efficiently as I could have.
Yeah, seriously–that's it.
2. Nativity Silhouette Jar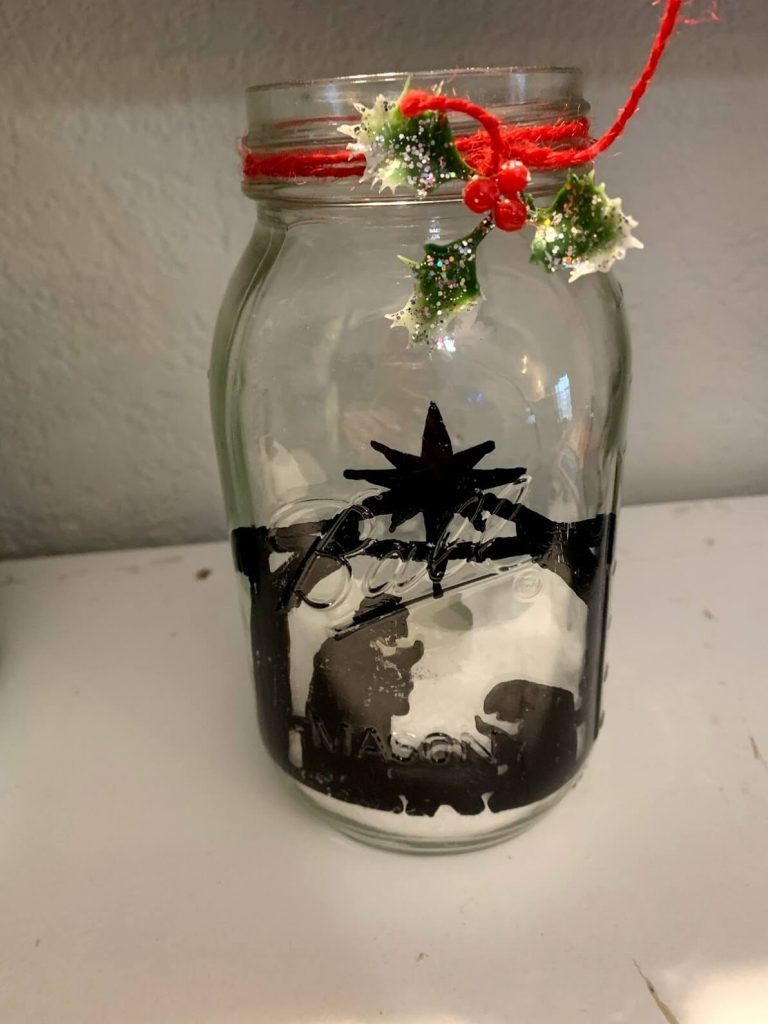 I know this one looks like a challenge–but it's truly SO much easier than it looks!
Nativity Jar Supplies
How to Make a Nativity Silhouette Jar
Start by printing your nativity silhouette printable. Keep in mind that the Nativity image might not cover your entire jar, or it might overlap.
That's pretty much the ONLY potentially confusing part of this.
Here's the image I used:
But this one is also an INCREDIBLE option–it would take longer, but also be more impactful.
(If you have a Circuit or Silhouette, you can get SVG Nativity scenes like this on Etsy for less than a dollar! I don't, sooooo…)
Then cut your paper and tape the Nativity to the inside of your jar. Now, use the paint marker to trace.
Again–THAT'S IT. Well, the last step is to pour some epsom salt in there with the tea light. It's beautiful and looks like you have lots of skills. 😉
3. Tree Cutout Jar
If you didn't read my comments above about painting on glass jars or vases, go up to the candy cane jar section. This is basically the same idea!
Tree Cutout Jar Supplies
How to Make a Tree Cutout Jar
Start by either printing an image of a tree, or simply cutting one out of paper.
This is a good one:
Use double sided tape (or do a good old-fashioned roll up regular tape)–to tape your tree onto the front of the jar. Just make sure it's as flat as possible.
Then use your sponge brush to cover the rest of the jar and paint over the paper!
It's almost too easy.
Easy DIY Christmas Signs
Right after we moved into our first house, I found someone selling 15 old shutters. I bought them for $15 (or something like that–it's been a long time. I don't remember the exact numbers) and turned them into so many different things. However, these signs could easily be made on an old piece of wood or even a blank canvas!
4. Shutter Snowman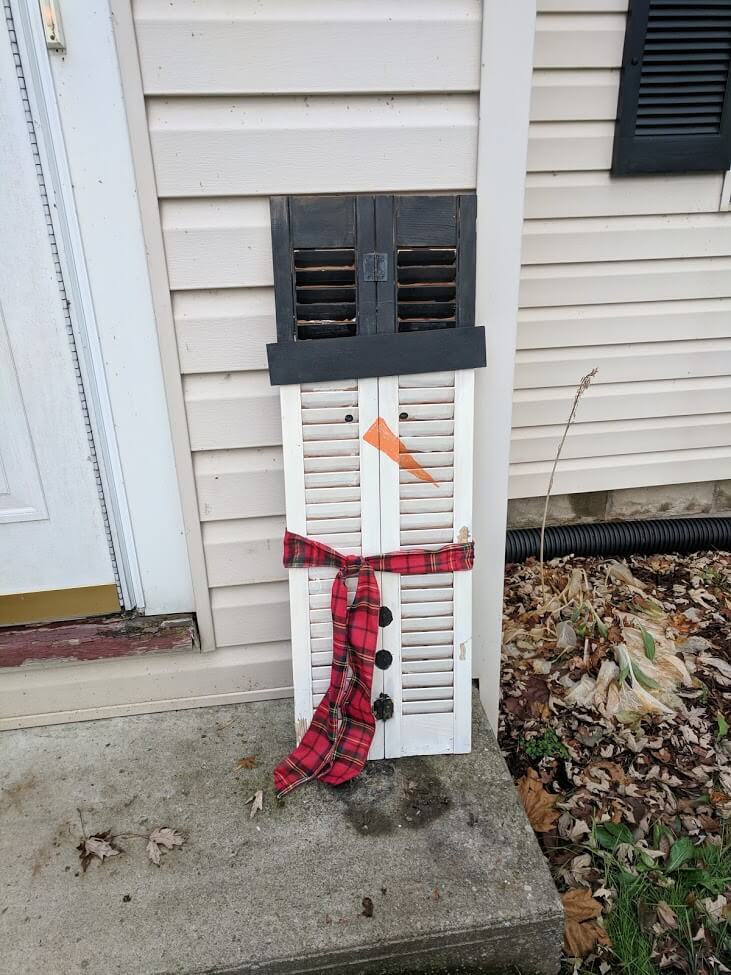 I saw this deep in the abyss of Pinterest, and then I made it happen with one of my shutters. Again, this project took about an hour TOTAL, and it lasted me years of cuteness.
It even survived for multiple Buffalo New York winters–so it's pretty much more durable than my own body.
Shutter Snowman Supplies
Old shutter or piece of wood or canvas (but canvas will not survive outside)
Thin wooden rectangle (pictured below)
Spray Sealer (if you're going to use this outside)
Start by painting the shutter white. Let that dry, then decide where the hat is going to go, and paint the top of the shutter and your wooden piece black.
At the same time, you can paint the eyes, the buttons, and the carrot nose.
Once that is all dry, use hot glue to attach the wood piece and the ribbon. Tie the ribbon together at the front–and you have it!
If you are going to use this outside, I recommend spraying it quickly with this spray sealer. I only did a quick spritz, and I mentioned, it held up remarkably well.
5. Shutter JOY Wreath Sign
Did you think Christmas signs could get any easier? Because they're about to.
JOY Wreath Sign Supplies
How to Make a JOY Wreath Sign
Cover your shutter in red paint, and then paint your J and Y letters green (or whatever colors you use). Once everything is dry, use hot glue to attach the letters and your wreath to the board!
That might be the easiest one yet. And still, one of my favorites.
If that's not totally your style, I recently found this DIY shutter sign on Pinterest. She spelled "NOEL" and added some flowers and fake snow on the bottom. There are so many other options like this!
Ornament Decorations
It just seems like these ornament decorations have grown in popularity the last few years–and I am all about it. But if you buy them pre-made, they can be STUPID expensive! I got my first one in January for 75% off–and it was still $13.
Instead, you can make your own with foam and ornaments from the dollar store. Here's how.
6. Ornament Wreath
Ornament Wreath Supplies
How to Make an Ornament Wreath
It's a little bit hard to describe this one–because it's just SO easy.
Turn your hot glue gun on, put hot glue on the top of your ornament, and then stick it into the foam. You got it.
Start by doing the outside of your ornament, because that will allow it to hang flat. Then, add ornaments to the inside of the wreath until it's all covered.
You will have empty spots, because sphere shapes don't match together perfectly. That's okay, because once you have all your ornaments glued on, you'll cut up pieces of tinsel or cheap garland and stick them in those spaces.
Other random tips: Sometimes it is best to keep the top of your ornament on and poke it into the styrofoam. Other times, you will want to remove the top piece and glue the ornament closer to the foam. And sometimes, you'll need to put glue on other parts of the ornament to get it to stick.
It will all be completely natural and make perfect sense as you do it. If you'd like to watch a video of the same process, look below.
7. Ornament Tree
Ornament Tree Supplies
Yep, the same supplies as above! This is the exact same process.
How to Make an Ornament Tree
For actually attaching the ornaments, check out my directions above. It is EXACTLY the same. Watch this 29-second video of me doing it here.
The only important tip when you're gluing ornaments to a cone instead of a circle is to pay attention to the size of ornament. Here's an ornament tree I got from Hobby Lobby:
Here's the ornament tree I made last week in less than an hour (with $3 worth of ornaments):
On the store-bought tree, they only used small ornaments as they got closer to the top of the cone. If you prefer that look, that's what you should do. (I don't blame you, I kind of prefer it too)
Another idea: I reeeeeally considered putting one colored ornament on the top of my tree. I still might. I think that would make a really cute statement.
8. Light and Burlap Garland
In 2017, I spent $5 at Dollar Tree, getting two strings of white lights and three packs of red and green burlap.
An hour or two of cutting and tying later–we have this garland that I STILL use every year. It's probably my favorite DIY Christmas craft I've ever done.
Burlap and Light Garland Supplies
Strings of white lights (I highly recommend the ones from Dollar Tree–but you'll need two)
Red, green, and brown burlap (Again, $1 each from Dollar Tree)
Scissors
How to Make a Burlap and Light Garland
Cut your burlap into about 4-inch pieces. Then, go down your string of lights and tie those burlap pieces in between the lights. I alternated colors–green, red, brown.
THAT'S IT. AGAIN.
The Best Easy DIY Christmas Crafts
Okay, which Christmas craft are you ready to tackle first?! Each one of these are quick, easy, and could be tweaked slightly to make something else just as unique. If you want more inspiration, join the Love Your Home Facebook group!
And get the free Love Your Home email course by clicking the blue box below. Other Christmas posts:
18 Christmas Trees for Small Spaces
The Best Unique Christmas Decor from Etsy
The Best Outdoor Christmas Decorations
How to Gift Shop on a Budget
More Related Posts: