You'll never fully be in love with your home if you have all the same things as everyone else. This is true everyday, but especially during Christmas! That's why I made this list of the coolest and most unique Christmas decorations.
Updated September 2021
Even though a lot of us want to stand out and to love our decor, you also don't want to start doing CRAZY things that you'll end up hating in two weeks. There's nothing worse than spending your time and money on a design idea and then having it turn out awful. Been there, done that… too many times!
That's why these decorations are similar types of products that you're used to–there are garlands, mini-trees, wreaths, and signs.
But these aren't your mama's Christmas decorations.
Did I make that sound intense? Are you intimidated?
Probably not. Oh well…
Related: Want another way to make your home reflect YOU–for insanely cheap prices? Check out my printable wall art on Etsy in the Black Door Shop. You can even get 20% off your order with the code 20OFF. 🙂

Another GREAT thing about using different (and often custom-made) Christmas decorations is that you can support small businesses. All of the things on this list are from Etsy–it's the best place for reliable and high-quality decorations of all kinds.
If you want to jump to any specific sections, here's what you'll be seeing:
Ready for the best Christmas decorations Etsy has to offer? These are the kind of pieces that make people smile and start conversations. 🙂
Unique Christmas Door Mats
Elf is my ALL TIME FAVORITE Christmas movie–and I love that you can pretty much hear the voice when you see this doormat.
It feels like you can communicate so much personality just by using a movie quote on your doormat instead of the holiday cliches.
Did I say that Elf is my favorite Christmas movie? Because I forgot about the Grinch. It's a close one between those two.
This is such a fun way to put some unique-ness into your outdoor Christmas decorations. If you have a specific Christmas move or quote, you can even customize a door mat
Unique Christmas Signs
If you're a sucker for natural wood like me… well, then you'll understand why this is the first Christmas sign I listed.
Oh man. I've never seen a sign like this one–which might be what makes it so eyecatching! It might be one of my favorites on this list.
This joy sign is made to look like birch wood–SWOON. It goes out of stock often, so if you have your eye on it and see it–jump!
Customized Initial Front Door Sign
You can get any initial made into this snowflake door sign. How simple, classic, and beautiful.
If you want more unique Christmas decoration ideas, check out my list of the Best Outdoor Christmas Decorations.
TELL ME this isn't the funniest wooden Christmas sign you've ever seen. JUST TRY TO TELL ME. Using movie quotes like this would make ANYONE happier in their home–it's just science.
Unique Christmas Garlands
Felt balls are SUCH a cute way to make beautiful and bright garlands–I've seen them done beautifully for Fall decor, too. Read my list of the best Fall decorations for some of those recommendations.
If you are as obsessed with felt balls as I am, there are tons of other Christmas felt ball garlands on Etsy. Or you can purchase felt balls and make your own!
There is also a felt ball Christmas wreath a little bit further down this article…
The Etsy shop that makes this "Oh What Fun" banner actually makes them in a bunch of different patterns. I love the red in this image, but you should go look at the fun snowman and plaid patterns that might work better in your home.
Unique Decorative Mini-Christmas Trees
The especially cool thing about these is that you can order them in any color and in three different sizes, and their only $8-12. Is this giving you visions of rainbow Christmases?
Because, um, YES PLEASE.
What I love about these cone Christmas trees is that they're simultaneously simple AND totally unique. They are labeled "minimalist style," but you could also decorate these little cones with color! Maybe even with one of the garlands. 🙂
These are perfect for tee lights, and for adding just a little bit of color and metallics to any Christmas decor that you already have.
Wooden mini Christmas trees. These are so cute and versatile, I bet you can't find a place in your house where they wouldn't look cute.
Usually people take pride in having the biggest, tallest, and fluffiest Christmas trees–but tell me this ACTUAL twig tree doesn't make you happy!
Psssst, this is actually one of the trees in my other list of Christmas trees for small spaces. It's unique, saves space, AND beautiful.
Unique Christmas Wreaths
Holly Berries Felt Christmas Wreath
Did you ever think those 37 cent felt sheets in the craft store could be turned into something so beautiful?
Another great thing about felt decorations is that it's actually pretty durable. You might not want to squish them or throw them around for fun, but they are a light alternative to pin wreaths and a durable alternative to paper wreaths.
Here we go with the felt balls again! This could be a DIY project if you know how to put colors together in such a beautiful way. Unlike me.
These snowman wreaths are even more eye-catching in person than they are as you scroll through this list. I made one of my own a few years ago (before I know how to take quality pictures for the internet)–and it is such a unique way to decorate your home! It's also really not too difficult to make yourself.
This is made out of fake hydrangea flowers–which are not typically used for Christmas decor, which is what makes this especially beautiful and unique.
Unique Christmas Ornaments
There are only two types of Christmas ornaments on this list because it seems like we've seen it all at this point. However, these colorful ornaments are made with gold leaf, and the snowflake is hand-made. Both are STUNNINGLY beautiful and well-made.
Miscellaneous Christmas Decorations
The Christmas season is emotional and powerful for so many people–like me. The Nativity represents Jesus Christ choosing to come to Earth for us.
It's important to me–but I haven't been able to have anything glass or ceramic in my house since my daughter was born six years ago. And why are 95% of Nativity sets breakable? These are questions of the ages.
I love that these peg dolls are a) adorable, and b) a unique way for me to include the Nativity in my home. There are many different choices on Etsy, so if you have a house of crazies like I do, check these out.
I'm sorry–did you miss that?! THESE DECORATIONS ARE MADE OUT OF BOOK PAGES! Say what?!
You don't even have to be a book-lover to think that's awesome.
SERIOUSLY?! Have you ever seen wine look cuter?! This is as festive as wine can get. It's decided.
You could also use these cute little hats in other ways as part of your Christmas gifts.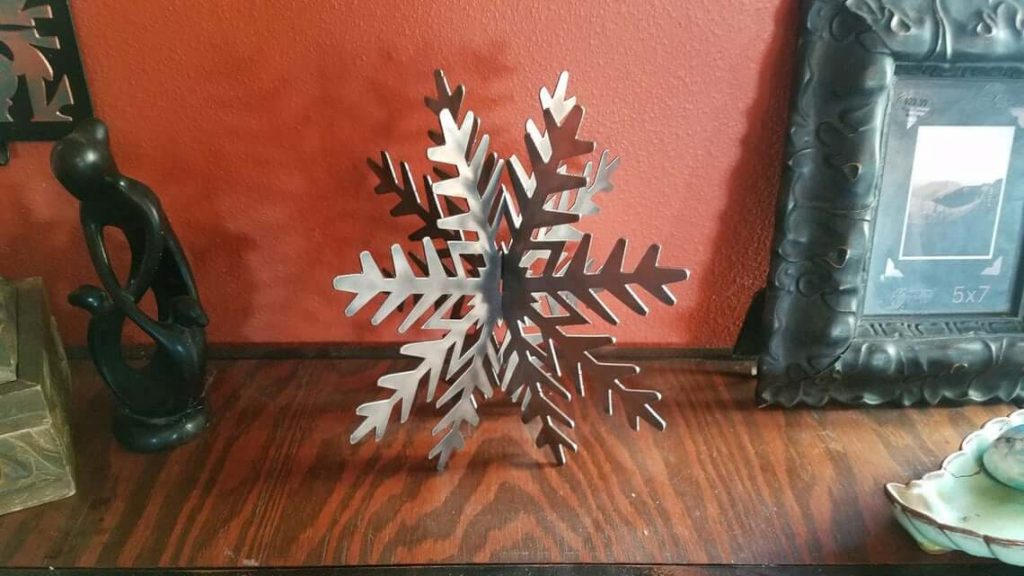 Last, but not least, is this metal 3D snowflake. Honestly, snowflakes are beautiful no matter what–remember the paper snowflakes you used to make in elementary school? This one really brings attention to the real three-dimensional-ness of snowflakes, and I think it's stunning.
Want to DIY some Christmas decorations yourself? Check out my top Christmas crafts that only take an hour. 🙂
Other posts to help you infuse personality into your home:
The Best The Office Show Decor
The Best Parks and Rec Decor
The Best Printable Abstract Art
Don't forget to get your free 6-day Love Your Home course!