When you tell people you're going to paint your countertops, expect judgment. Some people will genuinely be interested, but like 90% of people are going to obviously be thinking, "Why on earth would you do that? There's no way that's going to work out."
But it's all good, girl, we ain't need them. WE ARE STRONG INDEPENDENT COUNTERTOP PAINTING WOMEN.
Or men, whatever.
At least this was the case in 2018 when I originally did this project. Now, I think this is more common.
Painting my kitchen countertops was part 2 of my complete kitchen makeover on a budget–all by myself, when I had two kids three and under.
(It's a pretty good makeover, if I do say so myself.)
Here's what we'll cover in this article:
Why I chose to paint my counters
When to paint your counters and when not to paint
Supplies
Costs
Sealer Options
Step 1: Pick colors and practice
Step 2: Prepping
Step 3: Prime
Step 4: Painting the granite
Step 5: Sealing
The Result
In this tutorial, I walk through the steps to paint laminate countertops without a kit (like the popular Giani Marble kit or Stone Coat Countertops). It would work just as well for wood countertops, granite countertops, or even butcher block counters.
Plus, feel free to read through the other tutorials that helped me transform this kitchen for under $400 a few years ago:
Pssst, want to show off your love for DIY? Check out my product designs I made specifically for DIYers! (and ADHDers… and moms 😉 Visit my Etsy shop Black Door Fits. You can even get 20% off your order!
Is Painting Countertops the Right Choice?
As excited I was to cover my ugly old countertops, it was also intimidating. Because–contrary to what most people thought for a while–I am not crazy, and I knew this was a risk.
Countertops are one of the most visible parts of your entire home. They are in your face every single day, and you're using them a lot, especially if you have a family.
I reeeeeally didn't want them to turn out badly–but I was pretty sure they couldn't get worse.
I mean, what color would you call this? Like a pink-beige? And paired with orange 80's wood countertops… or are they laminate countertops?! They were almost audibly crying out for help.
But if I had a few extra thousand dollars for a new countertop, would I have still painted my counters? Of course not!
If you have no problem affording new countertops right now–go for it! That's the obvious first choice.
However, this is an extremely inexpensive solution for anyone with existing countertops that are less than ideal. And if granite isn't your ideal style (I can't blame you–I wouldn't recreate these exact counters today!), you can use these steps to create your own style.
For even more information about the pros and cons and some more details about the process, check out my interview with Pink Tool Girl.
Countertop Painting Supplies
Need more details on the best tools & supplies for your projects? Check my Incomplete List of the Best Tools & Supplies for DIYers. It includes ONLY tools & supplies that I've personally used and recommend, plus some honest notes about each product and what you really need (and don't need).
Total Cost of Painting Countertops
If you are a regular DIYer, it's likely that you already have some of these supplies on hand. I already had the primer, paint roller, paint brush, and sandpaper, which saved a good bit of money.
I had to buy the Polycrylic sealer for about $20, the acrylic craft paints for under $10, and I got the sea sponge for $3 with a coupon at Joann's. That includes buying 3 extra of each color of craft paint–but I ended up only needing one of each.
That brought my total to under $33. You are not going to find a cheaper or more budget-friendly solution anywhere!
MVS (Most Valuable Supplies)
The absolute most important supplies are the sea sponge and the sealer.
I've read that some people used crumpled up paper towels or plastic bags, but those people must have been Van Gogh reincarnated, because that's crazy talk.
I attempted to use a regular sponge brush to practice, and it was a total and complete failure.
However, as soon as I started working with the sea sponge, things started looking up. You'll immediately see how it creates a granite effect.
The sealer, on the other hand, is ESSENTIAL for making your countertops durable. Read everything else I have to say about that below.
More Before Pictures
More of the ugly wood-combo-laminate counters? Yeah, you are welcome.
The only explanation for me lasting a year with this much orange is because I had two kids in under 2 years and my brain was fried.
Later on, I covered the wood paneling with the peel and stick backsplash, painted the cabinets, walls, and replaced the hardware–to get that cheap kitchen makeover.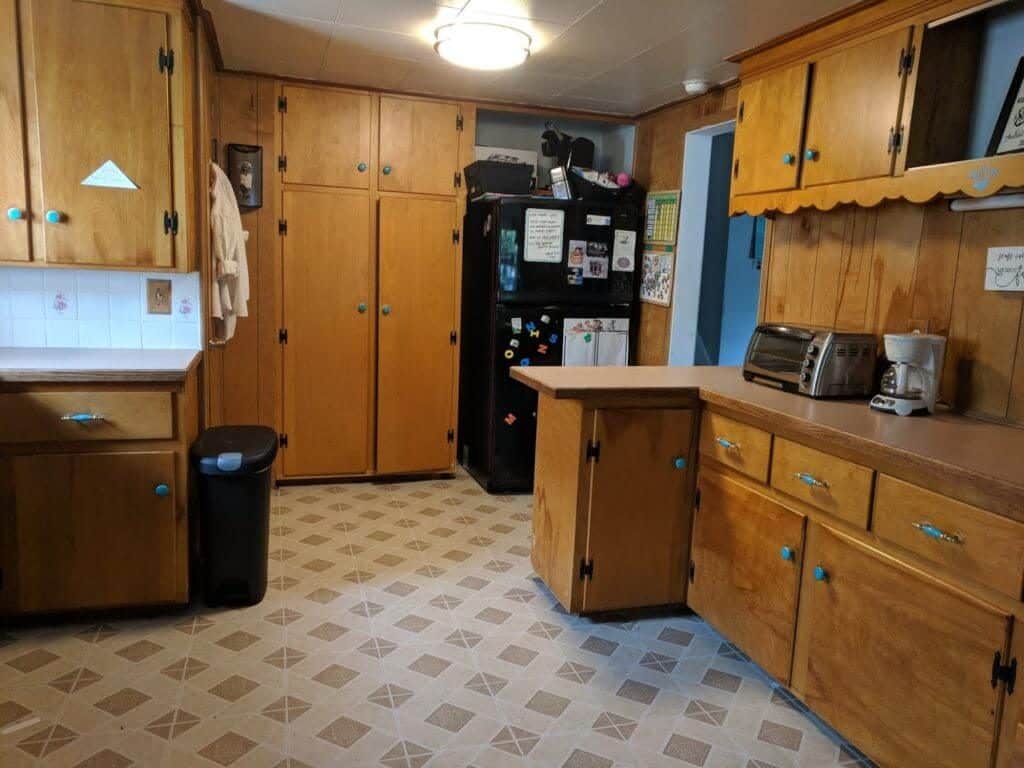 Step 1: Pick Paint Colors & Practice
It is EXTREMELY IMPORTANT that you practice and test your painting technique before actually painting the entire surface!
You don't need anything special–I just cut up old cereal boxes and practiced on the back. But you need to be sure you have the right paint colors and that you know the overall look you want.
You'll probably get the hang of using the sea sponge after just a few minutes, but it takes practice to get the color balance right. Like I said above, if I did this project again, I wouldn't make them quite as busy. This is the time for you to figure this out–then you can feel confident when you start painting.
In fact, I'd recommend searching for a picture of the finish you really want so that you have the end product in mind. Just search for "grey granite countertop" or "marble countertop" on Pinterest and you'll find plenty of ideas.
Important tip: Mark each bottle of your paint! This is especially if you have a few different shades of the same color, like I did. You may think that you'll recognize each one…. but you won't.
Step 2: Prepping Counters and Cabinets
Like with EVERY painting project, prep in the most important step. You need to start with a completely clean surface. Since these are countertops, you need to use a degreaser like TSP.
Next, lightly sand the countertops. Use a 120 or higher grit sandpaper, because under that is going to be too coarse.
This is NOT a difficult sanding project. you just need to scuff up the counters a bit–you definitely do not need an orbital sander and you shouldn't put so much into this that it hurts your arms. It took me about two minutes total.
Finally, use painter's tape to cover your walls, around your sink, and your cabinets. In the corners, there's no way to prevent paint from getting on unwanted surfaces unless they're totally covered. I used garbage bags to cover my cabinets, but any kind of plastic sheeting would work.
Step 3: Prime the Counter Tops
This is the simplest and quickest step. Since there is significantly less square footage on your counters than on a wall or a full room, it goes really quickly.
I went ahead and did a second coat after I covered everything the first time, and I definitely recommend doing that. The primer is key to painting laminate countertops, because it's what makes it all stick. If you tried to just put acrylic or latex paint on wood or laminate countertops, it wouldn't work so well.
Here's the primer after the first coat…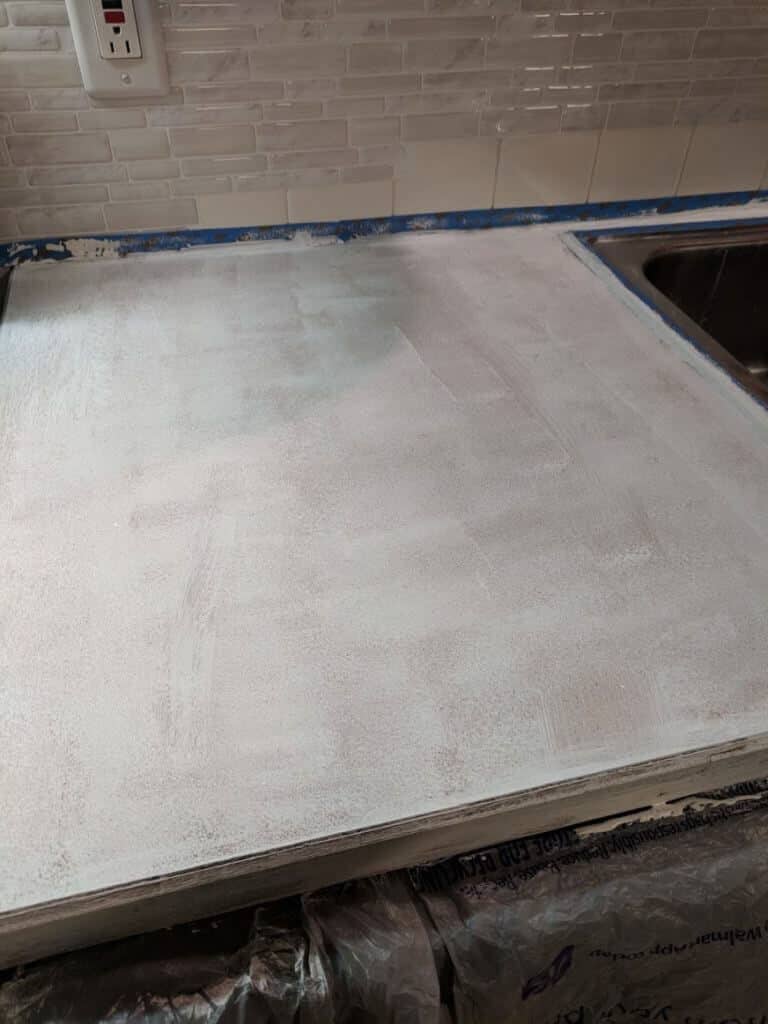 And the countertops after the second and final coat of primer:
You can see a huge difference in the coverage, and it only took an additional 20 minutes or so.
Step 4: Painting the Granite
Finally at the fun part!
So I'm going to break down the steps, and I also included a video of the process.
The Super Fancy Set Up
I used two paper plates (because I'm that fancy) and added small amounts of all five colors–and remember, they were all labeled.
It would be great to have a picture of that, wouldn't it? Alas, I didn't take one.
How to Start Painting
Girl, just dip the sponge in the paint and go for it. Use all your colors, choosing them randomly.
Since my primer was white and I was using grey, it felt like a slow process at first. But once it's mostly covered, you just adjust, adjust… adjust…. more adjusting… until it looks exactly how to want it.
Important Tip: Just keep moving! After you finish the first little section, step back and make sure you generally like how it looks. Honestly, it was really hard for me to tell because I was scared I was going to hate it. Plus, you're staring at this very random pattern SO closely at it while you paint. It's hard to step back and imagine it all together.
So I kind of freaked out near the beginning, even though it looked great.
I think absolutely anyone could do this–the sea sponge completely does all the magic of making it look like granite. You do NOT have to be artistic at all.
Remember that actual granite has no pattern and is totally random. The more you stare and adjust and think about it, the less random it will be. Just sponge and don't think too much. Keep going.
Once you're pretty satisfied with the painted surface, WALK AWAY. Uuugggghhhhh this was hard. But you could keep adjusting forever.
The whole process took about an hour and half, and that included a lot of standing back and internally battling with myself. Like, A LOT. But overall, painting the whole countertop is surprisingly quick.
Extra Tips
Start with a smallish section, then step back after you think you're done with that section and decide if you think it looks right.
Dipped your sponge in all the colors without rinsing in between each color or anything. Again, there's no pattern, just whatever you think you need.
Through practice, I noticed that I had a tendency to blend the colors together too much. Blending too much makes it look less like granite and more like mush. Don't over blend. Plus….
Rinse the sponge out periodically! After each small section, it will get very saturated with the different colors of paint and then result in the mush mentioned above. All you do is rinse out the sponge, wring it out, then get the rest of the excess water by wrappint it in a paper towel and squeezing. You can see how I did this in the video… right here!
Step 5: Sealing Painted Countertops
This was my first time working with a sealer, so at the time it was the most difficult part. However, this is ABSOLUTELY ESSENTIAL to counters. Using the right sealer is what makes it possible to use acrylic paint instead of anything more expensive.
For those of you who may have never worked with any type of sealer before either, there are a few different options for sealing your painted countertops; the most common are epoxy, polyurethane, or polycrylic.
Polyurethane can yellow pretty quickly, so it's not a great choice for counters.
Epoxy is another option, but I would have never been able to get that done with my two little kids and no support. However, 2022 Kaylee has now worked with epoxy, and you can see my detailed Stone Coat Countertops Review.
Polycrylic, on the other hand, is definitely the easiest option. The dry time is quick and application is easy. Here's what I learned at the time:
Polycrylic is water based, so it cleans up with soap and water very easily (Yay for me, the sloppy painter)
The water base makes it relatively easy to apply, because it will spread out pretty evenly. But you have to watch for tiny puddles to collect around corners and edges (and yes, I had to fix a few)
It does not have a strong fume, but you should still plan on opening a window and running a fan for a while
The satin finish says that it's shiny, but BARELY. You may be able to see more shine if your counter tops aren't as busy as these were–but don't expect the shine you'd get from epoxy or real marble
What ended up being the most difficult part was that I couldn't visibly tell where I had applied the sealer and where I hadn't.
I was probably looking like a crazy person moving around, trying to look at my counters from all different angles to make SURE I hadn't missed any spots. It did not help that it was dark when I was doing this, but AAAGGHHH. I didn't love that.
How To Apply Polycrylic (+ What Not to Do)
Ready for the Crazy 2018 Adventure of Kaylee vs. Polycrylic? Buckle up.
The can said to use a brush, so that's what I planned on doing. However, in the few hours before I was going to start, I started questioning it. I had seen online that other people used a roller, and that seemed so much faster and easier.
….And um, no. Roller fail. I tried to use a regular paint roller (face palm), but the counters were totally covered in air bubbles. Not good.
So then I used my brush with a long stroke to get rid of the air bubbles. That seemed to work to get rid of the air bubbles, so that was how I struggled through the first coat.
That wasn't too bad and only took about 15 minutes total, but I was definitely NOT confident in the application, and wanted to find a more efficient way of doing it. I was nervous because the sealing part of this process is MUY IMPORTANTE.
So, for coat #2 I was like, "I guess I'll just use a brush like the can says." The first 2 foot section of my counter took me 25 minutes. SO NO. THAT WAS A NO GO.
And then of course, I go and bump the can and a spill a whole bunch on the top of my oven. COME ON KAYLEE.
It was 9:30pm, which is about the time my sanity starts floating into the night (I was still waking up 3+ times a night with my 13 month old!). Thankfully, it really does clean up easily with soap and water. Super easily. Thank youu, Minwax.
In the end, using a foam roller would have saved me all that ridiculous stress. This is why I call myself the CEO of doing things the hard way.
I would recommend doing at least three coats. Since I was nervous about my application, I ended up doing even more–but three would be plenty if you don't make the same mistakes I did. 🙂
The Result
So finally, the next morning I woke up knowing I was REALLY done with them–no adjusting or going back. It was really the first time I let myself decide how I really felt about them…
And I LOVED THEM.
What I didn't love was how they made the ugliness of the orange wood stick out even more–but it made me much more motivated to paint everything else.
So here they are immediately after….
Do you love the COMPLETE and utter lack of staging or good lighting or anything?! Oh, the Kaylee of 2018. You have so much to learn.
And eventually, I did the backsplash and cabinets and finished that kitchen makeover. Things were so much better. 🙂
In the end, I was even more glad I did this than I thought… and it was so much easier than I expected, and the payoff was huge! If you have any inkling of a desire to try this, DO IT.
I LOVE when people send me their projects through email, Instagram, or Pinterest, so show me what you do!
More kitchen posts:
Related: Want another way to make your home reflect YOU–for insanely cheap prices? Check out my printable wall art on Etsy in the Black Door Shop. You can even get 20% off your order with the code 20OFF. 🙂