Everyone wants a giant, New-York-City-sized Christmas tree… until you realize that you'd have to get rid of all your furniture. It's okay! You can still have the Christmas spirit with these 18 Christmas trees for small spaces.
Post updated on November 1, 2021
I gathered this list of space saving Christmas tree ideas from scouring the internet. There are actually many more, but I skipped the overwhelmingly tacky ones and the ones that would require a team of professional carpenters. I kept this list of Christmas tree alternatives to the best simple and beautiful Christmas trees for small spaces. I'm definitely going to try some of them, so comment with what you'd like to see the most!
For more unique Christmas crafts and decor ideas, check out these posts:
27 Christmas Letterboard Quotes
The Best Outdoor Christmas Decor
The Best Unique Christmas Decor on Etsy (Support Small Businesses)
8 Easy Christmas Crafts To Do in Under and Hour
1. Wall Christmas Tree with Branches
If you love the typical look of a green Christmas tree, but you don't have the horizontal space to have one in your home, this is the solution. I love that you can decorate this in exactly the same way you normally would.
Since the original posting, I've found that you can actually buy a flat tree like this from Walmart. Perfect if you're not big on DIYing!
2. Flat Triangle Christmas Tree
This one is similar, but a little bit easier to actually create. You just need a garland, which you can get on Amazon or just at the Dollar Tree! You can even be extra if you want and get a multicolored garland or bead garland.
But seriously, you have to look at the tutorial and finished result on Hildurko. I honestly wouldn't have noticed it was flat–it's stunning!
3. Corner Shelf Tree
This exact shelf is sold on Etsy and could be used year-round, not just for Christmas. But by adding garland to it (again, could be purchased from the Dollar Tree) adding some ornaments–you have a space saving Christmas tree! If this were me, I would probably fill the entire shelves with lights and bright-colored ornaments–you can make it unique to you!
4. Wooden Triangles
This is definitely the most simple Christmas tree idea. But it would be a great DIY Christmas tree idea for small spaces. You could also make it a little more exciting with some simple lights. If you don't want to DIY, you can get these from Etsy.
There are also many wooden triangles you can purchase from Etsy for about $15-20, and you can paint or decorate them yourself!
5. Wooden Pallet Christmas Tree
This has the potential to be completely free if you have a few basic tools! Cut a pallet into pieces, screw some boards on as shevles… and bam! An extremely unique and easy to build Christmas tree alternative.
6. Large Wooden Triangle Christmas Tree
I'm obsessed with this! Does anyone want a tutorial for this? Dare me… I just need one reason to do this because I WANT IT.
I mean, it's just a big triangle from some square boards! Then add some wooden dowels and lights… It's so beautiful guys. And so. dang. unique.
7. Mini Wooden Triangle Christmas Trees
WOODEN TRIANGLE TREES FILLED WITH ORNAMENTS, GUYS ? I MUST MAKE THEM.
I found a version of these trees for purchase from Etsy!
8. Christmas Trees from Sticks or Twigs
If you want to spend ZERO money, and still have something totally unique and awesome, go get some twigs from your backyard. Or a random park. Be you, girl.
And then just stick them on your wall and add some lights, colored strings, and tiny ornaments! I love that you can make this as big as you want or as small–perfect for our list of Christmas trees for small spaces.
You can also take the same twigs and hang them so the tree spins!
If I saw this in your house, I'd start drooling. A lot of drool. It wouldn't be super attractive.
YET ANOTHER unique spin on the already-unique twig idea is to stick twings and ornaments on your wall. Doesn't it kind of feel like a modern Charlie Brown tree?
9. Christmas Tree on a Corner
This is a super unique and GENIUS idea. Instead of using an inside corner, you use an outside one and some pine garland. I love the way they added a few nativity-like pieces on the floor, too.
10. Ornament Cone Christmas Tree
This is one of my favorites! I have both bought and made these trees. Get the instructions to make a DIY ornament cone tree here. It's honestly one of the easiest Christmas tree ideas out there!
Plus, yours will be totally unique to you because you can use whatever colors and sizes of ornaments that you want. 🙂
11. PVC Pipe and Ornament Tree
If you are as obsessed with ornaments in fun colors as I am, then I know you'll love this.
This is definitely a DIY Christmas tree. You would need a PVC pipe like this one, or a few in different sizes. You also need a miter saw, circular saw, or an affordable PVC pipe cutter.
12. Hanging Ornament Tree
Yeah, I'm still on the ornament thing, okay? 😉
This is one of my favorites, though admittedly not the simplest or most space-saving tree idea. It would be a standout piece though! But if you have young children, they would demolish this in a matter of milliseconds.
13. Ladder & Ornaments
Another hanging ornament idea, but using a ladder or putting two wooden ladders together would make this DIY much easier!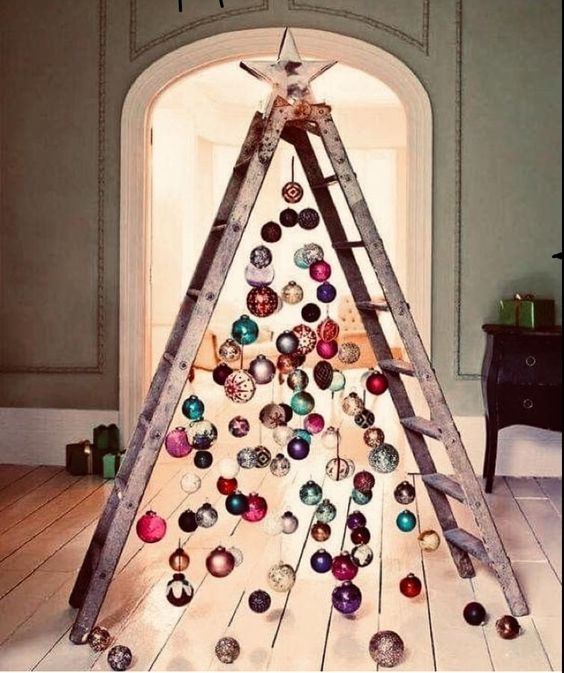 14. Lights on a Board
If you're looking for a flat Christmas tree that you can do with ZERO actual decorations, here you. Get a small piece of plywood, one or two strings of lights, and a staple gun (linked to the one I have).
Would you ever have thought you could create something SO incredibly beautiful with those supplies?
15. Tomato Cage Exterior Christmas Tree
This one is one of the most affordable space-saving Christmas tree ideas on this whole list, AND one of the easiest. It would be especially great as an outdoor Christmas decoration!
It's just a tomato cage tied together with Christmas lights! Beautiful.
16. Post-It Notes Christmas Tree
You're probably thinking, "I read that wrong." But NOPE, you didn't! This is literally a Christmas tree made out of post it notes.
I mean, if you were looking for budget Christmas trees or SUPER CHEAP CHRISTMAS TREE ideas…. you got it, sister.
I could imagine this in a dorm room. It would have fit my tiny little non-existent college student budget. And it's cuuuuute.
17. Washi Tape Christmas Tree
Ahh, another INSANELY cheap Christmas tree idea. I would honestly do this one in addition to another small Christmas tree idea here. It's super cute.
Get some washi tape and stick it on your wall–is it possible to find an easier Christmas tree idea? I love that they stuck some string with a few small ornaments up there, too. You could use different colors and types of washi tape, and even use Christmas washi tape for ornaments! So many options.
18. Pom Pom Garland Christmas Tree
This one take a simple pom pom garland and turns it into a tree. With that idea, you could take any kind of garland and turn it into a tree by putting it on your wall! Again, an EXTREMELY affordable way to have a Christmas tree in a small space.
I'm pretty partial to felt balls and these colors, though. You can order customizable felt ball garlands from Etsy!
19. Yarn Christmas Tree
Am I the only one who has a serious thing for yarn? I don't know, it just speaks to me.
These yarn trees look like they're small (and under $20!), but why not make a giant yarn tree? You can cut a triangle of plywood and staple the yarn to it. I would come drool over it!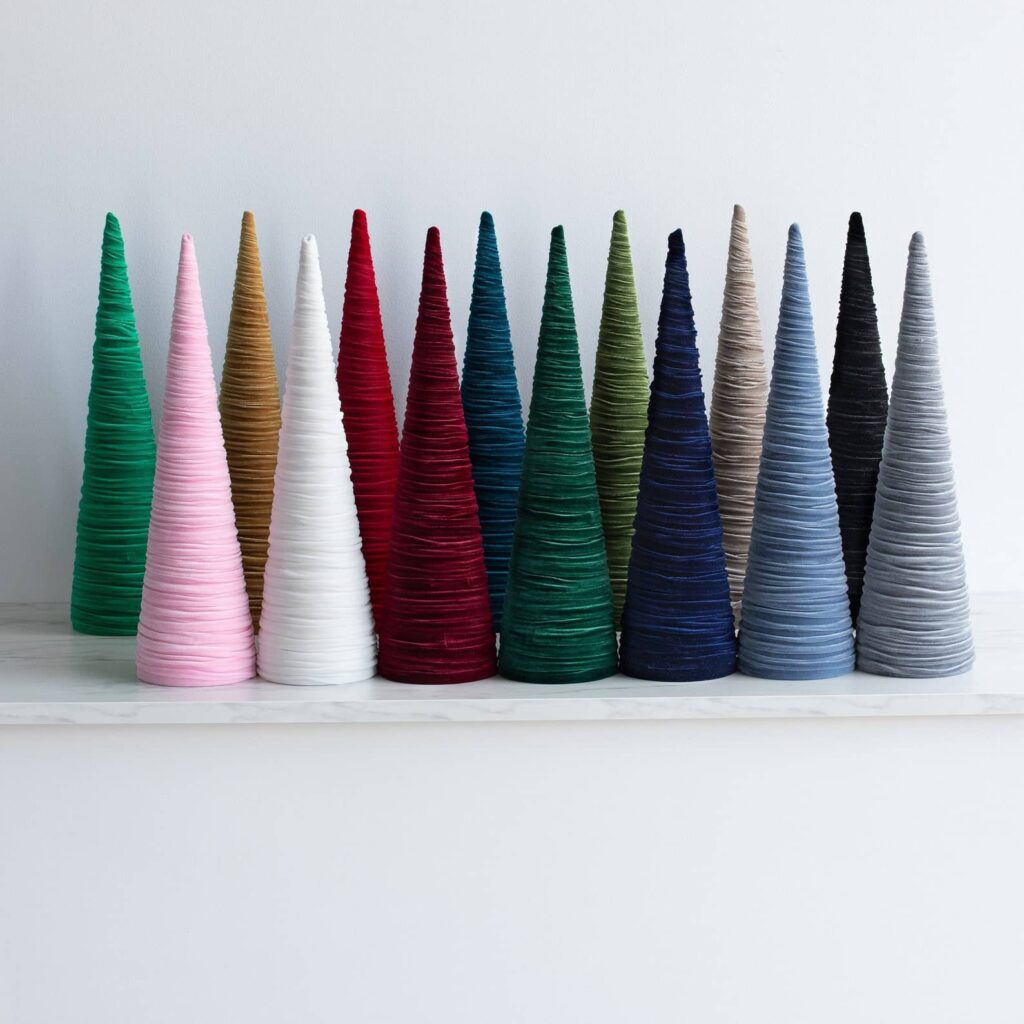 20. Succulent Mini Christmas Tree
You'd probably be the only one to have succulents on your Christmas tree! I absolutley love the colors in these trees. This would be another DIY-able tree with a hot glue gun and some faux succulents from Dollar Tree!
So would you use these Christmas trees for small spaces? Which one do you want the most?