Everyone wants a giant, Rockefeller-Center-sized Christmas tree… until you have to walk around it every time you sit on your couch. Social media constantly shows us enormous living rooms…. but a loooot of people actually live in small spaces that are not conducive to the massive traditional Christmas tree.
Post updated November 2023
BUT NOT TO WORRY. You can still decorate your home and have plenty of Christmas spirit with these 18 Christmas trees for small spaces.
Important note: I gathered this list of space saving Christmas tree ideas from scouring every inch of the internet (cough cough, hyperfocus, anyone?). There are an endless number of ideas, but I am reserving this list of Christmas tree alternatives to what I think are the BEST ideas, which means they are simple, beautiful, affordable, and mostly DIY-able. I skipped any ideas that felt overwhelmingly tacky or the extremely complex ones that would require you to be a professional carpenter.
I'm DYING to try some of these, so if you want to see any of these alternative Christmas trees in action, send me a message on TikTok or Instagram to motivate me to do them. 😉
1. Flat Christmas Tree with Branches
If you love the look of a traditional evergreen tree, but have limited horizontal space in your home, this is an amazing solution. I love that you can decorate this in exactly the same way you would decorate a traditional tree–hang ornaments, string lights on it, add garland, even add a tree topper!
P.S. Since I originally wrote this post, I learned that you can actually buy a flat tree like this from Walmart. Perfect if you're not big on DIYing!
2. Flat Wall Tree
This one is similar, but appears to be easier to actually create. You just need a garland, which you can get on Amazon or just at the Dollar Tree!
The tutorial and finished result of this exact tree is on Hildurko–and it's SO worth the read. I almot wouldn't have noticed the finished result is flat. It's incredible!
Pssst, my ADHD/consant-idea-creator is screaming how much fun it would be to make this unique with a multicolored garland like this one, or with a bead garland. DROOLING.
PSSSST: Are you into UNIQUE Christmas decorations that actually reflect your personality? (Must include sarcasm!) First of all, let's be besties. Second of all, read my collection of the best Christmas letterboard quotes for some of the funniest, festive-est, and okay, SOME sentimental quotes to display this year. 🙂

Or read one of my most popular posts, 57 Funny Letterboard Quotes, for year-round hilarity. 🙃
3. Corner Shelf Tree
This is the definition of a space-saving Christmas tree! It fits in a corner, looks similar to a traditional tree, and even has shelves to display your decorations!
This exact shelf is sold on Etsy and could be used year-round, not just for Christmas. But just by adding garland to it (again, could be purchased from the Dollar Tree) and adding some ornaments or decorations–BAM. It's a winter wonderland! (In a small living room 🙃)
If this were mine, I would probably fill the entire shelves with lights and bright-colored ornaments–you can make it unique to you!
4. Wooden Triangle Trees
This is arguably the most simple Christmas tree idea–and one of the most versatile. Even in an extremely small bedroom, these slim Christmas trees could fit pretty much anywhere.
You could also make this small tree a little more exciting by wrapping some simple lights around this. In fact, I've been using a few sets of Dollar Tree lights in one of my favorite Christmas decorations for the last four years straight! It's my favorite Christmas garland (and probably the easiest project EVER) in my easy Christmas crafts posts.
Plus, if you DIY these trees, the options are endless. It could be a tiny Christmas tree, a tabletop tree, or a collection of mini trees to sit on your mantle, window ledge, or coffee table.
If you don't want to DIY these trees, you can get these from Etsy. There are also many plain, unfinished wooden triangles you can purchase from Etsy for about $10-20, and you can paint or decorate them yourself! Or you can follow my tutorial on how to cut a perfectly straight line with a jigsaw or a circular saw (the most common beginner saws!).
5. Wooden Pallet Christmas Tree
This slim Christmas tree idea has the potential to be completely free if you find pallets on the side of the road and have just a few basic tools. Cut a pallet into pieces, screw some boards on as shelves (or not)… and bam!
Another advantage is that this idea could be made into a big Christmas tree or a tabletop Christmas tree–you can even make it into a unique tree shape. This makes it one of my favorite Christmas tree alternatives!
Here are a few of my favorite wooden pallet Christmas trees to give you some more ideas:
Orrrr, you can buy wooden pallet trees on Etsy:
6. Large Wooden Triangle Christmas Tree
I'M OBSESSED with this! Does anyone want a tutorial for this? DARE ME… I just need one reason to do this because I WANT IT. You could even add greenery or other kind of Christmas foliage to it, or more colorful ornaments–another idea that is unique and easy to customize for your style.
I mean, it's just a big triangle with some wooden dowels, right?! Of course, the combination of lights, ornaments, and even the faux "branches" on the sides really make this particular one especially stunning.
Psssst… DIY is not the only way I get pumped for the holiday season. I also make fun (and some silly and sarcastic) shirts, clothes, and gifts in my Etsy shop Black Door Fits. This is one of my favorite items to get in the holiday spirit (and add a festive touch of Chandler Bing):
7. Triangle Trees with Floating Ornaments
WOODEN TRIANGLE TREES FILLED WITH ORNAMENTS, GUYS? I MUST MAKE THIS.
****UPDATE December 2022: GUESS WHAT! I finally made this it! Here's mine:
I am absolutely in love with it! I'm working on a full tutorial, but you can see a quick video walkthrough of how I made this abstract piece by clicking on this photo or visiting my TikTok:
8. Christmas Trees from Sticks or Twigs
If you want to spend ZERO money, and still have something totally unique and awesome, go get some twigs from your backyard. Or a random park. You be you, girl.
And then place them from shortest to longest, tie them together with some string, and add some lights and tiny ornaments. I love that you can make this as big as you want or as small–perfect for even the most limited space in a tiny apartment or rooms. It doesn't take up even an inch of floor space. You could even make a small version of this for your front door!
A few more fun bonus ideas: Make a twig tree that HANGS! Oh my goodness… it would spin, too. The one below even has silver glitter on the branches so the whole thing has a sparkle. (Can you hear my excitement?! You should!)
OR, turn the same faux tree idea into a large design that takes up an entire wall–and do it in a non-traditional shape like this one. Doesn't it kind of feel like a modern Charlie Brown tree?
If I saw either of these in your house, I'd start drooling. A lot of drool. It wouldn't be super attractive.
9. Corner Wall Tree
This is a GENIUS idea for holiday cheer at *literally* every turn. (GET IT?!)
Pick any outside corner, some simple garland, and probably some Command hooks (these small but mighty clear ones are definitely what I'd assume they used!). I love the way they added a few nativity-like pieces on the floor, too… not that my children would ever allow those to stay where they are.
If you have an outlet nearby, add lights like they did. This even allows to hang some simple ornaments!
10. Ornament Cone Christmas Tree
These are probably my favorite tabletop Christmas trees! In fact, I have bought these types of trees AND made them myself.
They can be like STUPID expensive to buy in stories. This one is $70-90! WHY. This is actually one of the most affordable and EASIEST Christmas crafts I've done.
Read my tutorial to make a DIY ornament cone tree right here! Or watch a video of me doing it on TikTok or Instagram.
11. PVC Pipe and Ornament Tree
If you are as obsessed with ornaments as I *clearly* am, then I know you'll love this very unique & modern holiday decor piece. This is made from just a few PVC pipes of different sizes, like this one.
All you'd need is a miter saw, circular saw, or an affordable PVC pipe cutter to cut the pipe up, glue it to some kind of board, and then add ornaments. I love that it can be made into unique shapes or with unique color schemes.
If you don't already have any of those tools, see my recommendations in my HONEST and tried-and-true tool guide.
12. Hanging Ornament Tree
Yeah, I'm still on the ornament thing, okay? 😛 This is one of my favorites, though admittedly not the simplest or most space-saving tree idea. I mean, it doesn't take up floor space, but probably wouldn't be ideal in a tight space.
But it is a standout piece–probably fitting for my collection of the best Unique Christmas Decorations.
However, if you have young children or cats, like me, they would demolish this in a matter of milliseconds. Let's just admire the picture anyway, okay?
13. Ladder Ornament Tree
Okay okay–yes, this is another hanging ornament idea that isn't exactly a perfect fit for this list of small Christmas tree ideas. But it's so unique that I felt it was worth the 14 seconds it will take for you to scroll by.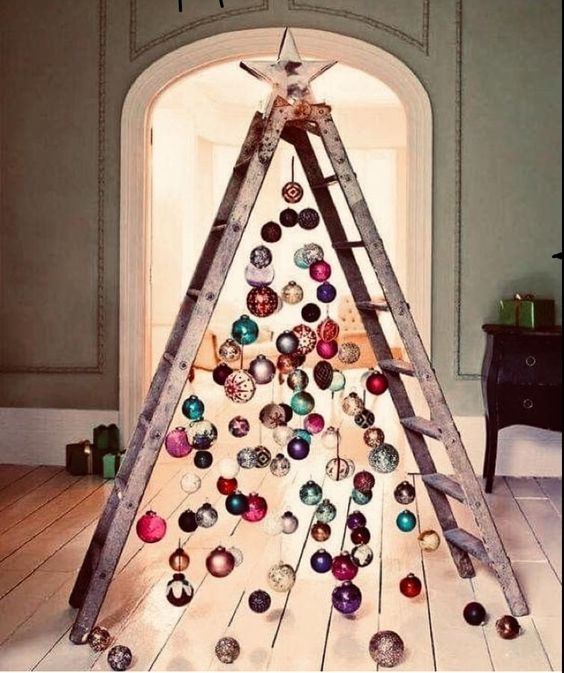 14. Simple Lights on a Board
If you're looking for something that will fit in the smallest of small living spaces, we have arrived. Start with any kind of wooden base–a piece of scrap wood will do, add one or two strings of lights, and use a staple gun to create this Christmas decor (linked to the one I have).
And then just LOOK at that warm glow. I feel the festive cheer just looking at it.
Would you ever have thought you could create something SO incredibly beautiful with those supplies?
15. Lighted Tomato Cage
This one is one of the most affordable space saving Christmas tree ideas on this whole list, AND one of the easiest. It's just a tomato cage tied together with Christmas lights! Beautiful.
This works especially well as an outdoor Christmas decoration! I've made one before, and it's such a fun way to add such a simple, bright pop of holiday-ness to your porch or exterior.
Plus, here a few other ideas that use a tomato cage to make some freakin' awesome holiday decorations:
16. Post-It Notes Wall Tree
You're probably thinking, "I read that wrong." But NOPE, you didn't! This is literally a Christmas tree made out of post-it notes.
I mean, if you were looking for budget Christmas trees or SUPER CHEAP CHRISTMAS TREE ideas…. you got it, sister.
I could imagine this in a dorm room. It would have fit my tiny little non-existent college student budget. Adorn those beige walls with office supplies for the holidays and be CUUUTE.
17. Washi Tape Christmas Tree
Ahh, another INSANELY cheap idea that would fit any and ALL tight spaces. And if you came here looking for a slim tree idea? Welllll it doesn't get any slimmer than this.
I would honestly do this one in addition to another small Christmas tree idea here. I love this for a kid's bedroom, fun hallway or bathroom decoration, or an activity you can create with the kids! I really love the strings with the small ornaments too–they may even stick to your wall with a hot glue gun!
Use different colors and types of washi tape (I love this Christmas washi tape), and make a tiny tree or a giant one. SO many fun options!
18. Pom Pom Garland Christmas Tree
My color-loving-self absolutely loves this one. Just as simple as the last few wall tree ideas, but with pom poms. Am I the only adult who just thinks pom poms should be used so much more?!
With this idea, you can take any kind of garland and turn it into a tree by putting it on your wall! Again, an EXTREMELY affordable way to have a Christmas tree in a small space.
Of course, felt ball garlands aren't available in most Walmarts or craft stores, but you can get Christmas colors or custom colors from Etsy! Here are a few of my favorites (with the links):
19. Yarn Christmas Tree
Speaking of how underrated pom poms are… Am I the only one who has a serious thing for yarn? It just speaks to me! The yarn trees in this picture are small–and under $20! I've also made yarn trees while sitting in bed watching Netflix.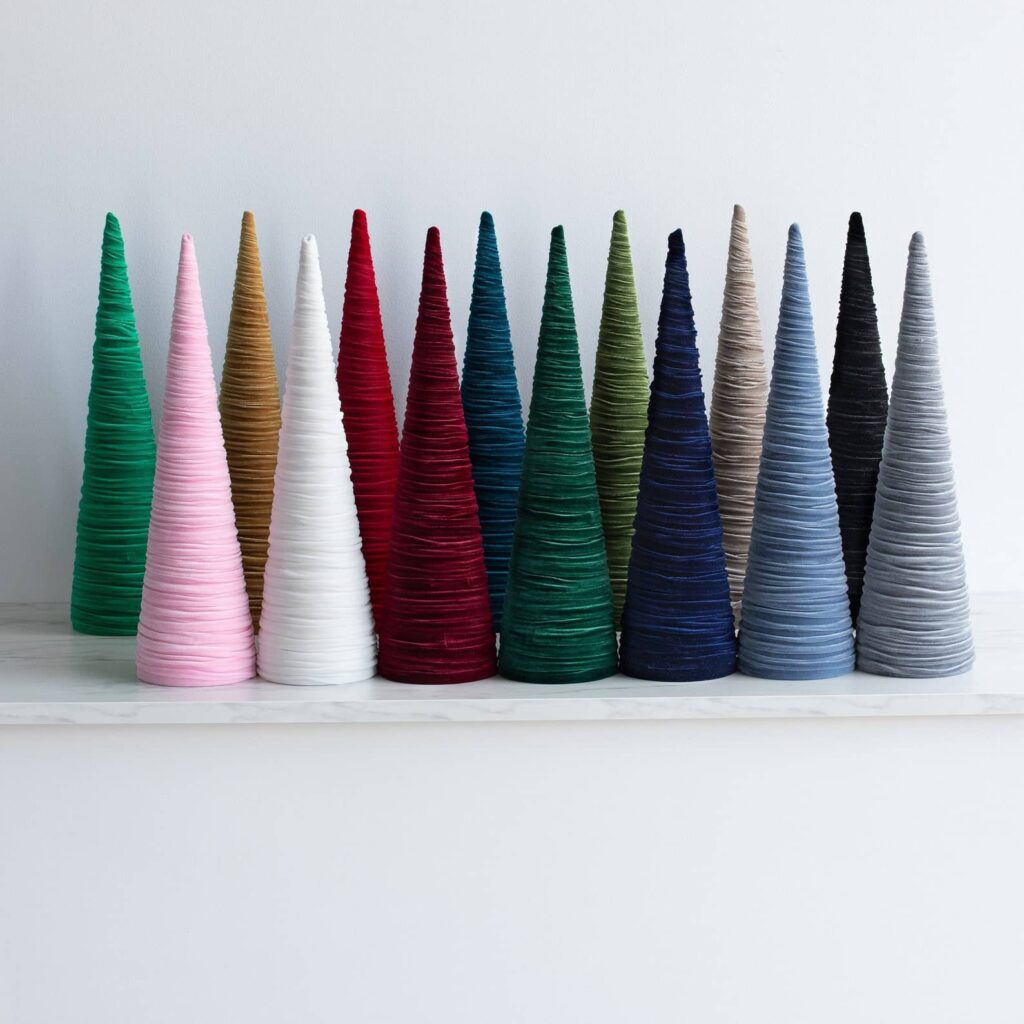 Here are a few more of my favorite yarn trees you can buy on Etsy:
20. Succulent Mini Christmas Tree
Be your succulent-loving self… but make it festive. I especially LOVE the colors in these succulent trees… and this might be the most unique mini Christmas tree yet!
This would be another DIY-able tree with a hot glue gun and some faux succulents from Dollar Tree or Hobby Lobby!
Related: Want another way to make your home reflect YOU–for insanely cheap prices? Check out my printable wall art on Etsy in the Black Door Shop. You can even get 20% off your order with the code 20OFF. 🙂

Now that you have SO MANY ideas of Christmas trees for small spaces–which one are you gonna make?
If you have any other thoughts or questions, find me on Instagram or TikTok. I can't wait to hear from you!
Other fun DIY & decor posts: