Last year, I was stuck in a beige apartment, so I started looking for cheap ways to brighten up my space without painting. And I discovered something amazing: TAPESTRIES.
Up until, well, not that long ago, I thought of "tapestries" as weird earthy things that only yoga people used. Nothing against earthiness, but it's just not my style.
But seriously… why DO we only see tapestries in the background of yoga videos? Eternal questions.
It took me all of three minutes to realize that there are so many non-earthy BEAUTIFUL tapestries on Amazon, and almost all of them are around $10. WHAT?!
I also built an insanely easy tapestry frame for the one I ended up buying, and it now looks like an expensive piece of art. Check it out at the bottom of this post, or read the tutorial here.
So wait no longer. Here are the best tapestries on Amazon.
Related: Want another way to make your home reflect YOU–for insanely cheap prices? Check out my printable wall art on Etsy in the Black Door Shop. You can even get 20% off your order with the code 20OFF. 🙂

Mountain Tapestries
Mountains are kind of the definition of "earthy," but they are BEAUTIFUL, okay?! And I know these will fit the aesthetics of many very non-earthy homes. Aaaaand these are only a little bit easier to add than a mountain mural. 😉
Related: How to Nail into Drywall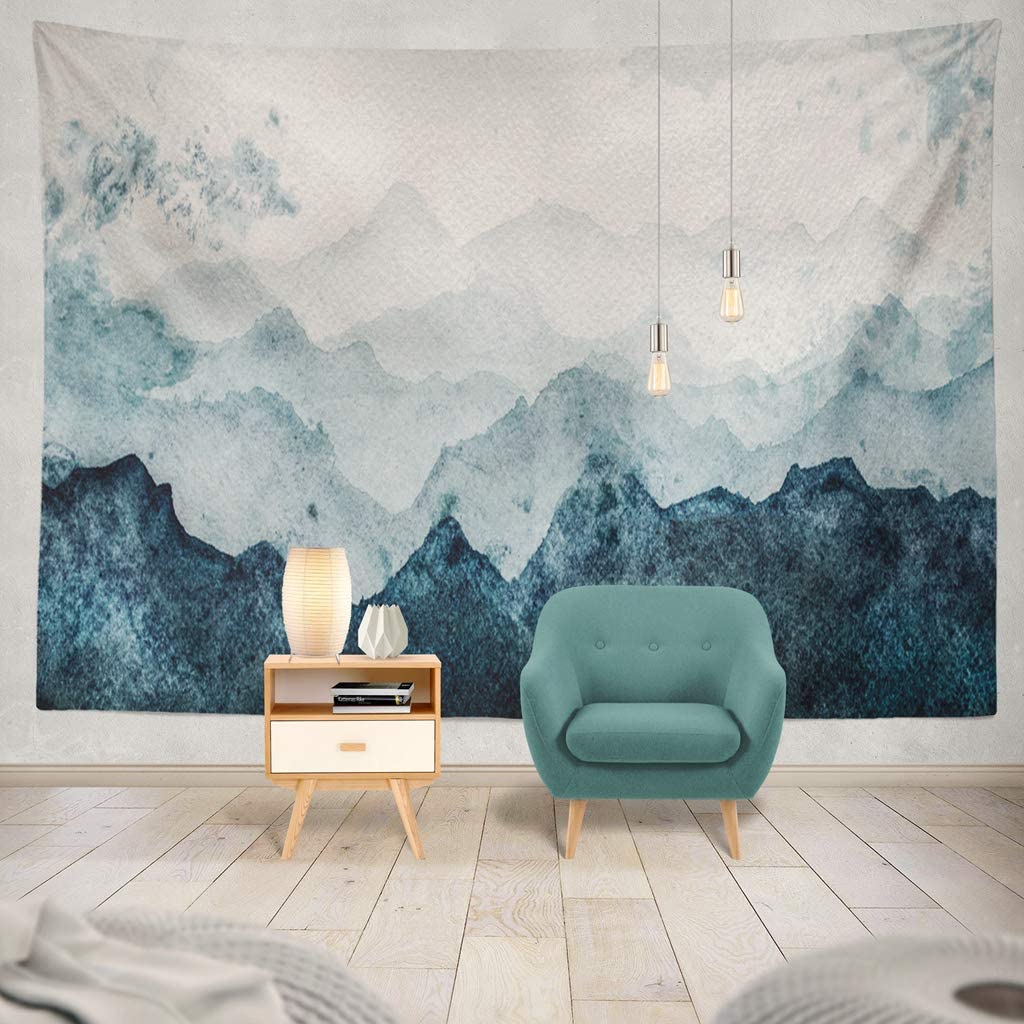 There are also some mountain tapestries that are basically photography shots. Here are a few of those.
I am not a forest-y type of person, but this one just stuns me.
Abstract Tapestries
If I didn't share a room with my husband, this first tapestry would have been my choice. You might know I have a thing for gold leaf, and this tapestry looks like a paint pour with gold leaf.
This one below is the one I have in our bedroom, above my bed. Every time I do a video call, I get complimented on it.
Ocean Tapestries
Flower Tapestries
Wood Tapestries
If you're using tapestries to bring light and design to your space, these ones probably aren't going to do it. I also think you should know that it's very unlikely you can actually disguise these took look like real wood. At least, in person.
BUT, I think it's an awesome concept and would be perfect as a backdrop. So um yes, these are absolutely some of the best tapestries on Amazon!
All Best Tapestries I Couldn't Categorize
There are SO MANY other tapestries on Amazon that I didn't include on this list. Some of them may be a perfect fit for you and your space! Obviously there are a lot in certain categories, but there are some other random ones that don't fit into a category–kind of like me. *Nerdy joke drum roll.*
And actually, there are some other categories of tapestries that I didn't include, but you should take a look at. There are a lot of map tapestries, and there are other night sky tapestries like this first one. It's so fun to look through them all.
Funny Tapestries
This section goes against the whole reason I love tapestries–because they add beauty and design. These don't add design, but they add humor, which adds happiness. AND ISN'T DESIGN BASICALLY TRYING TO MAKE YOU HAPPY?! So there.
There is literally no way that this next one could be left off a list about the "coolest tapestries ever." This might be the most random, weirdest thing I've seen on Amazon…. and I love it. If you didn't already know from my bathroom decor and funny letter board quotes, I'm kind of a fan of ironic decor. So if you're the kind of person who purchases and displays this kind of decor…. we need to be friends, like yesterday.
Hanging Your Tapestry
Obviously, in all the scenarios where tapestries are hanging in the background of a yoga video, it's very obvious that they're pieces of fabric and not canvases or framed art.
For that look, you can use this kind of command strips, but you'll have to use a LOT. At the apartment, I attempted to use the poster hanging command strips–the kind that doesn't have velcro, and it was not effective at all.
Or, you can nail it in. This is an easier way to make the top look as straight and even as possible.
But the best way to beautify your tapestry is definitely to build a tapestry frame. Check out that super easy tutorial, and then show me your finish result on IG or in my Facebook group!
I can't think of a more affordable or easier way to add color, design, and BEAUTY to your space. If you need more help transforming your space into a home you love, make sure you get the free course in the blue box below.