I don't know if you know this or not, but art is crazy expensive. As a design-lover on a budget, AND as someone who gets tired of things and changes her mind WAY too often–I just don't want to spend hundreds of dollars on art.
However, the last few years I've been drooling over abstract art. I am actually REALLY picky about what I use to decorate with (surprise, surprise), so not all art speaks to me. However, some abstract stuff REALLY does. (Call me Tom Haverford…. if you get that Parks and Rec reference, seriously, let's be friends.)
It wasn't until recently that I realized that lots of artsy and extremely smart people on Etsy are selling their art for just a few dollars–so you can PRINT IT OUT AT HOME! I mean, I'm SURE that I'm late to the party, but why have we NOT had a party for this?
So I went through the beautiful and addictive land of Etsy, and pulled together the absolute best PRINTABLE abstract art pieces! Of course, art is as subjective as you can be, so if my style doesn't speak to you–go look for yourself!
Under each picture is the name of the Etsy shop that created that design. Click on that link and it will take you to that item, where you can buy the digital version of these INSANELY BEAUTIFUL pieces of original art for a couple dollars.
I truly can't think of a better way to spend a few bucks.
Related: Want another way to make your home reflect YOU–for insanely cheap prices? Check out my printable wall art on Etsy in the Black Door Shop. You can even get 20% off your order with the code 20OFF. 🙂

The Best Printable Abstract Art Pieces on Etsy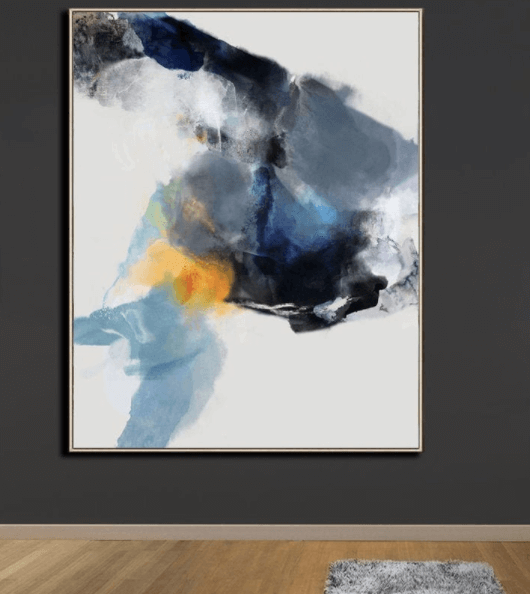 Aquamarine Gallery Teal Blue Purple
Are you drooling yet? I'm basically covered in drool from writing this. These artists are INCREDIBLE.
Another Way to Use Printable Abstract Art
Now, it's extremely possible that you are naturally a better designer than me. I'm extremely open about design not being my strength, even though it's a part of my passion.
So I really struggle with choosing color palettes. Mostly because I LOVE color and can't pick just a few colors, so I end up using too much and things don't look good.
I am SO obsessed with these abstract art prints that I'm planning on buying them and taking them to Lowe's or Home Depot to get color matches. This would be a perfect way to plan the color scheme of a room or even a mural.
Want more easy ideas to improve your home on a budget?
Get the free 6-day email course to learn how you can start transforming your home in only 6 days. And join the Love Your Home Facebook group! I would love to connect with you personally there.
Related posts:
Best Non-Earthy Tapestries on Amazon
The Best The Office Show Decor
How to Paint Spindles