Yep, it's true. On a tiny budget of under $400, I gave this sad, orange, disgusting 1960's kitchen a complete makeover.  Here's where I started:
And here's where it ended: 
Ahh, it's like a relief to look at those after pictures! 
Now, notice that I don't call this a "remodel" or "renovation." It's not that I don't want to, but I'm all about honesty and realness in this online world full of airbrushing.  And the truth is that I did not replace one part in this entire transformation. 
NOPE. Nothing.
And I'm not that talented!  Every part of this kitchen could easily be done by anybody.  It does not take anything special, except for hard work. 
Related: Want another way to make your home reflect YOU–for insanely cheap prices? Check out my printable wall art on Etsy in the Black Door Shop. You can even get 20% off your order with the code 20OFF. 🙂

Project #1: Wood Paneling
The first project I did in the whole house was painting the paneling in the dining room. At that time, my son was only two months old and my daughter's 2nd birthday was in just a few weeks, so just getting that room done was a huge accomplishment.
The downside was that I had to live with half of the kitchen painted and the other half desperately NEEDING to be painted for a long time… but hey, first world problems. 😉 But this sight definitely bothered me for a long time…
Cost
All I bought for this project was primer and latex paint.  I'm estimating about $25 for each of those.
Total cost = $50 
Project #2: Peel and Stick Backsplash
The next kitchen project I did was a pretty wimpy "project," but made a huge difference.  I used Tic Tac Tile to make a new backsplash.
You can read the whole tutorial and review of Tic Tac Tiles here.
Cost
This was the most expensive part of the entire kitchen and the only part that didn't involve painting! I did both sides of my kitchen walls, so I had to purchase about 5 packages of tile.
Total Cost = $175
Project #3: Countertops 
The next project I did shortly after that was painting my countertops. I just have to talk about this one for a second…
This was when my confidence and obsession with DIY projects was increasing, so I was willing to take on something like even though soooo many people thought I was crazy!
I don't necessarily recommend this method of upgrading your kitchen for everyone.  If your countertops are only a few years old and in good condition, then I don't see a reason to paint them.  
But these counters were approximately a thousand years old and terrible pink wood laminate. Seriously, PINK.
I couldn't make them worse if I tried. And guess who ended up being right…
ME!  In fact, this is probably my favorite project to date. It was even easier than I planned, insanely cheap, with a huge payoff.
Read the full tutorial on that project here. 
Cost
Polycrylic = $10
Craft paints = $11
Sea sponge=$3
Primer=$0
Total = $24 
Project #4: Paint the Cabinets
Ohh, the big one.
As you can see from the picture above, there was a painfully obvious clash between the "new" counter and backsplash and everything else.
The solution was a simple idea, but a huuuuge undertaking: Paint everything else.
For the cabinet doors, I used General Finishes milk paint. I chose to use this paint because it didn't require sanding–plus I could only find raving reviews about it online.  
I anticipated this project to be a lot of work and a lot of time, but it still exhausted me.  Here's my full, unbiased review of the milk paint. 
The most important thing I want to say is that if you want to paint your cabinets, but you are intimidated by all the people who say "Ohh painting your cabinets is the worst, it's so much work!" ….Well, don't listen.
It was a lot of work, but look at the result! I like this terrible quality picture because it shows the crazy contrast between the before and after.
Completely worth it.  I would do it again tomorrow for this kind of transformation.
Cost
General Finishes Milk Paint = $18 each, $54
General Finishes Top Coat = $22 
Total = $76
Other Painting
The last part of the paint makeover was everything else.  As you can see from the before pictures, there was plenty of space around the cabinets that needed work too.  I painted the door, the wood paneling, and the shelves that separate the dining room from the living room (not in the picture below).
For this, I did not use milk paint.  It is more expensive than latex or oil-based paint, and requires more coats and sealer.  It didn't seem appropriate for the square footage I needed to cover.  
Here's the after of that view again: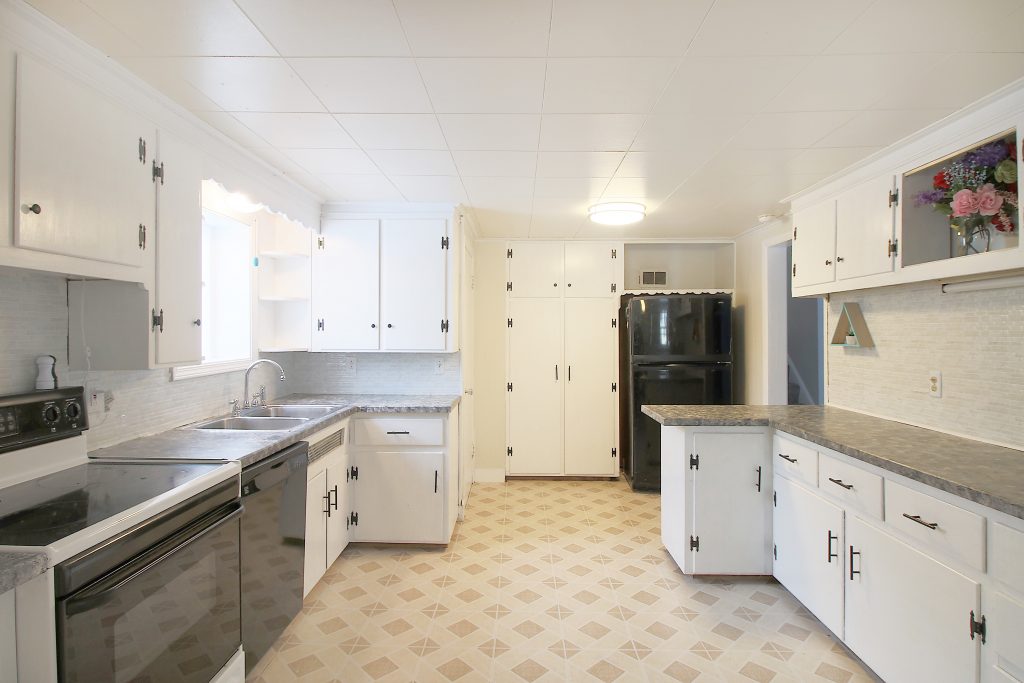 Cost 
For this part, I had leftover primer and paint from other projects, so I didn't actually buy anything.
Total = $0
Project #5: Switch Hardware
The hardware I started with matched the awful tiles on the backsplash.
I did try painting them at one point, but there was really no color that made them look better–especially with those cabinets unpainted.
I ordered these drawer pulls from Amazon–only $10 for 10!  I loved them so much that I replaced most of the knobs, like the ones above, with the Amazon pulls.
Knobs
For the few that I thought looked better with knobs, I used these ones from Home Depot. Super cute and just over $1 each!
Cost
$1 per knob = $35 total 
Total Cost and End Result 
If you were doing the math, you already know that the total cost of this kitchen transformation is….. *drumroll*
$360!
Yes, seriously.  This transformation cost me this much.
I obviously don't guarantee you can perfectly replicate this for the exact same price, but I do think you should try it!  See how cheap you can go!
The biggest thing I learned from this kitchen makeover is this: Don't let any project intimidate you. Just go for it.
To see a FREE list of the best DIY projects moms can do, enter your email in the box below!
Ready?! Let me see those budget kitchen makeovers! 
Related posts: