Kitchen projects are usually about big upgrades like cabinets and countertops…. but you know something that really affected my kitchen?
My fruit basket.
Building this EASY DIY hanging fruit basket made my entire kitchen function more smoothly.
For years, I had this regular fruit bowl. It was kind of pretty and it…I mean… held fruit. So I guess you could say it did the job.
However, with about one bunch of bananas and two apples, the bowl was overflowing. I hated that.
I wanted to be feeding my family a lot more produce, and this did not motivate me to do that.
Plus, it had to sit on my kitchen counters or on my dining room table. And when we lived in a small apartment, those spaces were EXTREMELY valuable real estate. Like probably five figures worth, in this real estate market 😉
Related: Want another way to make your home reflect YOU–for insanely cheap prices? Check out my printable wall art on Etsy in the Black Door Shop. You can even get 20% off your order with the code 20OFF. 🙂

So one day, I stumbled on this idea of a hanging fruit basket.
I immediately knew this wall-mounted fruit basket would have the function and space we needed. This easy DIY project adds significant kitchen storage space!
Half an hour later, I was at the store buying supplies.
*Angels singing*
Update 2022: I originally built this fruit basket with limited tools and limited DIY knowledge. There were a few hiccups and I didn't necessarily do it the most efficient way. I'm going to keep the original instructions and add updated tips to make this hanging produce basket even sturdier and easier to create.
Tools & Supplies
Need more details on the best tools & supplies for your projects? Check my Incomplete List of the Best Tools & Supplies for DIYers. It includes ONLY tools & supplies that I've personally used and recommend, plus some honest notes about each product and what you really need (and don't need).
This project took only a few hours, $12 of wood and screws, $30 for two baskets, and TADA. My life is changed!
Tools:
Supplies:
Step 1: Build the Frame
First, make sure you have all the wood you need and that it's cut to the right measurements. I chose to cut my wood to different lengths and stagger it, but yours could be a simple rectangle or any other shape you choose.
Once you have your wood placement, take your 1x2s and line them up on the BACK of your wood. Then drill a pilot hole, then drill those screws into each piece of wood. Quick and easy.
Update 2022: I recommend using a steel bracket for the back instead of wood. They both work well, but a steel bracket is thinner, more secure, and makes the frame easier to attach to the wall.
Step 2: Stain or Paint
My favorite part!
Start with using Minwax Pre-Stain, because it helps your wood soak up the stain much more evenly.
For my fruit baskets, I used Varathane Dark Walnut stain.
You can also paint the wood any color you want, distress it, add designs, or customize it however you want. That's the beauty of DIY!
Step 3: Attach Basket Hooks
Attaching screw hooks is super easy. But before you slap them on, check the placement and product:
1. Check Basket Placement
First of all, make sure you know exactly where you want your baskets to hang. Just place your baskets on your wood and make a small mark where the hooks should go.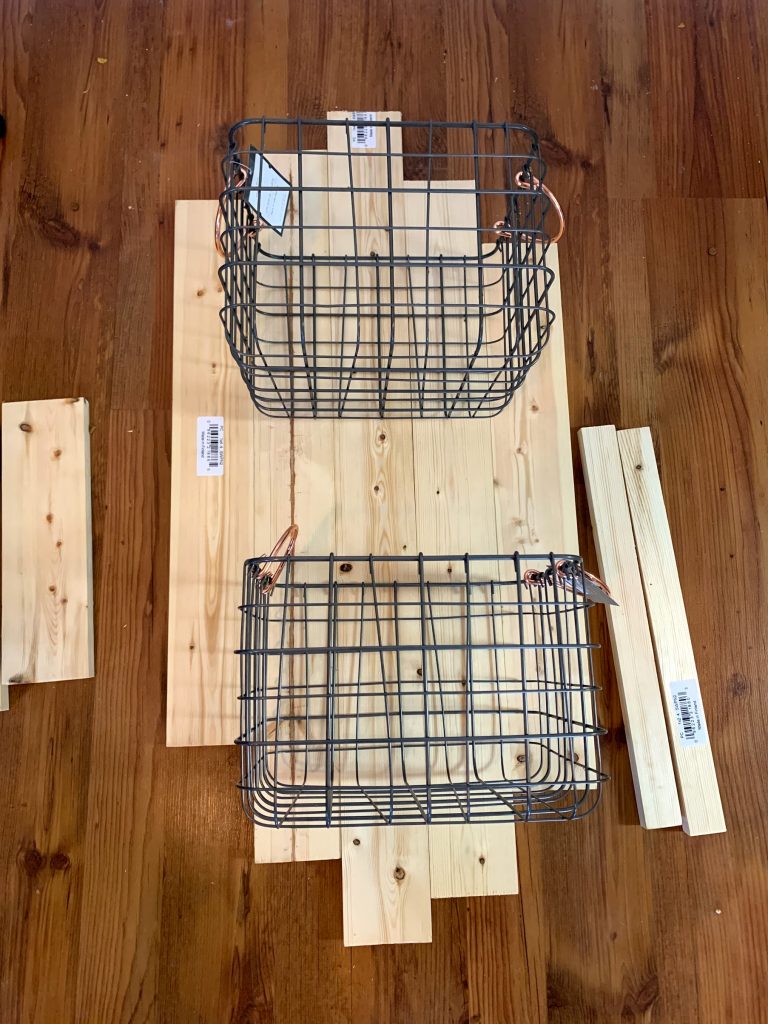 Pssst. This picture shows why that step is important. If you just screw the hooks on first without checking, the baskets are going to look super wonky.
2. Check Anchor or Toggle Bolt Placement
Before attaching the hooks, plan where you'll attach the wall mounted fruit basket to the wall. That means marking the studs and marking the wood.
If you don't take two minutes to plan it out, you could put your hooks in a place that blocks your wall anchors or toggle bolts.
Keep in mind that the screw head of your anchors or bolts WILL show on your wood. To disguise that, think about the placement of your baskets on top of that spot. You can also add wood filler or paint.
Here's how mine looks in the end. Since the basket covers the screws, I didn't do anything extra to cover them.
Make sense?
3. Check Hook Opening
This is probably not a mistake anyone else would make, but I'm going to cover it anyway.
Make sure that you get hooks that are OPEN at the top for you to slide the baskets on top. I originally bought closed screw eyes–I guess I was expecting a miracle.
Learn from this very simple mistake and order an open screw hook like this.
4. Attach the Screw Hooks (Finally)
When you're sure the hooks are in the right spot, just drill a small pilot hole and then screw those hooks in.
I just used my hand, but I plan to buy this Universal Grip Adapter.
Step 4: Attach Fruit Basket to the Wall
2022 Kaylee can tell you that the easiest and most secure way to mount your fruit baskets on the wall is by finding a stud and using a long wood screw to attach it. Boom. Done.
2019 Kaylee thought that you had to use anchors every time, stud or not. And since I had used a 1/2 to connect the 1x4s, I had to drill through 2 inches of wood before I even got to the drywall.
So for that reason, toggle bolts were the only solution. Here are the steps I listed after using them:
I got plastic ones, purely because they were 3.5 inches long. They looked like this: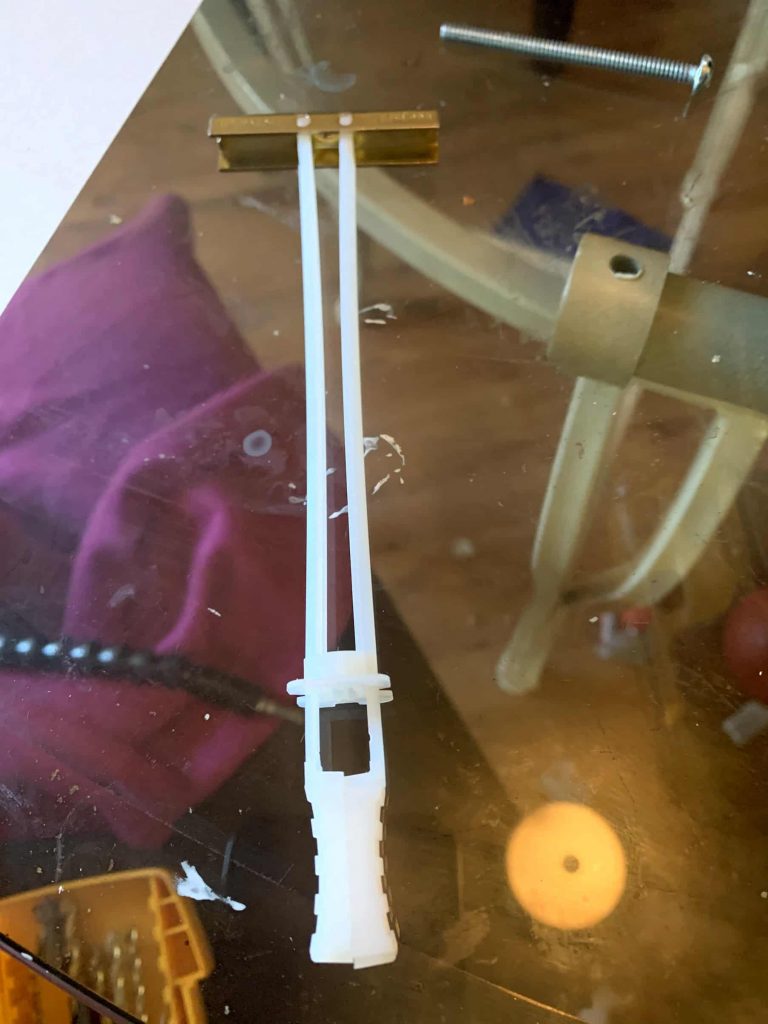 How to Use Plastic Toggle Bolts
The instructions I looked up to use toggle bolts did not tell me anything about this plastic kind. So when I opened the package and read, "Insert the bolt and then snap it off," I was QUITE confused.
So here's a simple layout of how to use plastic toggle bolts.
Drill a large pilot hole. The package will probably tell you which drill bit size to use. I used 3/16.
Insert the toggle bolt.
Use the plastic tip to straighten it out.
Push the plastic piece all the way into the wall, until it sits flush with the wall surface.
There should be a long plastic piece sticking out from your wall. Move it side to side and it'll snap right off.
Screw the bolt into the hole, and walaaah.
I'm hoping to add a video tutorial to help with this soon, so let me know if you have any more questions about these plastic toggle bolts.
Step 5: Hang Baskets, Add Fruit, & Admire DIY Hanging Fruit Baskets
Once your wood piece is secure on the wall, you can simply hang your basket on your hooks.
Now you can step back and admire your beautiful new DIY hanging produce basket. This holds more than double what my old fruit basket held, and takes up zero surface space.
Plus, it's SO BEAUTIFUL! I was hesitant to spend $30 on the baskets, but they were so worth it to make this as functional and beautiful as it is.
Turning your home into a place you love means identifying every little piece of your home that you don't love or that just doesn't work well, and this is a perfect example.
If you try this project, please reach out on Instagram, Pinterest, or Facebook. I can't wait to see what you do. 🙂
Related Posts: