Let's get right to it–when you tell people you're going to paint your countertops, expect judgement. Some people will genuinely be interested, but like 90% of people are going to obviously be thinking, "Why on earth would you do that? There's no way that's going to work out."
But it's all good, girl, we ain't need them. WE ARE STRONG INDEPENDENT COUNTERTOP PAINTING WOMEN.
Or men, whatever.
This was part 2 of me massively updating my entire kitchen for EXTREMELY cheap all by myself. You can see the other steps and learn more about how this kitchen was made over for under $400 here.
(It's a pretty good makeover, if I do say so myself.)
Update #2: If you want more information about the pros and cons and some more details about the process, check out my interview with Pink Tool Girl here.
Why I Chose to Paint My Counters
I was soooo, so excited about this project, but I got scared once I started.
Because–contrary to what most people thought for a while–I am not crazy, and I know this was a risk.
Countertops are one of the most visible parts of your entire home. They are in your face every single day, and you're using them a lot, especially if you have a family.
I reeeeeally didn't want this to turn out crappy, but I honestly wasn't sure how I was going to feel until the very end.
When Not to Paint Your Counters
First of all, if I had a few extra thousand dollars sitting around, would I have still painted my counters? Definitely not.
If you have no problem affording new countertops right now–go for it! That would have obviously been my first choice.
But since it wasn't, the first reason I chose to paint these is because I didn't have much of a choice. It was either leave them or paint them… And do you see these things?
I mean, what color would you call this? Like a pink-beige? And paired with orange 80's wood…. they are basically crying out for help.
When You Should Paint Your Countertops
Even though it is a risk to mess with your counters, this was kind of a low risk. So the second reason I chose to paint them was because I truly believed that anything would be an improvement.
Even if the end result had chips or I didn't love it, it would still be better. (But the end result did not have chips!)
Supplies
Primer (this is one of my favorite kinds)
Paint roller & paint brush
Sea sponge
Acrylic paints
Minwax Polycrylic
Sandpaper (optional)
Foam roller (optional)
Costs
I already had the primer, paint roller, paint brush, and sandpaper. All I had to spend was about $20ish on the Poly, under $10 for the craft paints, and $3 for the sea sponge because I used a coupon at Joann's. Also, I bought 3 extra of each color of craft paint but I ended up only needing one of each.
MVS (Most Valuable Supplies)
The absolute most important supplies are the sea sponge and the sealer.
I've read that some people use crumpled up paper towels or plastic bags, but they must have been Van Gogh, because that's crazy talk. I tried to use a regular sponge brush to practice before I got the sea sponge, and it was a total and complete failure.
As soon as I used the sea sponge I could immediately see how this was going to really look like granite.
Sealer Options
Choosing the type of sealer was really a process of elimination. Your other sealer options are polyurethane or some kind of epoxy pour.
Keep in mind that polyurethane yellows very quickly, so it's definitely not appropriate for counters.
An epoxy pour is another option. I like the results I've seen, but I would never be able to get that done while living and using my house with two young kids.
You can read more about using polycrylic below, but it was definitely the easiest option. The dry time is quick and application is easy. Using a foam roller made application a thousand time easier for me, so I would definitely suggest that.
More Before Pictures
More of the ugliness? Yeah, you are welcome.
The only way I've lasted this long with all this orange is because having 2 kids in less than 2 years has fried my brain.
The next project is covering the remaining paneling (I painted the dining room paneling, but this is next).
UPDATE: I actually made this into a backsplash, painted the cabinets, walls, and replaced the hardware. Here's how I painted the cabinets and did the backsplash, but you mostly want to check out the full makeover.
Then I'm going to paint the cabinets and either replace the knobs. I tried to paint them blue a year ago, but I hate them violently, so don't take those into consideration here.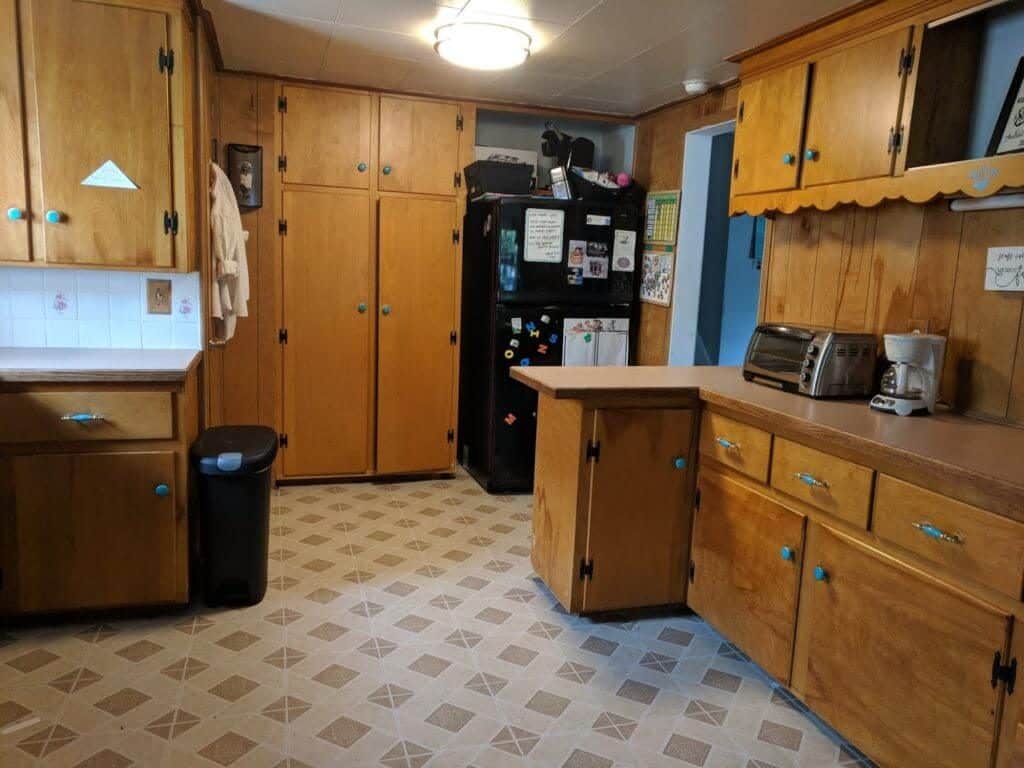 Step 1: Pick Colors and Practice
Decide which paint colors you want to use and then practice using the sea sponge. I just cut up old cereal boxes (we may go through too much cereal) and practiced on that–you don't need anything special.
Ideally, you could find a swatch of granite you really like and try to match the colors. However, I couldn't find anything quite like that so I just bought a bunch of different greys and tried different combinations until I found the right one.
Make sure you mark each bottle, especially if you have all different shades of grey, like I did. I do recommend having extra paint, because running out in the middle of this project would be terrible. But I now have like 9 extra unopened greys. Guess I need to paint something else 😉
Step 2: Prepping
Like with any painting project, you need to clean and degrease. I did that basically the way I normally clean my counters, then I sanded.
It almost didn't even count as a sanding, because I just brushed my sandpaper over it quickly. This probably took two minutes total, but I felt like that would ensure I didn't find any missed grease spots later.
Finally, tape off your walls, around your sink, and under your counters. I used garbage bags to cover my cabinets because I'm sloppy and I know it, but it worked really well!
Step 3: Prime
This is the simplest and quickest step. Since there is significantly less square footage on your counters than on a wall or a full room, it goes really quickly.
I went ahead and did a second coat after I covered everything the first time, and I definitely suggest that.
This is after one coat…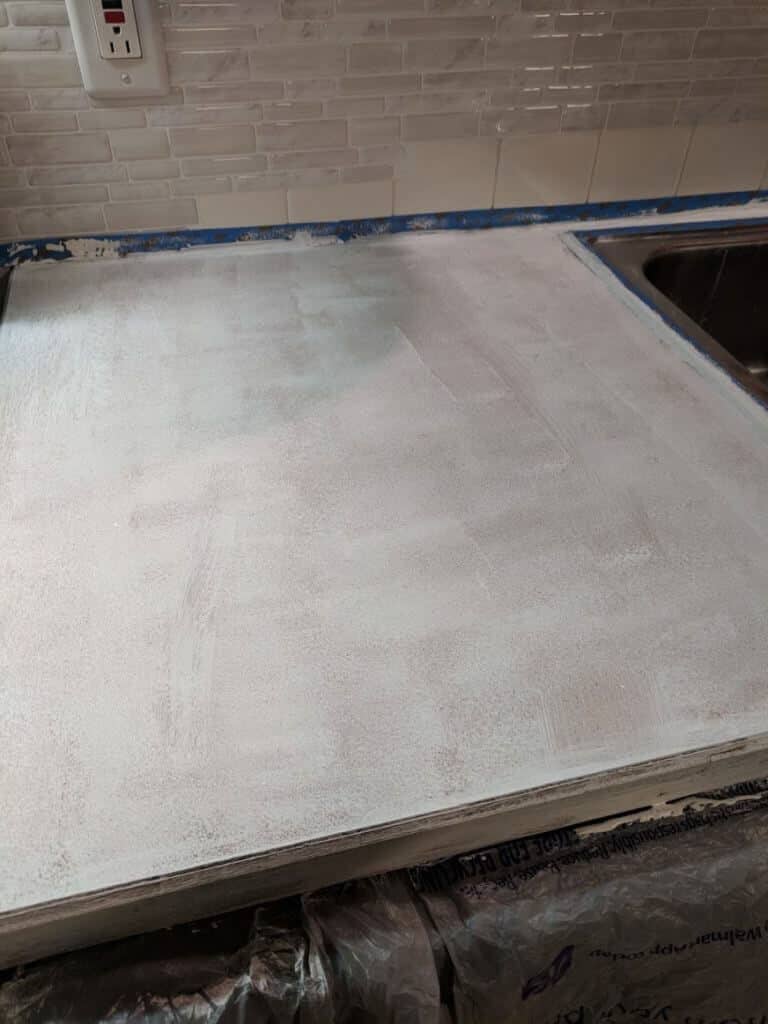 This is after the second…
Obviously, it made a huge difference and only took about 20 more minutes. I have no idea if it really makes a difference in the end result, but I think you should make sure you can't see any of your counters peaking through if you really want to be safe.
Step 4: Painting the Granite
The fun part!
So I'm going to break down the steps, and I also included a video of the process.
My Set Up
I used two paper plates (because I'm that fancy) for little bits of all five of my labeled colors.
But you know what I didn't think of? Taking a picture of that. So just imagine it.
How to Start
Just dip the sponge in the paint and go for it. Use all your colors. Since my primer was white and I was using grey, it felt slow at first. But once it's mostly covered, you just adjust, adjust… adjust…. more adjusting… and you got it.
Just Keep Moving
After you finish the first little section, step back and make sure you generally like how it looks. Honestly, it was really hard for me to tell because I was scared I was going to hate it, and because you are staring at this random pattern so closely at it while you paint. It's hard to step back and imagine it as a permanent counter.
So I kind of freaked out near the beginning, even though it looked great.
I think absolutely anyone could do this–the sea sponge completely does all the magic of making it look like granite. I am not artistic, like at all. But remember that actual granite has no pattern and is totally random. The more you stare and adjust and think about it, the less random it will be. Just sponge and don't think too much. Keep going.
Once you're pretty satisfied, WALK AWAY. Uuugggghhhhh this was hard. It just seemed like I could keep adjusting forever.
The whole process took I think an hour and half or so, and that included a lot of standing back and internally battling with myself. Like, A LOT. So it's surprisingly quick.
Extra Tips
Start with a smallish section, then step back after you think you're done with that section and decide if you think it looks right.
I dipped my sponge in all the colors without rinsing or anything. Again, there was no pattern, just whatever I thought I needed.
When I had practiced, I quickly noticed that I had a natural tendency to blend the colors together a lot. But actually, blending too much made it look less like granite and more like mush. You should figure this out as you practice, but try not to over-blend.
After I had been working on the counters for a little while, I realized the sponge was getting very saturated with the different colors of paint. This made the colors too blended. So all I did then was rinse out the sponge and then wrap it in a paper towel and squeeze so it dried as much as possible. Again, I'm so fancy. You can see how I did this in the video… right here!
Step 5: Sealing
This was by far my least favorite part. I have never used sealer before, but I knew it was SUPER SUPER IMPORTANT on counters–especially since I was just using plain old craft paint! So I did a lot of googling, and this is what I learned:
Polycrylic is water based, so it cleans up with soap and water very easily. Yay for me, the sloppy painter. The water base also makes it supposed to be easy to apply since it's water-based and will spread out pretty evenly, you just have to watch for tiny puddles to collect around corners and edges. this was very true.
It also has lots of chemicals of course, but not strong fumes–another big win for me! But I still applied this AFTER the kids were in bed, far from my chemical-filled kitchen, and I used a bunch of fans and open windows. But it barely smelled, which was great.
I also read that it would be shiny, so you would be able to see where you applied it. THIS WAS A LIE. SUCH A LIE. I was probably looking like a crazy person moving around, trying to look at my counters from all different angles to see where I already applied it. It did not help that it was dark when I was doing this, but AAAGGHHH.
How Not to Apply Polycrylic
The can I had said to use a brush, so I was originally planning for that. But in the few hours before I was going to start, I questioned this because I had seen online that other people used a roller, and that seemed so much faster and easier.
And um, no. Roller fail. I thought that others had used regular paint rollers, but the counters were totally covered in air bubbles. I believe you need to use a foam roller if you do this.
So then I used my brush with a long stroke to get rid of the air bubbles. That seemed to work to get rid of the air bubbles, so that was how I did coat #1.
That wasn't too bad and only took about 15 minutes total, but I was definitely not confident in the application at all and wanted to find a more efficient way of doing it. I was nervous too, because obviously the sealing part of this process is MOY IMPORTANTE.
So, for coat #2 I was like, "I guess I'll just use a brush like the can says." The first 2 foot section of my counter took me 25 minutes. SO NO. THAT WAS A NO GO.
And then of course, I go and bump the can and a spill a bunch. COME ON KAYLEE. It was 9:30pm, which is about the time my sanity starts floating into the night since I still wake up 3+ times every night with my 13 month old. Thankfully I didn't lose too much, and even more thankfully, it really does clean up easily with soap and water. Super easily. Thank youu, Minwax.
So for the rest of the coats I just reverted to my weird method of using my roller to cover the counters quickly, then smoothing with the brush and getting the corners and edges. I'm quite sure this is not how it should be done. It ended up working, but I wouldn't suggest this for anyone.
I had planned on doing three coats and being done. So I did all three coats that night and went to bed. But in the morning I just felt nervous about it, so I decided we would eat fast food for dinner one more night so I could seal two more coats just to be SURE about this.
Buuuuut of course I ran out after the fourth coat, so I decided God only wanted me to do four coats and I was just going to be happy with it.
The Result
So finally, the next morning I woke up knowing I was REALLY done with them–no adjusting or going back. It was really the first time I let myself decide how I really felt about them…
And holy JUNK, I LOVE THEM. What I don't love is how the ugliness of the orange wood somehow sticks out even more now. But it makes me soooo much more motivated to paint everything else, because this was honestly not hard at all and such a huge payoff!
So here they are….
Here is it is with my backsplash… just a hint of how one day my whole kitchen will actually be pretty!!
UPDATE: See the final kitchen reveal again 🙂
See the Web story for this countertop redo!
In the end, I am even more glad I did this than I thought… and it was so much easier than I expected, too. If you have any inkling of a desire to do this, you should go for it!
Looking for more tips to help you love your home–even if it's nothing close to your dream house? Join the free email course in the blue box below!
The Best Products for Organizing Small Spaces
How to Do Home Improvement Projects On A Budget
Two Practical Tips to Make Decluttering Easy AND Effective